For Kobe
It has been about a week since the sudden loss of NBA legend Kobe Bryant. Bryant and his daughter Gianna Bryant, along with 7 others were involved in a fatal helicopter accident which ended with all 9 tragically losing their lives in Calabasas, California. 
 As news broke of the tragic passing of the NBA legend, the hearts of every fan around the world began to break. His impact on the game of basketball around the globe was one like no other. 
Drafted in 1996, Bryant won 5 NBA Championships, 1 Most Valuable Player award, and has left us with 2 of the most impressive games to date. On January 22, 2006, Bryant recorded one of the most impressive games, scoring over 81 points in one game. In the Black Mamba's final game, he left us with one last cold-blooded performance, scoring 60 points on April 13, 2016. On December 18, 2017, Bryant had both his jersey numbers, #8 and #24 sent to the rafters to formally conclude his career. His numerous accolades have rightly put him down as one of the greatest of all time.
Although Kobe has left his mark in the NBA, he's inspired millions of athletes around the globe. From current NBA stars to High School players, and even to young children. Tributes from former players, teammates, and fans have been filling social media with heartbreaking and commemorating stories and messages to the late legend and his daughter.
Gianna Bryant, like her father, played basketball as well. At 13 years old, the Rising Star had aspirations to go to the University of Connecticut, as well as make it to the WNBA. On an episode of Jimmy Kimmel Live in 2018, Kobe Bryant said,  "…fans would come up to me and she's standing right next to me, and they'll be like 'you gotta have a boy, you and V gotta have a boy, gotta have someone to carry on the tradition, the legacy,'"  Bryant continued, "and she's (Gianna) is like "Oi! I got this, ain't no boy for that, I got this" as he said proudly smiling.
Athletes around Rangeview have been mourning the late Kobe Bryant. His influence has brought people together, and of course, helped spark a love of basketball for many players. Christian Speller was one of the many athletes influenced by Bryant. "All generations have had their legends like my dad grew up watching Michael Jordan, but for me, my legend, I grew up watching Kobe. He's one of the reasons I play the game."                                                    
Athletes or not, students around the school have also felt Bryant's tragic passing, and have been affected harshly.
Senior Meron Siyuom was someone who was affected by his death. "Growing up, I would always just watch Lakers games with my dad because that was his favorite team… [and] it was one of the only reasons why I bonded with my dad… but it feels like I got a piece of my childhood ripped away."
All around the world, Bryant has given new ways to bond and connect through something so simple as basketball or even for the simple love for his daughters, but for Los Angeles natives, these moments were even harder to reminisce after his passing. 
Junior Allen Adame grew up in Los Angeles watching Kobe and the Lakers. " I always looked up to that man, he was an idol for me. For someone who grew up in LA, Kobe was just my #1 player. He was a player who I always chose over anybody else, and he was just a really good inspiration to me. He was my hero."
Love or hate him, Kobe's legacy has affected the lives of millions by being an inspiration to young hoopers and athletes alike.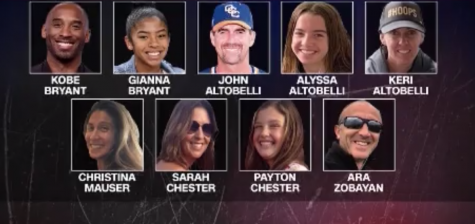 RIP Kobe Bryant
RIP Gianna Bryant
RIP John Altobelli
RIP Keri Altobelli
RIP Alyssa Altobelli
RIP Christina Mauser
RIP Sarah Chester
RIP Payton Chester
RIP Ara Zobayan
Click here to view a tribute video in Kobe Bryant's honor.