Maxwell's Miracle Week
With dress up days, a competitive toilet war, and various night events, staff and students came together to support one important child: Maxwell Freed. In total, Rangeview raised over $3,500 for Maxwell and his family. 
Let's take a look back at the eventful Miracle Week.

MONDAY- Sesame Street Day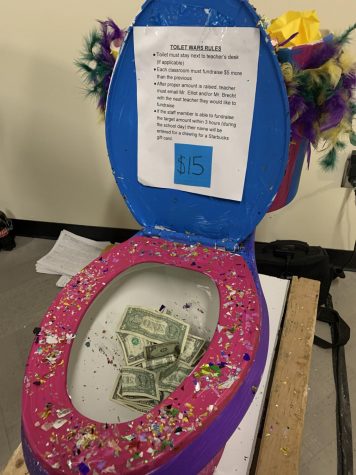 Each grade wore their designated primary color which corresponded to a character from Sesame Street, Maxwell's favorite show. 
Toilet Wars began and, despite its off-putting name, proved itself to be a fun and unique way to quickly raise funds. The toilet was passed from teacher to teacher, with each classroom needing to raise $5 more than the previous, so the amount needed increased from $5, to $10, to $15, and so on. 
A vibrant and embellished toilet next to your desk is enough incentive for anyone to raise funds, but for some added motivation, any teacher who raised their set amount of money in less than three hours was entered in a drawing for a Starbucks Gift Card.
TUESDAY- Tie Dye Tuesday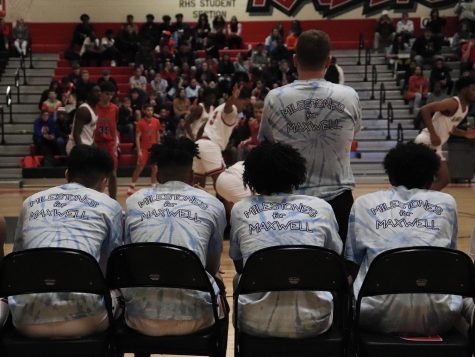 Students wore their blue tie dye Maxwell shirts on Tuesday. The T-shirt had a double helix printed on the front and the gene name, SLC6A1.
The boys basketball team won against Brighton High School by a whopping 51 points, scoring 101 points overall. The score isn't the only notable factor about this game; the whole team sported their Maxwell T-shirts on the bench and during warm ups.
Also, every person who bought a teddy bear for $2 at the table near the gym entrance was automatically eligible to compete in a shooting competition at half time. Contenders were gradually eliminated as it went from layups, to free throws, and three point shots. The winner took home the prize of a pizza. All of the funds collected proceeded to Maxwell.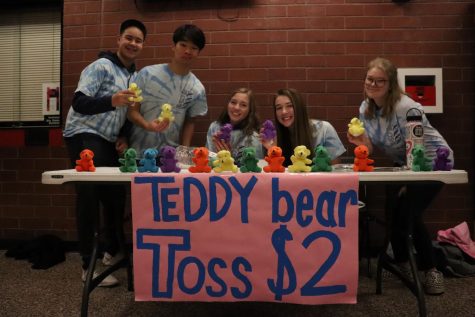 WEDNESDAY- Wacky Tacky Day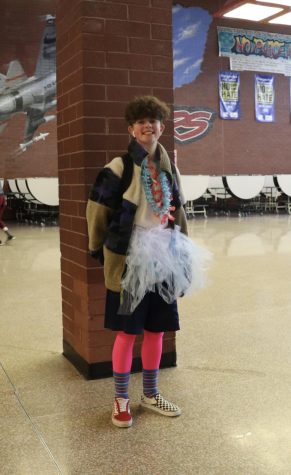 The name says it all. This day was filled with mismatched socks, quirky outfits, and zany hair-dos.
Rangeview's Master Acting Class (MAC) held their improv show titled Mission Improvable. Four teams competed and the winning team was decided by the audience.
THURSDAY- Pajama Day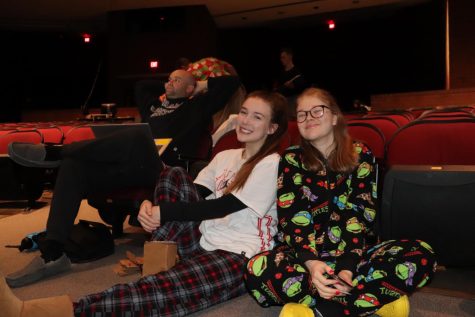 A cozy and comfortable day; students and staff didn't need to put much forethought into their outfit and came to school in their favorite PJ's.
During the evening, the girls basketball team was victorious over George Washington High School, with the game score being 71-63. 
FRIDAY- Jersey Day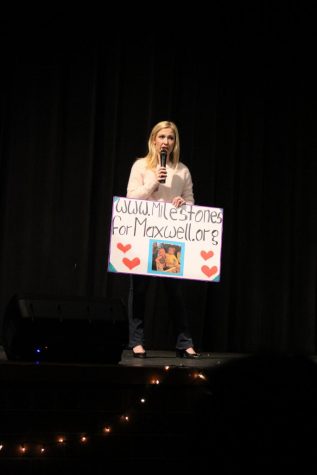 Whether you're a basketball fan, a baseball enthusiast, a hockey fanatic, or all of the above, this day was the perfect opportunity to rep your favorite sports team.
In the evening, the auditorium was filled with students and family members, all gathered to see who would be crowned Mr. RHS. The most notable guest, however, had to be Amber Freed, Maxwell's mother. Before the contestants had the spotlight, Mrs. Freed took the stage to thank Rangeview for everything they've done in support of Maxwell and to tell part of their story.
With 19 contestants, there were many memorable moments from the night. All of the boys performed a dance routine together to open the show, and each performed their own act for the talent portion. The judges panel consisted of various staff members
At the end of the night, senior Cory Anthony was crowned as Mr. RHS of 2020. All the revenue from ticket sales of the event went to Maxwell. Additionally, each contestant was tasked with asking for donations throughout the week, and collected change in jars.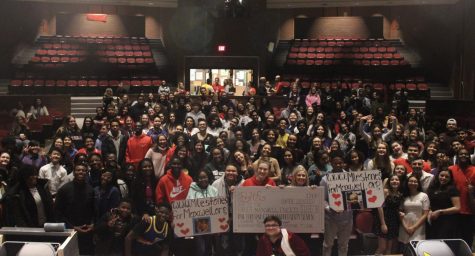 SATURDAY
The girls and boys varsity basketball teams, along with the UNIFIED team, all took on Vista Peak in a home game, with each of the teams securing the win.
Although the games were exciting, the moment every raider had been waiting for was halftime for the boys varsity game, where Maxwell, accompanied by his parents and twin sister, Riley, made an appearance. As his mom spoke to the crowd about his story with Maxwell right by her side, buckets were passed around the gym, collecting any donations from students and parents.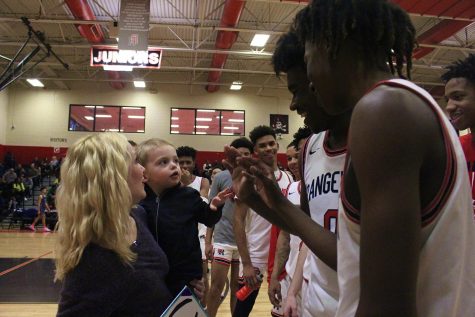 Thank you to everyone for your support and generosity during Miracle Week. For more information of Maxwell, his story, or to make any donations, please visit his GoFundMe page.