Girl Rising
Trigger Warning: Mentions of mental illness, eating disorders, sexual assault/rape, and other descriptive tones. 
For the eighth year in a row, the female freshmen — alongside other students who have gone in the past — have traveled to Girl Rising, an event with the purpose of helping females feel empowered, confident, and that they are not alone in this chaotic world. 
During the experience, the room watches two films; the original Girl Rising shows clips from girls around the world who made a place for themselves, as well as Miss Representation, a film about social media portrayal and how women are doing based off of it. Alongside this, short advertisements for confidence are played; they prove to be beneficial. 
Around 260 freshmen go every year to tackle the issues of an everyday female teenager: self-image, body issues, and more importantly, confidence and empowerment. They look at the details of teenagers with mental Illness, education, poverty, and more sickening statistics to open eyes to what women truly go through. Around 50+ more people go as well, being student facilitators, staff, and other guest speakers and people some students won't forget. 
Teacher Samantha Westerdale, commonly known in the Social Students department for her relatable teaching and hobbies, is a main facilitator for the event. Westerdale has been passionate about female empowerment even before the event and has helped it grow each year. 
"I feel that women and those who identify as female are not fully treated equally or equitably in today's society as males. While it has improved, we can be more. To do this, we need to overcome the biases and prejudices which perpetuate sexist beliefs, and that means supporting one another as well as having allies," Westerdale stated. 
During the event, freshmen do more than just watching films. They make goals throughout and take notes about how the film correlates to real life. The girls also speak with the facilitator at their table about some scary statistics that a lot of girls find relatable. 
About 65% of American women and girls have an eating disorder. 
Women make up 51% of the population and only 17% of Congress. 
Cosmetic surgery in youth under the age of 18 has tripled in a decade. 
One in six women are survivors of rape or attempted rape.  
In a single year, an estimated 150 million girls were victims of sexual violence. 
There are 34 million female adolescents out of school globally. 
Think about those statistics. Girls at Rangeview have had their eyes opened to how this affects them; how the commonality of these things among people who identify as female is uncanny.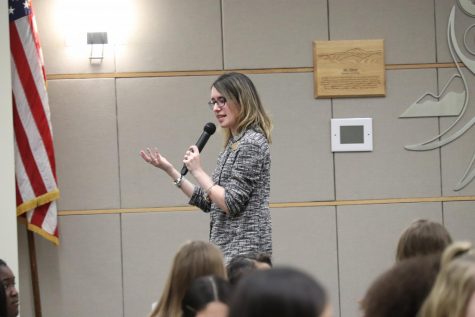 Anonymous stated, "Growing up, I wasn't happy with my body. I constantly couldn't stand the sight of it and ended up getting an eating disorder. Now that I look at how many people feel the same. I feel like I can get stronger, even though I'm still insecure today."
While Girl Rising pertains to around the globe, Miss Representation goes for the United States; ads by Always (#LikeAGirl) aims at the state and it hits home for a lot of females at Rangeview. More importantly, female students have to look at how they will see themselves in the future, how they can grow from this experience. Even some student facilitators felt different after the event, even though they've already experienced it before. 
"I met some really interesting people and was honored to hear their stories and experiences," freshman Briana Davidson said as she spoke about her experience. "I felt 10 times more secure knowing that people have similar struggles to mine."
Even though the experience seemed boring and useless for some females, others found it to be alike to a therapy session: females supporting females. 
"Us females are really hard on each other," Davidson commented. "I think I will always remember that day and the amazing people I met."
Some groups went further to talk about sensitive topics and how it has affected them and their view on life. Freshman Aliyah Hidalgo voiced her opinions on this. 
"There were comforting people around me; it's like I could be open about things, especially sensitive topics like sexual assault," she stated. 
To add even more diversity to the event, some transgender persons spoke up as well.
"Being invited to something that made me feel female was really something I appreciated," Anonymous said. "It felt empowering to be a woman in a room full of other women. It felt like home; I had a community there to support me."
In addition, a couple felt like they could leave a piece of advice for future freshmen and for youth girls in general.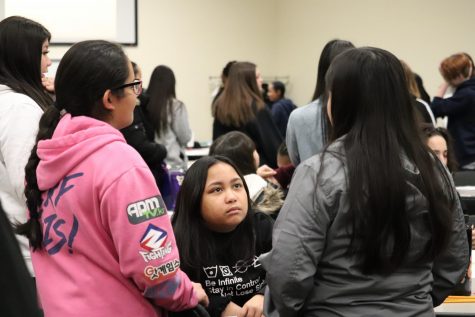 "If a situation seems off, it's not just you. You're not being dramatic. You have people there to help you." Hidalgo spoke. 
"We are constantly trashing each other to make ourselves feel better when we should have each other's backs," Davidson said. 
Even junior Ajahnae Norman, a facilitator, spoke up. "We need to support each other more often and open up about the topics that are normally shunned in social settings. Girl Rising really made me feel closer to my peers and I was glad I could make an impact."
As cheesy as it was when you and your classmates went, it's nice to think about the impact it had right after. The empowerment vibes, the strength among people you didn't know until now, complete strangers building the staircase to freedom and strength. 
It didn't matter whether the statistics applied to you or not, or if you knew the people sitting next to you. What mattered was the common motif of the friendships, the issues faced by normal girls and girls elsewhere that face poverty, lack of education, or that have been restrained from their full potential. 
Through the uncanny similarity of self-image issues to the extent of eating disorders, the violation of body whether it be by you or another person, lack of education, mental health, and family issues: strength is the glue that keeps the 51% of women in America and throughout the world together. 
Stay strong. You are not alone. If you keep your head held high and realize that you are worth much more than you know as a woman, you will make it so, so far.