Class of 2020 Top Ten: #3 Ryan Slocum
Ranking third in his class, many would say Ryan Slocum has a bright future ahead of him. 
His plans after high school are to study Computer Science and Mechanical Engineering at the University of Colorado Boulder, where he's excited to study something he's passionate about as well as meet new people and create new experiences. 
Throughout high school, Slocum ran cross country and track all four years, was in National Honors Society for three years; and, was a part of the link crew for two years, all while taking numerous AP classes. 
"School is important to me because it's what I'm good at, and it's what I know I need to succeed later in life," Slocum said, "I guess I just tend to front-load my work, so I try to get as much of my assignments done in class as I can, then do whatever's left as soon as possible." 
No one in their life wants to fail, so Slocum ultimately uses that as his motivation, especially while undertaking his school work. Slocum skipped the third grade, which he believes has overall positively affected him.
"I feel like moving up pushed me to succeed in my new class. The only negative has been missing out on smaller things, like getting my license a year after my peers, or graduating at 17," Slocum said.
His family and teachers have had the most impact on him through the years, as they've all provided a lot of support for him, and that is why he is especially going to miss his teachers.
Cheryl Wetzel is a math teacher at Rangeview, who had Ryan for three years of math: AP Calculus AB, AP Calculus BC, and AP Statistics.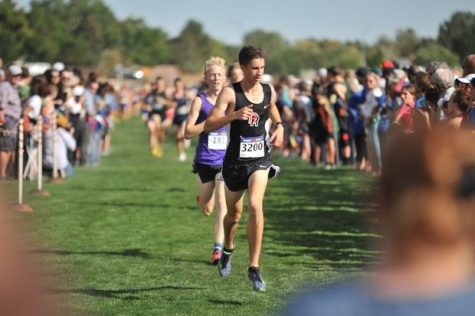 "The fact that Ryan was in my Calculus class as a sophomore when everyone else in the class was mostly seniors and a few juniors attests to his abilities in math. He has an amazing ability to learn and then retain the concepts in each subject," Wetzel said, "When he has no other work to do in a class, you can often find him reading a book. Not a novel, but a book that he is reading so that he can learn something new. He is genuinely kind and caring. If he asks how you are doing, he truly wants to know. It is not a superficial question to him. He maintains a nice balance in life with more than just school work."
Senior Sheldon Lucas-McHenry has known Ryan since 6th grade, but they didn't start getting closer until their freshman/sophomore year. He explains that Ryan is extremely humble and always used his academic abilities to help others. 
"Ryan always stands out to me because I've never met anyone else like him. He is incredibly smart [in] more ways [than] most people see," Lucas-McHenry explained, "Ryan thinks differently than anyone I've ever met, he has unique ideas, not just about his schoolwork, but life and everything playing into it."
Wetzel added that if Ryan doesn't understand a concept, he'd go home and teach it to himself, which Lucas-McHenry attests to as well. 
To many people, it is apparent how studious and strong-minded Slocum is. With his dedication and hard work, he has become very successful. He uses fear of failure as a drive and an advantage to help guide him through every task he has to complete, all while maintaining a positive, enthusiastic attitude. 
Slocum ends with, "Some of my goals for my life are to graduate with a master's degree in engineering, work at a job where I get to solve problems for those who need it and live a life that makes me happy."