Class of 2020 Performers of the Year: Mykena Mahan, Cory Anthony, and Maxwell Satchell
Mykena Mahan Performer of the Year – Dance by Cade Palmer
There are a lot of special seniors in the 2020 graduating class of Rangeview. Mykena Mahan is one of these special seniors. She is one of the most liked students at Rangeview by staff and students, and has many talents she has put to work over her four years at Rangeview. 
During her senior year, Mykena really put her focus into poms and dance. She played varsity volleyball during her earlier years of high school, but she found that she was born to dance, and wanted to focus on that for her senior year. 
Mykena's focus on her craft in the dance room showed in how she spent her time. "I only had 2 classes outside of the dance room, so I would spend at least six hours a day teaching and assisting the dance department, and helped with all of that fun stuff," Mykena stated. "This helped me get experience teaching dance since that's my dream job." 
Mykena was not only seen for her skill but was also seen as a leader in her time at Rangeview. She was chosen as a captain of the poms team for the 2020 season. 
As for her future after high school, Mykena plans on heading up to Greeley Colorado to attend the University of Northern Colorado. She plans on majoring in business administration, and minoring in dance. "My hopes with this business major is that I will eventually open up and run my own dance studio in the far future," Mykena said. "As for during college, I hope to make the dance team and work on my own dancing for now."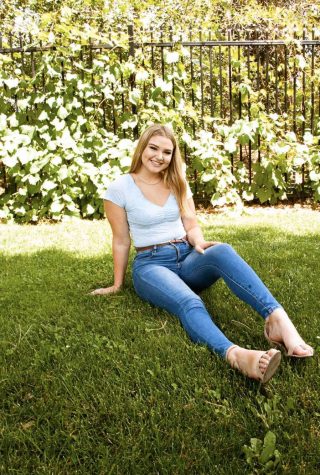 Unfortunately, Mykena's class wasn't able to finish out their senior year in the building, and with all of the end of the year activities, due to the COVID-19 outbreak. Mykena is doing well in coping with the situation. "Not being able to finish my senior year is very devastating. The day where I walk across that stage is the day I have been waiting for my whole life," Mykena said. "I quarantined around a month with my soon to be college roommate. We really got to know each other and it's just making us more excited to start college in the fall." 
One of Mykena's closest friends who has seen her at her best knows how special she is. 2019 graduate Payton Deeds said, "Mykena is someone who I admire. She is strong-willed and very bright! Following high school I know she is going to continue to do amazing things and pursue her dreams. She is very loving and kind, and she is a bright light in many people's eyes." 
A lot of seniors can point out one specific thing as their favorite memory during their time at Rangeview. For Mykena, there are too many good memories to choose from. Mykena said, "Rangeview was my second home for four years, and every moment was worth remembering. I learned so much about people and myself, and created a family in the dance department at school." Mykena continued, "It truly is disappointing to let it all go like this, but we all just have to stay positive and keep moving forward." 
Cory Anthony Performer of the Year – Theatre by Katiana Williams
Romeo and Juliet, Almost, Maine, The Laramie Project, 25th Annual Putnam County Spelling Bee, Much Ado About Nothing, Crazy For You, She Kills Monsters, Our Lawyers Made us Change the Name so We Don't Get Sued, Once Upon a Mattress, Chicago, Oklahoma, Seussical, Sister Act, and the radio version of Antigone. All plays of which Cory Anthony has performed in so it's not a surprise for many seeing Anthony receive the Performer of the Year Award. 
"Never in a million years would I have thought that a weird theatre nerd could ever get nominated to be the Performer of the Year, especially a theatre kid who can't sing for the life of him. But I couldn't have gotten this if I didn't have such a supportive group of friends and family," said Cory Anthony. 
Many say that there are so many words that you could use to describe Anthony, but the one that stands out the most is dedicated. 
"I don't think everyone knows how hard he works. He works tirelessly to get better. The day before winter break, we spent over 2 hours working on a monologue for a competition that was weeks away. Over quarantine, he has been writing and continuing to work. on his craft.  He makes it look easy, but he puts in the work," says performing arts and language arts teacher Kaily Anderson.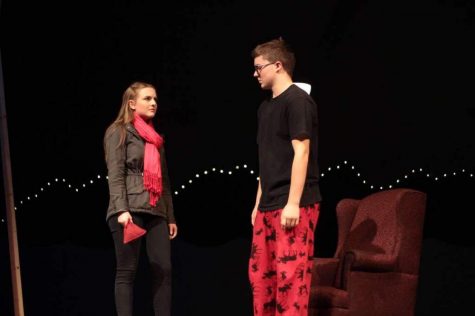 Cory has been performing for eight years. Several people always say that when Cory is on stage it seems as if he is home and that you can see his love and passion for performing. 
"My favorite part about performing is the ability to change your character and be able to change your whole physique in such a short period of time. I also really enjoy being able to tell the writer's story our own way," said Anthony.
Cory is always the type of person to reach for the stars as far as performing he definitely has big dreams for himself. 
"That's what I want to do for the rest of my life. I feel like I put on this earth to entertain people and make people feel like the theatre arts are a safe place to go to whenever you feel down," Anthony said. 
Whether it's being on Broadway or a lower level, many people have no doubt in their minds that Cory will continue his love and passion for performing. 
"I really hope I see him on Broadway," says Senior and friend of Cory, Avery Hill. "I see him working in the theatre. It is a hard profession to make it in, but he has the combination of drive, talent, and passion to make it work," said Kaily Anderson.
Maxswell Satchell Performer of the Year – Choir by Lily Eberly
Music has always been a part of Performer of the Year for Choir, Senior Maxswell Satchell's life; from choir in elementary school through middle school and high school. Satchell began singing after he moved to Colorado at eight-years-old when he would go to church.
Singing was an outlet for Satchell, as he said, "Just music in general, it's so broad and you can get any kind of taste you want for it to really relax or even perform it…it's a really good way to express yourself, your emotions, things of that nature."
Throughout his four years at Rangeview High School, he has taken part in choir. During his freshman year, he was in Mix Choir, and in his sophomore year, he was a part of Concert Choir. Junior, following senior year, he owned Chromatics in the bass section — he became the President of Chromatics this year.
Those who know Satchell can describe him as talented, hard working, and genuine; he is the greatest person to talk to. He is passionate for what he goes for, whether it be with singing or performing in the school musical.
"He has a way of emoting and connecting with the audience," Theatre teacher Mrs. Anderson said. "When we picked Sister Act, in my mind I was like, 'He might be really good for Eddie…' and he did his audition, and he did Curtis' song and everybody was dying; everybody was completely enthralled."
Along with taking part in the Advanced Performing Arts class for two years, Satchell has gone above and beyond with his singing abilities. He is one of the select few in Rangeview's history to make All State Choir.
According to Choir teacher Mr. Laguana, Satchell is among the elite of high school choir students, with many judges around the state recognizing that.
"Like most freshmen do, he had potential," Mr. Laguana said. "And that is the biggest thing; watching him grow into this amazing musician, this amazing performer who gets leads in the musicals; who makes the prestigious All State choir."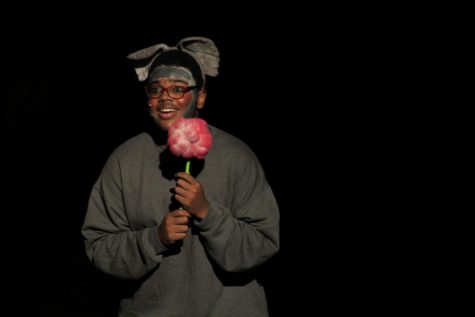 Senior Cory Anthony and Satchell became good friends after meeting on the set of Chicago, the spring play for the 2018-2019 school year. Since then, Anthony has made an incredible bond with the talented musician.
"One day he could be singing super high pitched, like girly songs…and then the next day he's singing like soul music. It's not even like the next day; it could be like five minutes later," Anthony said. "I actually went to him for singing help for Seussical…My singing drastically changed when I met him. He's super humble, he's super charismatic. I love that man with my whole entire heart."
Satchell is not only hard working for himself, but for those around him. He wants to see students succeed in their goals. All the students and teachers who have worked with him could agree that he is a thoughtful person and allows himself to help others.
He has been helping Mrs. Anderson take on the school's digital play Antigone as co-director; he taught her how to edit the files for the straight play.
"As a performer, he has become a lot bolder and a lot more of a leader," Mrs. Anderson said. "He's also kind of a leader within the scene and is really good at directing younger actors, and helping them."
Later in life, Satchell would like to keep music in his life by participating in musical theatre and keeping the same energy he has for the passion; as a backup, he'd like to do something in the study of Biology. For universities, he has been considering Metropolitan State University or the  University of Hawaii.
Maxswell Satchell is a kind and talented musician that many say will go far in life with the career he pursues.