Class of 2020: Outstanding Seniors (Males)
Sheldon Lucas-McHenry (Story by: Stephanie Pickens)
Being practically the only student with bright ginger hair, his physical appearance is not the only thing that made him light up Rangeview. Sheldon Lucas-McHenry's charismatic personality and perseverance was seen through his years here as he made friends with administration and many students. 
"He really showed great maturity over the years and just grew to be such a professional and influential figure at school and in general," said senior Nevaeh Zilka.
A place everyone knew Sheldon from was STUCO as he was in it for all four years, and each year, found passion in becoming a leader even more.
"I have been able to bring my ideas to fruition and act on the issues I have seen throughout both Rangeview and schools across the state," says Lucas-McHenry. 
Through his progression of high school, Sheldon grew to be more confident in his skin as well having a more mature mindset. He states that he was more naive in his first two years in high school and towards the second half crafted his new motivation towards something that would soon be his passion. It helped him figure out who he was- a student leader. Through the potential he saw with what STUCO could do for him, he was elected as the CHSAA State Vice President for Student Leadership and spoke to hundreds of people and many schools advocating mental health issues. 
"He is always willing to take risks in answering questions or posing challenges in his learning," says English teacher Mrs. Gasior. Sheldon has worked hard to get to where he has now, and with the help of his teachers, is able to expand his range of abilities, both socially and educationally.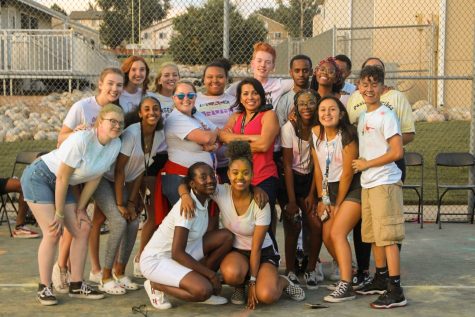 Despite being seen at almost every school event, Sheldon also participated in international trips to the countries South Korea and Chile–both for cultural and educational experiences, outside of Rangeview; through these he made lifelong friends as well as discovered his determination and desire for learning new languages. 
With the future free to do whatever and wherever, Sheldon is attending American University in Washington D.C. this fall. "I will be majoring in International Relations and I am thinking of doubling in a specific major to American called CLEG which stands for Communication, Law, Economics, and Government so I can have a well-rounded understanding of all of those things." American University is claimed to have one of the best international relations programs in the world. 
While we tend to think about the academic achievements students accomplish at RHS and possibly what could've been better, the friends we make and the moments we create add more spirit to the meaning of high school besides grades. "[Junior and senior year] were both my favorite homecomings and the prom I did get to go to were amazing." The last two years were ones that allowed Sheldon to become more social as well as cherish living in the present, creating memories, and accomplishing many of his goals. 
Urbano Marquez (Story by: Melanie Aguirre)
Known for being one of the rowdiest raiders in the class of 2020, with picture-perfect grades, and radiating positivity, Urbano Marquez closes out his senior year at Rangeview High School with some final words: "I hope to leave behind the legacy of enjoying every day to the fullest and being involved in every way possible."
During his high school career, Marquez took part in numerous activities such as Student Leadership, Link, and Speech & Debate among multiple others. He also played on the varsity baseball team while maintaining a high GPA.
"His balance is something that I've been impressed with. When I look at his priorities, I see someone great," says math teacher and leadership sponsor, Mrs. Brecht.
Being able to thrive with many responsibilities is something that Marquez had no problem doing. Some of his biggest accomplishments include maintaining honor roll, becoming Student Body Treasurer, playing varsity baseball, and getting into college.
"Urbano is an exceptional student at RHS because he has always lived off of a 'work hard, play hard' motto, not only in school but also outside and on the field," shared senior Beatrise Martinez.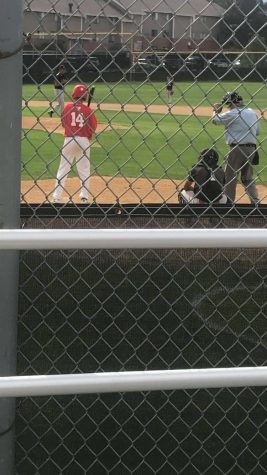 Not only did Marquez put in full effort into his schoolwork, he was also spirited and supportive of RHS like no other. He was always in the front row representing the school at games and attended all events.
On top of this, Marquez's success was partly influenced by his ability to form relationships with others and feeling comfortable enough to express himself with them. Some of his fondest memories are from times he was able to bring people together.
"Urbano is friendly with everyone," expressed speech teacher and former leadership sponsor Mrs.Gebhardt. "He has a contagious smile and makes everyone around him feel comfortable and like they have known him for years. He is so kind and welcoming to everyone."
With positive energy and a bright outlook, it is not surprising that Marquez is widely admired as a student that was willing to make sure that his vision was always accomplished.
As he endeavors another adventure and creates more memories he plans to study dentistry at the University of Colorado, Colorado Springs, where he hopes to be successful and happy.
"Urbano has a lot of people skills, and I'm a firm believer that your network and your ability to communicate can take you a lot of different places you want to go, and Urbano has those skills, without a doubt. I'm not sure where exactly he's headed but I'm sure that it's bright," says Mrs. Brecht.
It is with great ambition and perseverance that Marquez has made it through four years filled with challenges but many achievements. He has left a lasting effect on peers and teachers by lending his help and taking part in the improvement of RHS.
"Urbano will definitely be one to make a difference in the future and will always express his 'once a raider, always a raider' attitude. He will be a truly unforgettable alumnus," concluded Martinez.
Nathan Berhe (Story by: Toli Geshow)
Teachers, administration, and counselors can't help but acknowledge the accomplishments Nathan Berhe has achieved the last four years but more importantly his selfless character. 
Although Berhe was born in Colorado, his parents were born in Ethiopia and like many immigrant parents migrated to the United States to pursue a better life for themselves along with their children as well. Growing up he went to Christ Our Redeemer Church which helped him gain knowledge about his faith, interests, and his career aspirations. However, the relationships he made growing up helped Berhe connect with his peers.
Senior Obi Agbim who has lived by Nathan for many years said, "Growing up with Nathan is like having a long lost twin brother. It's like buying your first car or doing your first roller coaster ride, the memories we have will be an experience I will always remember and never forget."
Since coming to Rangeview, Berhe has solidified his commitment to his community and education with pioneering Rangeview's Interact Club, contributing to Rangeview's UNICEF Club, and being a member of the National Honors Society to name a few. Berhe's commitments helped him secure the prestigious Daniels Fund Scholarship this past March.
When asked about how he felt about winning this scholarship, Berhe said, "I really wanted to win this scholarship in order to continue the hope that students entering Rangeview could have a chance in attaining it. It was to my immense relief that I was able to do so. I received my package much later than other finalists across the district, which was disheartening, but it ended well, so I have nothing to complain of. I can only say that I'm grateful that I had the opportunity to pursue this scholarship alongside my peers and now, I am able to move towards college with one less worry." 
Berhe plans to pursue a career in Biology this fall at the University of Chicago with the full-ride scholarship.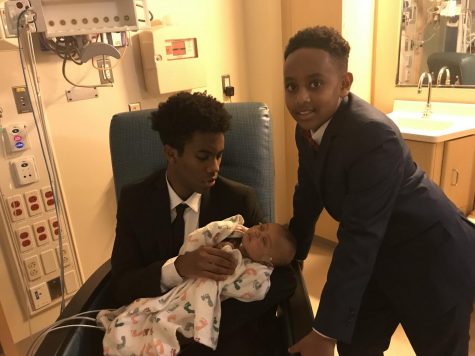 Berhe credits a lot of his success to his peers as they have helped him gain confidence to excel and achieve his goals. 
Sophomore Simon Berhe who is Nathan's younger brother had this to say when asked about his older brother's work ethic, "Nathan has set a standard that I should follow as his younger brother. Although, He seems lazy and he doesn't try but when you get to know him he's highly intelligent, a hard-worker, and committed to his community. I want to follow Nathan's footsteps and be as successful or even more successful.
Although Nathan's journey has been cut short due to the COVID-19 pandemic, he begins to prepare for life in the windy city and leaves behind a successful legacy for Rangeview students to remember.