Male Spectacular 6 Athletes
Braidon Nourse – by Vivian Tran
An athlete, friend, teammate, son, brother, and musician. Whatever role he takes on, Braidon Nourse, aka "Captain America", has found his niche in more places than one. In his years at Rangeview, Braidon not only participated in soccer, football, and track, but excelled at each of them.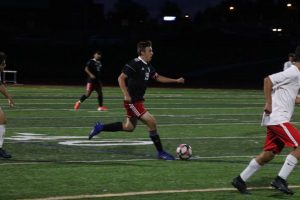 As a right wing in soccer, he was named First Team All Conference and Honorable Mention All State. He broke the school's record for assists in a game, season, and in a career. Yet it's not the numbers that matter to him, "It's more than just a record to me, it's a spot in the history books and it's my way of leaving a mark at this incredible school…." explains Braidon.
At the start of his senior year, Braidon decided he'd try kicking for the football team. Evidently, this worked out well and he was named First Team All Conference Kicker. 
 Primarily a 400m runner, along with both a triple and long jumper, Braidon says he truly fell in love with track. He took 9th in the state for jumps last year, and simply qualifying to compete at that level is no easy feat. 
Coach Carhart, who has been coaching Braidon since 8th grade says,"Braidon is the type of athlete that we as coaches hope to be lucky enough to coach at least once in our careers," adding that, "We call him 'Captain America' because he always appears so naturally talented in everything he does."
Aside from his shocking natural ability, what really sets Braidon apart is his dedicative, caring personality. "He invests himself completely in the things he decides to do and outworks everyone," says Carhart, adding that it's not for recognition but for internal satisfaction.
Although Braidon works hard to achieve his own goals, he's known for his supportiveness of others, "He's the epitome of a team leader…He truly cares about the success of his teammates, and celebrates them always," explains his coach.
This opinion is shared by close friend and teammate, Ryan Azuero, "Whenever I'm around him at track, or school, I am always pushing to be my best self. He's there to make sure you reach that potential," 
Despite all of his astounding athletic accomplishments, there's many other notable aspects of his life; music being one of them.
"I love music. I've played the guitar more than 10 years and the piano for a little more than a year now and I've sang since I could talk." explains Braidon, who's a member of Rangeview's Show Choir. Whether he's listening to it or making it himself, music plays a prominent role in Braidon's life.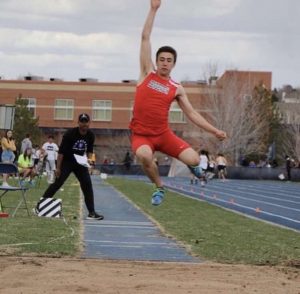 As his high school journey concludes, Braidon is continuing the next chapter of his life  at CSU Fort Collins, where he plans to major in journalism and media communications. In the future, he hopes to become a sports journalist and work for ESPN.
Braidon wants to thank anyone who has impacted his life, be it positively or negatively, "Every one of you has given me an opportunity to grow as a person."
Although his time as a Rangeview student is over, he will always be a Raider and leaves a word of advice, "Live these years to the fullest.  Never get down for longer than you need to.  These years will go very very fast, so put in the work in… The goal is to regret nothing!"
With his remarkable accomplishments, undeniable talent, his never-quit spirit, and the way he cares for others, Braidon Nourse has most definitely made his mark on Rangeview High School, and will continue to do so wherever he goes.
OBI AGBIM – by Anise Gonzalez
Standing at 6 foot 3, number 4, starting position at PG/SG please welcome Obi Agbim with the Raiders of Rangeview High School. 
Every little kid dreams of finding their passion or having at least one thing they can truly say they're good at. "I started playing basketball when I was 2, I loved basketball because I was really competitive and I was good at it." 
This is Obi's story. 
"Hi, I'm Obi Agbim. I play basketball, I went to Rangeview High School. I have committed to Metro State University to study business and Real-Estate."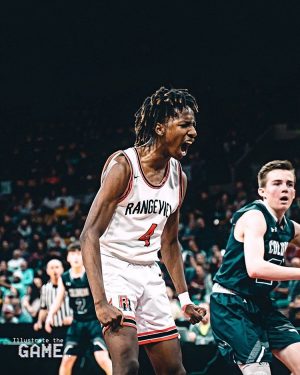 Agbim is known throughout the halls of Rangeview high school, but his name will go down in raider history for as long as Rangeview stands. His time and success at RHS will never be forgotten, despite his walk across the stage to start a whole new chapter in his life. 
"Since my freshman year, I've created very special bonds and loved the people. The best part of Rangeview was how all the kids were able to fit in. I liked seeing the different groups of friends and others who were alone being included." 
Rangeview was the start of Agbim's future success, well along with his natural athletic talent. 
"I met him in class and honestly he was super shy at first," Mrs. Gebhardt quoted, "He was so quiet I actually thought he was going to drop my class, but I'm super happy he stayed." 
High School can be intimidating for many reasons. The people, classes, sports, or maybe just the general environment. 
"I'm young, I'm supposed to be a junior with the class of 2021 but I started high school early." 
"When Obi walked into my room, he was already great. He knew what he wanted and how he was going to get there." said Gebhardt, "I hope I encouraged him to get out of his shell. He has been amazing to teach and get to know. I know he will complete great things in the future." 
Along with being young, and not graduating with the class of 2021, Agbim attained a lot of success during his high school career. He ended his senior year stronger than ever while getting on to the honor roll, and being one of the best (if not the best) players in the class of 2020 in Colorado. 
"Obi matured and finally realized he needs to do his best in all aspects of his life, not just sports. I was very hard on him and held him to a high standard." Agbim's former club coach Drew Ferner explained, " As far as a person/player, I do not believe I have ever coached a young man I am more proud of. His level of maturity changed over a short period of time in the face of adversity."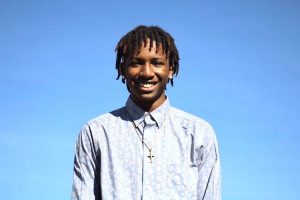 Rangeview is known for many things, one being having some of the best athletes in high school. Another is a long list of names of students who achieve beyond their classroom expectations, the honor roll. Another small portion is the students who have successfully managed their sports and school life. Agbim is one of those students, as he's completely mastered the art and stress of being a student-athlete. 
"From honor roll to college qualifier to scholarships, Obi is the epitome of the results you can achieve with hard work and discipline." Ferner said, "When I first met him I do not believe he was very focused on the importance of effort and discipline in all endeavors." 
"My story is just a kid inspired by others, but one who took his own path. During my time at Rangeview, I've achieved many things. Winning EMAC Player of the year, 1st Team All-State, winning a State Championship, and all year Honor Roll. It wasn't easy, but it took my time, motivation, and dedication to graduate and become an NCAA qualifier. The kind of imprint I want to leave on others is that I care about them almost more than myself. I love seeing others succeed, especially when I know what battles they have been through." 
Rashid Seidu-Aroza – by Salmata Soulemane
You've seen him walk the halls, taking notes in class, and shining on the soccer field. Rashid Seidu-Aroza ended his Rangeview career with many astonishing accomplishments. 
He is well known for his amazing soccer career, especially during his senior year when he was leading 5A with 33 goals in 13 games and counting.  Overall, Seidu-Aroza's Rangeview soccer career had 84 goals and 12 assists, in 50 games. As of now he holds the record for the most career goals(84), most goals scored in a season(40), and most goals in a game (5)–despite him being varsity for only 3 years.
"I've grown up playing soccer since I was 6. I wasn't on any club team, I just played street soccer a lot," says Seidu-Aroza, he continues, "I remember I didn't have cleats to play in so I played barefooted most of the time in the streets."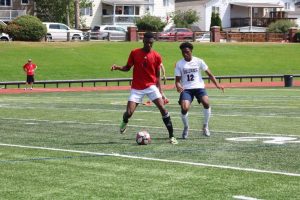 Not only did he dominate on the field, but he instantly turned heads when joining Rangeview's Track & Field team.
Seidu-Aroza was apart of the 4×100 relay team who finished 8th in the state. He won 1st in the Boys 100 meter at the 63rd Annual Robert F. Caviness Invitational and Mullen Invitational, as well as 1st, at both, with a 4×100 relay team. Adding on to that, he contributed to the big EMAC League Championship win with his 4×100 and 4×200 back in the 2018-19 season. The star was able to do all of this in his first year of running track & field. 
Sadly due to the pandemic, he –along with others –was not able to take on the track once more.
Rangeview Track & Field coach Chris Carhart says, " Rashid was fun to coach, not just because of his incredible natural talent, but because he was truly hungry to learn and be his best," he continues, "I think Rashid inspires those around him.  He quietly outworks everyone and raises the level of everyone by doing so."
In his 4 years, the athlete was able to make his mark, and now, many say he is on to greater things. 
Rashid Seidu-Aroza will be attending the University of Dayton where he will obtain a Bachelor's in Environmental Science as well as continue his athletic career playing soccer on their team. Many believe Rashid Seidu-Aroza is all around a hardworking and great person that deserves all the success coming his way. He holds his head up high and continues to strive for greatness.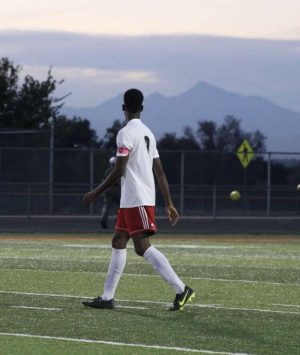 "My love for the game motivates me along with the desire to provide for my parents and family back in Ghana in the future," he states, "My plan is to hopefully get drafted in the MLS during my time in college. And Ultimately, my big goal is to play in the premier league someday," says Seidu-Aroza."
Rashid Seidu-Aroza has grand plans which he will not stop working towards and we at Rangeview wish him the best on his journey.