Female Teacher of the Year: Mrs. Gasior
After teaching two years at Rangeview High School, Sarah Gasior has been elected as Female Teacher of the Year.
This year, Mrs. Gasior taught three Composition classes, Ethnic Literature, and Intro to Literature. She taught a mix of all grades; mostly accommodating juniors and seniors. Gasior just finished getting her Masters Degree — for her love of literature — in order to teach CCA classes.
"That's impressive to go as an adult back into school…especially at a Master's level," English teacher Mr. Wells said. "What she's done for her students, I think is huge. Her willingness to learn as an adult is very impressive."
Students who have had Gasior could say that she is a very understanding and helpful teacher; a patient and an honest person. Those who know her could say that she is empathetic and motivational.
"One thing that I learned a few years ago is that students need their teachers to be human also," Mrs. Gasior said. "I've learned that I can get a lot more engagement…if I am vulnerable as a person."
Gasior is passionate about all things literature, whether it is with writing or reading books. According to her, reading is like an escape.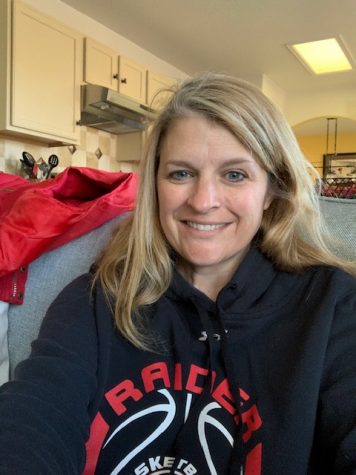 Her love for the subject has been passed around to her students; especially to Senior Ellington Smith.
"I've never really been a big fan of having English classes, just because I find English to be a subject that isn't necessarily objective," Smith said. "Gasior really allowed me to open up my eyes and see writing in a way that works for me."
Smith and Wells would agree that Mrs. Gasior is open and has a willingness to do well in her career. She has a knack for engaging with her students in a positive way.
"By coming in, it's always nice to have another veteran teacher that can come in seamlessly and contribute to the department; not just her academics as far as holding kids accountable and teaching really well…but it's being a great colleague, a great resource," Wells said. "She's really good at what she does."
Throughout 16 years, Gasior has worked hard for her role as a teacher. She believes she has improved thanks to all her great students along the way. According to Gasior, they helped make her a better person and a better teacher — even better in her writing skill.
"I want to thank her for being such an amazing person, an amazing teacher, and an amazing mentor when I worked in the writing center this year," Smith said. "She really helped me develop my character as a person as well as my love for the English language — and writing in general. I just want to say thank you for everything that she's done for both myself and the senior class."
Any student who takes one of Mrs. Gasior's classes will be well prepared for the future. Many can say that Gasior is an amazing teacher; one that talks about life outside of school with her students and one that connects with her students through literature.