Retiring Teachers
Dean Anderson (Story by: Alexis Drummond)
At the end of every year at Rangeview, many say their goodbyes around the school. With the senior class leaving, we get to see many individuals grow, but we also get to see teachers move on as well.
This year, staff and students have to say goodbye to one of the deans: Mr. Terry Anderson.
Mr. Anderson has been at Rangeview for 20 years. Anderson started off as a teacher, football coach, and track coach. 
"I started as a team teacher at Rangeview in 94 and 95 coaching football and track," said Anderson. "The next six years at Smoky coaching football and track. I missed Rangeview and returned in 2002 to the present."
Before getting into teaching and being an administrator, Mr. Anderson played professional football. Anderson played 14 games with the Miami Dolphins, 10 games with the Washington Redskins, and four games with the San Francisco 49ers before he got injured. 
Since then, Anderson moved to Colorado and began working at Rangeview. Within his time in the Rangeview building, Mr. Anderson has coached football (20 years), track (15 years), and girls' golf (5 years), leaving an impact on many students who have attended Rangeview. 
"Mr. Anderson helped me find a love for the game of golf," said senior Kaylee Hall. "He has helped me not only on the golf course but also in life; teaching me to always follow my dreams and pursue my passions."
Being at Rangeview has taught Anderson that there is much more to teaching and working with teens than most people believe. 
"I truly believe teaching is a calling," said Anderson. "Not just anyone has the courage to take a young adult's life in the palm of their hands and touch them for the rest of their lives. You must have a burning passion and desire to make a difference in the future of the current generation."
After he retires and leaves Rangeview, Anderson will be spending time with his two granddaughters and awaiting the arrival of his third grandchild. He will continue to stay connected with Rangeview through the Fellowship of Christian Athletes and the girls' golf program.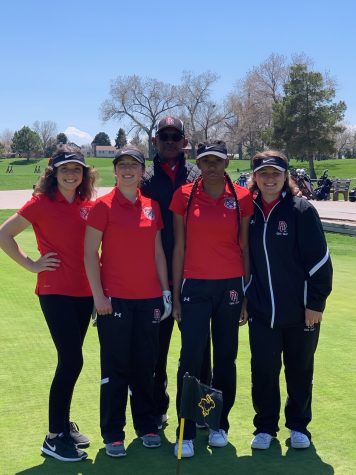 "I hope to be working for the Lord through FCA at Rangeview and I'll probably ride my motorcycle like I stole it."
Leaving the people he loves and who became his second family away from home is a tough thing for Anderson to grasp. 
"Rangeview has been my extended home and family for the past 25 plus years. In that amount of time you meet some amazing people, some you grow fond of; many I love like my work wife Vonnie, it's like when I come to work I never leave home. Love you V," said Anderson.  
As Anderson departs from the halls of Rangeview, he leaves one piece of advice for everyone:
"Continue to walk the path of righteousness, follow your heart, and 'don't let anyone steal your JOY'— Vic Strouse."
Mr. Ramthum (Story by: Katiana Williams and Jeffery Afriyie)
This year one of the teachers saying goodbye to Rangeview is David Ramthun, many people know him as Coach Ram. Coach Ram was a Physical Education teacher and was also one of the assistant coaches for the Rangeview varsity football team focusing mostly on the defensive line.
"I wanted to be a teacher because I wanted to coach," Coach Ram stated, "I had a great time and built great relationships and I also wanted to be around kids and help them build their own."
Mr. Ramthun worked at multiple schools throughout APS including Sable Elementary, 6th Avenue Elementary, Parklane Elementary, Aurora Central, and even Gateway before coming to Rangeview in 2013. He knew Coach Gonzalez, the previous head coach at Rangeview, and came to Rangeview to have an opportunity to coach with him. Ram has coached football for over 30+ years.
"I will really miss coach Ram," junior football player Kaleb Martin stated, "my freshman year I thought Coach Ram hated me but he was just pushing me to be the best and I will always appreciate him for that."
Coach Ramthum has gotten to know and work with several people throughout his time as a teacher/ coach. For the past three years he has worked alongside Coach Christopher Carhart. 
"Ram is the personification of what every parent hopes their kid gets as a Coach when they send them off to play high school sports.  He has incredibly high moral and ethical standards, demonstrates these to the kids daily," said Coach Carhart.
Several people would tell you that just walking into the coaches office there was a great energy about the coaches in that room with Ramthun being one of them. All of the coaches have great personalities and would always joke around with each other as well. 
"My favorite memory of Coach Ram is when he waddled up to a basketball with his normal old football player gait, picked it up, and proceeded to break into a full sprint across the gym, take flight from near the free throw line, and throw down the most spectacular dunk in the history of mankind," Coach Carhart said.
But among that, many people say that Ram has helped them grow not only in football, but as a person and according to Ram that is what he enjoys doing, to help and watch the people around him grow, especially kids.
"I feel it is time for me to move on. The way things are done these days in school and football are different from my way of thinking all the time. I have two grandkids back in Iowa and want to spend time with them and help them grow," he said. 
Ram believes it is time for him to hang up his coaching hat. He will truly be missed in the Rangeview community; once a Raider, always a Raider. Good luck to you Coach Ram.