Sports Have Returned!
Unless you've been quarantining under a rock, you probably know the Colorado sports scene looks very differently than it usually does this year, due to Covid-19. The return of sports is something that many fans and athletes alike have patiently waited for since Covid-19 cancelled all sports back in March, leaving many without their senior seasons, as well as preventing teams from winning state championships. The first season of sports include the non-contact sports, to limit the passing of the corona virus. These sports for the first season under the CHSAA classifications include boys tennis, boys golf, cross country, and softball. Rangeview Raiders are taking part in all of these sports already.
Sports that are usually played during the fall season were moved to later in the school year. These sports include football, boys soccer, and volleyball. All of these sports have been moved to season C, which doesn't start until March.
The boys tennis team at Rangeview has already been rolling for a while. A lot of sports had to cut their season down due to the Covid schedule changes, especially the sports that come later in the school year. Boys tennis luckily didn't have to lose any games this season.
Do the new Covid related guidelines and rules greatly affect the game? "It's been mostly the same," said Giovanni Palazzolo (Gio). "It's just hard trying to greet people without contact, and we're not supposed to be touching other players' balls, but it's been feeling like usual tennis for the most part," Gio stated.
Kaleb Urban is standing out  for Rangeview so far as far as tennis scores go. He is 3-1 on the season, and just finished up a win early last week. He is a returner from last year's team, and is also playing golf at the same time.
The Rangeview golf team has also started competition. Senior golfer Dallon Deloach gave his thoughts on the season so far saying, "It has felt mostly the same during Covid," Deloach stated. "There have been some minor things, but it's mostly the same."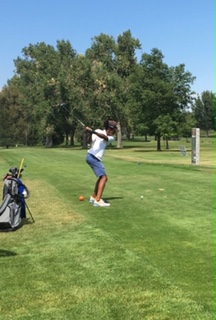 Golf is one of the only sports not to have a shortened season at Rangeview. Sports like basketball are losing 9 games they were originally scheduled to play this year. "Our season wasn't shortened due to the virus scheduling. We actually added another tournament," Deloach said.
Softball is the final sport going on in Colorado during this first season. Although all sports are different and will most likely have different guidelines, this is somewhat of a preview of what's to come. Regardless of all these Covid related issues, including a shortened season, many members of the team say Rangeview's girls softball team is looking forward to competing this year, even though it might look a little differently than before.
"We aren't allowed in our dugouts, we can't huddle as a team, spectators aren't allowed at our games, balls cannot be exchanged between teams, and everyday we get our temperature checked and go through a series of questions before being allowed to play…I'm just grateful to have my senior season." said senior Jayah Caley.
With this season in the works, Seniors Jayah Caley and Cassie Pearson are looking to lead this team to a winning season and that includes a state championship. When asking Pearson about her hopes for the season, she responded saying this, "I've had the same hope for our team the past three years. To make it to state."
The softball team currently stands with an 0-3 record, but many players are optimistic about the improvement they can make in the near future.
Many people are excited to have high school sports back in action, especially here at Rangeview. So far there have been no Covid-19 issues as far as these sports are concerned, and they have been able to continue as planned. These teams hope this can continue, as they hope to continue to improve throughout the season. Go Raiders!