Sports Views: Athletes Persisting for Change
May 25th, 2020 was a terrible, yet momentous day in America when a white police officer suffocated George Floyd, a black man accused of using a counterfeit bill. Despite being unarmed he was murdered,  pronounced dead after Minneapolis police officer Derek Chauvin kneeled on his neck for over eight minutes. "Please, I can't Breathe," Floyd said repeatedly, begging the cop for his life, but not dying in vein as. professional athletes across the US and the globe such as Lebron James, Kyle Korver, Colin Kaepernick, and countless more are taking a stand for what they believe in.
This summer has highlighted something that I live with daily: being a black man or woman has turned out to be terrifying. One of the most pressing concerns being my dreadful reality that for blacks of constantly looking over our shoulders and being scared of people we shouldn't be scared of such as the cops, and even sadly our president.
Micheal Jordan, the former Chicago Bulls star with six rings, issued a statement of the police killing of Floyd, "I stand with those who are calling out the ingrained racism and violence toward people of color in our country, We have had enough. … We need to continue peaceful expressions against injustice and demand accountability. Our unified voice needs to put pressure on our leaders to change our laws, or else we need to use our vote to create systemic change." This is how many were feeling after what happened to Floyd. People are tired and pissed off! We deserve so much better.
As NBA players come to Orlando to finish the season in the bubble since the season was suspended because of Covid-19, all players have been wearing warm-up shirts that say "black lives matter" and have been expressing their emotions and feelings about the topic in pre-game and post-game interviews. They have also been kneeling for the national anthem before every game to show that America is not great and it needs to be fixed.
"They've had horrible ratings, and low numbers. People are angry about it. They have enough politics with guys like me. There was a nastiness about the NBA the way (protesting) was done. The NBA is in trouble, bigger trouble than they understand," said Trump in a statement.
What Trump stated is totally wrong and he said it just so he had something to say because he himself didn't like it. Lebron later retorted, "I really don't think the basketball community (is) sad about losing (Trump's) viewership." In James' perception he doesn't care what Trump says because Trump doesn't agree with the social injustice that is going on and it's terrible and scary for him to be our president and not view what is happening in the world as black men and women do. We are all waiting for change!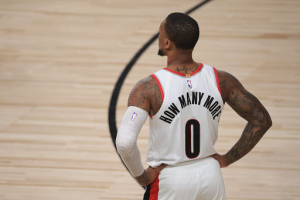 On Wednesday, August 26, following the Milwaukee Bucks' refusal to play their first-round playoff game against the Orland Magic, the Los Angeles Clippers and Lakers were proposing the idea to boycott their remainder of the time in the playoffs in the bubble. All of this a result of another black man's unjust suffering at the hands of police, proving just how bad police brutality is and how grat the need for social injustice is. This time it was 29-year old Kenosha man Jacob Blake when a video filmed by a nearby neighbor revealed Blake walking away from a bad situation and cops shooting him in his back 7 times. This continued to fire up the black community.
Everyone remained angry about how cops tried to kill another unarmed black man.
"If you're sitting here telling me that there was no way to subdue that gentleman, or detain him, or before the firing of guns, then you're sitting here, you're lying to not only me, you're lying to every African American, every Black person in the community because we see it over and over and over, I know people get tired of hearing me say it but we are scared as Black people in America. Black men, Black women, Black kids, we are terrified,'' said James
James resonated a powerful response about black men and women, who are still being treated so poorly by police and are continuing to die by their hands. He reiterated what many of us in the black community feel; we're sick and tired of this police brutality. Their choices and actions have led to killing one of us in what feels like every single day.
 James had also stated, "You have no idea how that cop that day left the house. You don't know if he woke up on the good side of the bed, you don't know if he woke up on the wrong side of the bed." Black men and women must think about this everyday. It seems to leave the thought of "Am I going to be next?"
It's a problem that is affecting millions. As a young black man it sucks to see your parents scared every time I leave the house!  It's just not right for everyone of color to be scared and to constantly look over our shoulders. No one should have to live in fear, This is why we will keep fighting until we can be seen as equals!