Opinion: Will Schools' Safety Precautions Prove to Be Feasible or Futile?
Several schools, in multiple districts in Colorado, have already reported numerous confirmed cases of Covid-19 since their return to in-person school on August 17th. With a combined total of 43 confirmed cases, over 1,300 students and staff members being subjected to quarantining, and two schools shutting down completely, shortly after opening, schools' returns have been anything but smooth.
Schools should not return to in-person classes. The safety regulations set in place for schools to return to in-person classes in the fall are not adequate in keeping students and staff safe. 
Schools in Colorado should either decrease the number of people at the schools at once or not consider the idea of in-person schooling at all until their methods of returning are confirmed to be successful.
In terms of reopening schools in the fall, the United States has left the safety precaution details in the hands of each state's level government. The latest guidelines given to Colorado schools planning on returning to in-person schooling in the fall, put out by the Colorado Department of Education, were created by the district leaders, CDE, and Colorado Department of Public Health. Though, according to the Colorado Sun, these guidelines are merely a 'suggestion' and individual districts will have the final say in whether or not they follow them.
These guidelines included encouraging keeping a distance of six feet between students, "cohorting" students to minimize the spread of the virus in case of an outbreak, supplying adequate supplies to support 'healthy hygiene,' and regularly cleaning and disinfecting all high-touch surfaces and shared objects. 
Like most plans, in theory, these precautions and safety measures seem effective in keeping students and staff safe. However, in execution things don't always turn out the way they were intended to. 
"Initially, I thought the idea of it was fine," said Trisha Maroju, a Junior at Smoky Hill High School, whose school is doing a hybrid of in-person and online classes. "I think in-person school is fine in the classrooms, but then in the hallways it's very crowded, especially when it comes to lunch and off periods."
The guidelines that were given didn't effectively account for passing periods, off periods, or lunch for high school students. High schoolers can't safely get to their classes while following social distancing if they also need to be on time. Teachers may have an easier time enforcing these guidelines in class, however, in the hallways, where there's a larger frequency of students, or at times where students don't have a teacher, there's no guaranteed way to enforce these rules.
Though it is very ambitious for schools to believe in students' abilities to adhere by rules that are in place to keep them safe while unsupervised, it isn't entirely realistic. Schools, in general, even when not faced with the risk of a global pandemic, have difficulty getting students to follow instructions. If schools don't have a 100% success rate when it comes to enforcing normal rules, how do they expect to have 100% success with this?
Maroju said, "Masks are compulsory and everybody wears them. There are some kids that don't wear the masks correctly and it is so frustrating because we are all literally going through a global pandemic."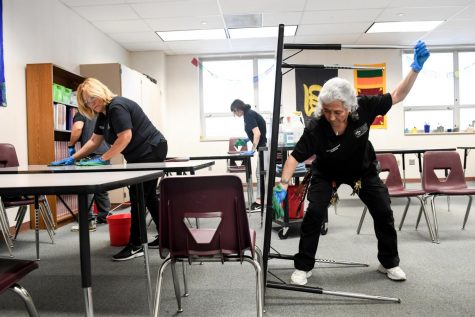 Setting aside the responsibility of the students, the staff's responsibility to sanitize high-touch surfaces and shared objects regularly and actively enforce these safety precautions would need to be done diligently. All of the sanitizing, disinfecting, and consistently providing students with proper sanitizing supplies could prove to be hard to keep up with.
Maroju explained that teachers and adults in the building "only enforced masks, but not social distancing", including that she didn't see the teachers themselves actively socially distance themselves either and that they were often crowded together. 
A single mixup, mistake, or reluctance of staff to follow and keep up with their duties regarding this could account for an outbreak in the school. Of course, mistakes happen all the time, but a mistake, in this case, could mean the spreading of a deadly virus, through germs, and possibly even death.
Contrary to all the complications presented, some believe that the precautions set in place are enough and have faith in their districts and individual schools to carry out these precautions effectively. Believing that order can be maintained through simply doing as the schools instruct.
Serena Nguyen, a Junior at Regis Jesuit High School, who's school returned to in-person for two days to start off the year before shifting into completely online classes, said she felt safe because her school was "taking the necessary precautions to make sure that [they] all feel safe in the new school environment," and that "surprisingly more of the students have followed the guidelines than [she] thought."
However, for every school to create an environment where kids feel safe every single person involved in returning to school would need to adhere to the rules. They'd need to take 100% accountability for their actions and demonstrate responsibility by doing exactly as the guidelines say which doesn't seem very plausible for some students or even staff.
Before efficiently determining the effectiveness of the safety guidelines set in place, the question of whether or not schools will even have adequate funding to keep up with the guidelines is vital. It is no secret that many schools, especially in Colorado, are underfunded or unequally funded in comparison to other schools. Expecting a school to have success keeping up with safety precautions, but giving them no extra money to ensure they can, is not a realistic expectation.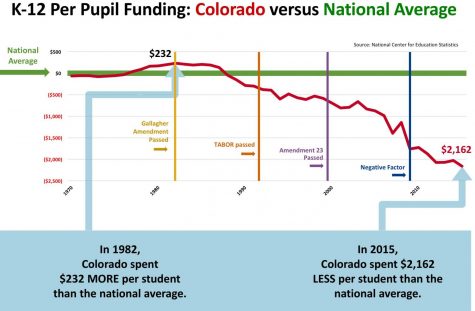 In order for these precautions to even begin to work, the funding of schools needs to be altered to provide schools with more support in following these precautions.
A possible solution would be sending certain students to school on certain days to keep the number of people in the building at once to a minimum. With fewer students there as a whole, these precautions would be more easily executed and it would be a good indicator of how plans would potentially work on a larger scale. In addition, extending passing periods and designing a better plan for where students with off periods should be, would help immensely. 
Many more factors should be taken into consideration before a return to in-person school is set into motion. Rushing a return to school could prove to be a horrible misjudgment with major consequences.