The 2020 VMAs: Performances Ranked
Charisma, showmanship, and the help of some green screens were what artists were relying on to captivate the attention of music lovers with their performances at the MTV awards on August 30th. The 2020 MTV Video Music Awards, also known as the 'VMAs', housed performances by some of the biggest names in the music industry. 
With these performances, there were some clear winners and losers of the night. Here, we will be breaking down the main stage performances of the night, from worst to best, in terms of outfits, overall look, choreography concept, and execution.
As the last performance of the night, with their songs "Vida Loca" and "I Gotta Feeling," the Black Eyed Peas will surely be remembered, but for all the wrong things. From the questionable choice of pants, to the lackluster choreography, something about the Black Eyed Peas' performance just didn't hit quite right. Though they were able to incorporate some much needed positivity into their performance with messages encouraging "keeping the love alive" and thanking the "first responders and the freedom fighters," their performance overall wasn't that great. 
The nostalgic feeling they would've been able to create with their song choice and performance was muddled by their light-up crotches as they humped the air. The green screen was also a bit chaotic and often drew the attention away from the actual performers to the multi-colored light show behind them, making it difficult to know where the focus was meant to be drawn.
Aside from the chaotic imagery of the performance, there was no real storyline or concept, which is not bad; it did not give the audience as much to connect with. Overall, the performance wasn't awful and was definitely memorable, however, the execution and overall look of the performance fell flat.
8. The Weeknd
Starting off the main show of the VMAs, The Weeknd performed his hit song, "Blinding Lights." The overall look of the performance had a very clear aesthetic, with him standing solo atop a roof, the view of New York City around him, a smoke effect surrounding him and fireworks shooting off in the background. However, besides this look, The Weeknd didn't really bring anything else to the performance to elevate it — the performance was basically a "diet version" of his music video for the song. 
His vocals were amazing, but he was standing in one position for the entirety of his song, as he allowed the camera work and background to carry most of his performance. Though the background was amazing to look at, that can't carry an entire performance. 
In terms of the concept, it was almost like watching a movie, with the majority of the performance being dependent on camera work. However, with some of the wider camera angles, the focus of the camera was never really solely on him, leaving no room to convey any real emotion with his performance. Though it was beautifully shot and produced
as a whole, the performance overall wasn't the best.
7. Maluma 
In third to last place is Colombian singer Maluma, who performed his song "Hawai." Overall his performance was simple but captivating, sometimes less is more and in this case it benefited him.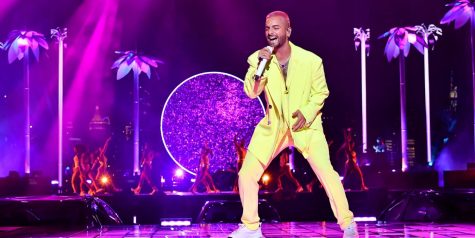 There wasn't much of a concept to his performance; it told no story in terms of background and aesthetic. The background was very straightforward with having palm trees, correlating to the title of the song. The outfits were really pretty and even though it was a solid yellow color, it stood out, contrasting the purple light very well and it gave the stage a nice clean look.
A performance is also supposed to be about singing and dancing, and Maluma did just that. He had nice, clear, and stable vocals throughout the performance while doing some basic choreography next to his backup dancers. Making the sole focus of attention be him. Even though it was simple, he executed what he did very well, but there is nothing more to his performance.
6. CNCO
Performing their new single "Beso", Latin American boy band, CNCO gave a decent performance. They didn't have intricate theatrical backgrounds or concepts but it was still good enough as well as being simple. 
Compared to Maluma, they did have more movement such as starting in one of the cars, then hopping out and moving through some others cars while performing clean and precise choreography.  
They managed to use the typical boy band image to their advantage by having matching red outfits that looked good with the red lighting, and focusing on having some good vocals making it an effective performance. 
However, the lack of creativity in the concept and background is what makes this performance rank low.
5. DaBaby
In the middle spot we have DaBaby performing three of his songs; "PEEPHOLE," "Blind," and "Rockstar" while accompanied by hip-hop dance crew, the Jabbawockeez who helped with the storyline and background choreography. DaBaby's movement and choreography was well done. His performance also tried to tell a story and show a powerful message to what is currently happening in our society; by having masks, police officers, and burning buildings. The concept was strong and he tried to add something to enhance his performance but the execution could've been better.
Although not his fault, the use of greenscreen was very heavy which clashed with many elements of the performance and didn't blend as well. An example would be his outfit and the background, making it seem like it was too much and very cartoonish. His vocals also didn't sound right as it sounded too dependent on the backing vocals and not enough of the live vocals, as well as the censorship making it sound off, but that is not his fault. Overall, the performance was not bad and actually pretty memorable to many viewers.
4. Miley Cyrus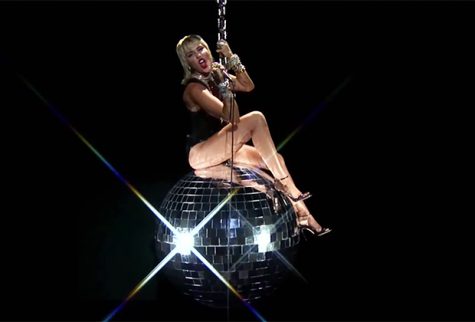 Miley Cyrus' performance of her new single "Midnight Sky" was simple, yet tasteful and nostalgic. She donned a sparkly black tank top and a matching skirt, which she pulled away later in the performance to reveal a sparkly bathing suit bottom. The concept of the performance was very simple and easy to follow, yet captivating. Cyrus started her performance in a red monochromatic lighting, standing on a red moon, in reference to the song title. As the performance progressed this lighting shifted to blue, then black, and finally ending with white. 
Cyrus' execution on this concept was smooth, with little bits of choreography that didn't make the performance too confusing to watch for the pace of the song, and made it enjoyable to view. As she climbed the stairs of the stage in her final minute of her performance, a disco ball could be seen hanging at the top, a reference to her 2013 hit single "Wrecking Ball." Long time fans of Cyrus, or fans that have seen the video before, were hit with a wave of nostalgia as they watched her climb the stairs to sit atop the disco ball to end off her performance. This spark of emotion she was able to invoke and the altogether cohesiveness and quality of her performance made it one of the best of the night.
3. BTS
In third place is BTS with their new song "Dynamite."  Their suits were simple but still well put together and nice, it was a great choice as their background set kept constantly changing, so the two elements didn't clash. Although not having a story or bright concept, they still did very well and had some of the hardest choreography compared to other groups. 
They not only did some hard choreo, but kept stable and clear vocals throughout the performance as well as high energy. It's simple enough to be aesthetically pleasing but still keeps your attention on just the seven members of the group and can make viewers really appreciate the song.  
The overall look was simple, but mesmerizing with the changing background and didn't need a story/concept as the peppy pop tune had lots of charisma. The execution was also well done with the performance relying on vocals and dancing, having the same style of a typical boy band.
2. Doja Cat
Doja Cat performed her two viral TikTok hits "Say So" and "Like That." The intro of her being a reporter and announcing her performance was really cute and added to the story she set up. Her concept was really strong with her being on another planet/outer space. The background set was beautiful with multiple colors of blue, pink, and purple including the lights. Her outfit also reflected this background, being a skin tight bodysuit that was very shiny and lit up pink, accompanied by green hair that complemented the other colors.  
Her background dancers also had good outfits with two of them having alien type costumes to match the space theme and the others being very shiny, giving it a nice aesthetic. She also had strong choreography and vocals throughout the performance, and the transition from one song to the other was smooth. Compared to other artists, Doja Cat danced more and it was more difficult to perform.
The execution of the overall look and show was done very well with everything going smoothly and showcasing something different and making a statement. With an intricate and aesthetically pleasing performance it was good, overall being tied together by her great stage presence and charisma. 
Even though she had less time than Lady Gaga, Doja Cat was able to give an almost equally great performance in comparison and was an artist who was able to not only have the look, but talent and right execution to pull all aspects off from her performance.
1. Lady Gaga and Ariana Grande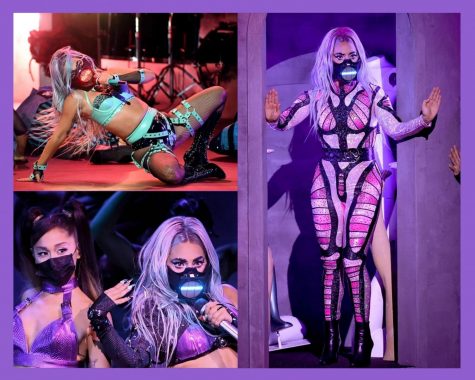 Lady Gaga was given the most time for her performance, roughly nine minutes, which arguably made it the most interesting to watch. In those nine minutes of airtime Gaga's set, where she performed,  "911," "Rain on Me," "Chromatica II," and  "Stupid Love", was innovative and eye-grabbing throughout the duration of her time. She had a clear Chromatica concept and was able to smoothly integrate it into all of her songs and effectively connect them all in a way that made sense.
Gaga started off her performance in a living room, sitting on a couch under a blanket, as she watched the preview of the trailer of a past VMAs, before throwing off the blanket hopping up to reveal her first performance outfit, a simple green and black two piece with belt details. She had two more outfit changes throughout her performance, first into a purple and black similar two piece, and finally into a pink, white, and black bodysuit, both of which were simple yet eye-catching.
Her first two songs, "911" and "Rain on Me" were very high energy with lots of fast choreography. Ariana Grande came out to perform the second song of the performance with Gaga: "Rain on Me." The two artists both wore masks as their groups performed, keeping a reasonable distance between themselves. Both Gaga and Grande had amazing live vocals, and rarely depended on backing vocals as they performed.
Gaga was able to change the dynamic with her third song of her performance "Chromatica II". It was this shift, with her sitting alone on stage, playing the piano was a change of pace, with a slower song, that kept viewers interested in her performance and eager to see what was going to come next. Had her performance not been good, viewers wouldn't have been able to sit through the whole thing, however, her use of outfit changes, choreography, differences in dynamics, and set changes held the eye of the viewer throughout it all. 
Gaga was able to effectively tie together her performance by returning to the first scene at the end of her performance, sitting back down on the couch and covering herself with a blanket, as the camera turns back to the TV. A combination of her choreography, outfit changes, and the immaculate execution of her concept, made Lady Gaga's performance the best and most memorable of the night.
Even though the performances at the VMAs are a huge part of why some people watch the award show, the main focus is on the categories, nominations, and winners. This year it seems like many people, despite being fan voted, were not pleased with who won certain categories such as "Song of the Year" or "Best R&B," as well as multiple other categories.
Blackpink's "How You Like That" is not a bad song and peaked at #33 on Billboard's Hot 100 chart staying on the charts for two weeks. Objectively for Song of the Summer it should be a song that everyone, not just fans of that genre or artist, can agree was popular during summer and many listened to it. 
Unfortunately, not everyone likes K-Pop or listens to it, so having a song that targets a specific group of people isn't a correct representation of a song that everyone was bopping to in the summer.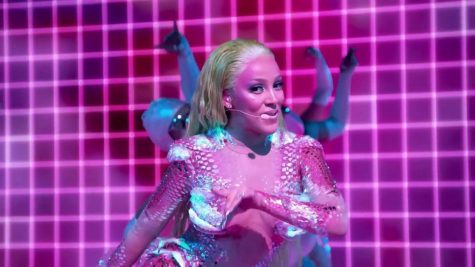 "The song was a bit annoying and it just wasn't my type of song," junior Achisa Panichakul said. "It also doesn't even fit into the summer category. I believe that 'WAP' should've won Song of the Summer. When it came out it was a trending song and dance." 
Besides that, there were also a couple nominations that many believe would've been better suited to win the category. This includes Harry Styles' "Watermelon Sugar," peaking at #1 staying on the charts for 24 weeks, Megan Thee Stallion "Savage", peaking at #1 staying on the charts for 25 weeks, Doja Cats "Say So", peaking at #1 staying on the charts for 35 weeks, and The Weeknds "Blinding Lights", peaking at #1 staying on the charts for 40 weeks. 
Artist of the Year 
Lady gaga took home artist of the year, she is a talented artist and has done some great things over the years as well as given some iconic looks and overall moments. However this year particularly there weren't many things musically that she did besides dropping her album Chromatica and "Rain on Me" with Ariana Grande. 
Those two things also were never really super popular or mentioned a lot. This year just had too many popular songs come out that it's easy to get overshadowed and that's what happened to Lady Gaga. It also seems like her stuff was dropped very recently almost late in the year just in time for the VMAs.
It doesn't fit to have her be the artist of the year when some other nominees did more than her throughout the year. One example is Megan Thee Stallion who had songs such as "Savage," "WAP," "Captain Hook," etc — and other artists like DaBaby and The Weeknd. However, it can be said that this year's nominations were weak and didn't necessarily fit the category. 
It also is very objective person to person on who we think deserves an award or not and what type of music we keep up to date with.
"Lady Gaga is a good singer, I think she deserves it. She puts a lot of effort into her music videos and her songs are just really fun to listen to." Panichakul said.
Though it is arguable that "Rain on Me" was very popular, with its release amassing around 10.2 million streams in its first day, it should not have won Song of the Year. In comparison to the other nominees in the category, "Rain on Me," did not receive the same traction, play, or hype, as some of the other choices. Song of the Year, to me, means a song that you heard about all the time, a song that was influential to people in some way, and "Rain on Me" just did not fit the bill.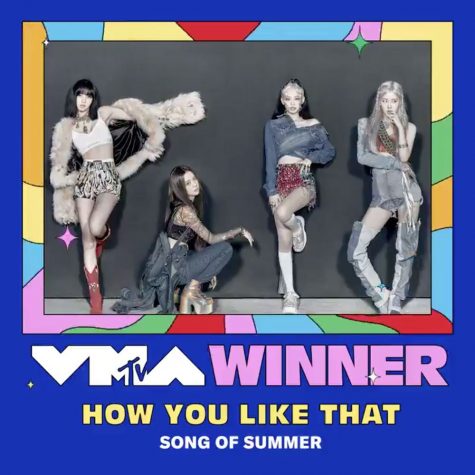 Panichakul, said that the song deserved to win because "it was a fun song to listen to" and the other nominated songs got "annoying and boring over time."
However, the Song of the Year needs to be popular in terms of more than just streaming numbers or the vibe of the song and more in terms of the people's remembrance and exposure to the song. Though it was popular, the song didn't reach as vast of an audience or make as big of an impact as other songs did in the same category. 
For example, "Savage" by Megan Thee Stallion, another nominated song in the category, was being played everywhere and was constantly being talked about and listened to. It was on radios, being used in TikToks, and was even collaborated on by Beyonce in a remix. 
Though "Rain on Me" was a good song in terms of its streaming numbers and its quality, it was not The Song of the Year because it didn't have as big of an impact on people.
"Blinding Lights" was obviously deserving of recognition and an award, reaching the number one spot of the Hot 100, and surpassing 500 million streams on Spotify, however, it should not have been placed in the R&B category in the first place. 
The Weeknd's "Blinding Lights" is a pop song, more specifically electropop and synth-pop, as listed in its description and by the overall sound of the actual song.
"I'd definitely say it's pop," said Panichakul. "It could maybe be R&B but mostly it's a pop song."
The VMAs placement of the Weeknd's song in the R&B category was incorrect and an example of an overarching pigeonholing problem in award shows, in general, in terms of confining all Black artists to specific categories. Black artists' songs, regardless of their true genre, are usually placed in either the R&B or Hip-Hop category. This is stifling to Black artists who are experimenting with genre and music by holding them back by keeping them in the same category when they are trying to branch out.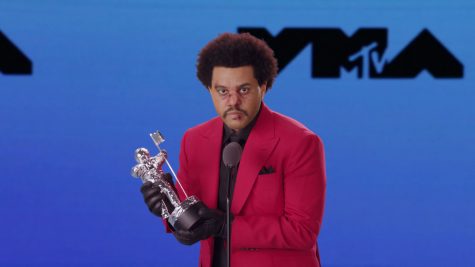 Being that the MTV VMAs is an award show that is voted on by the people and helps prevent too much upset in fans or rigged winners, upsets can still happen. In an award ceremony, there is no way to make everyone happy, but there are ways to keep people from criticizing the legitimacy of the award show and business as a whole. Using the same, and adequate, criteria when selecting a nominee to win an award is crucial, and failing to do so can result in outrage by fans.