Opinion: Practice What You Preach
For a little over a year, COVID-19 has been around as thousands of people are affected every day and have quarantined to heal and protect themselves and others. During this time, social media influencers and creators have impacted others for entertainment, educated their fan bases on COVID, and encouraged everyone to protect themselves from the pandemic. 
However, in some cases, a few creators have been hypocritical about COVID-19: going out to parties, planning vacations; all while telling their fan base and others to stay home and protect others.
Since the pandemic started back in March of 2020, the social media app, TikTok has become one of the most used apps this past year, with about 1 billion active users as of January 2021. It has influenced many small creators and young kids to join the platform, creating videos and starting a fan base of their own. Small creators use TikTok to promote their small businesses and grow their brand for others to buy from. With the coronavirus, they sanitized their supplies and workspace before beginning to packaging orders.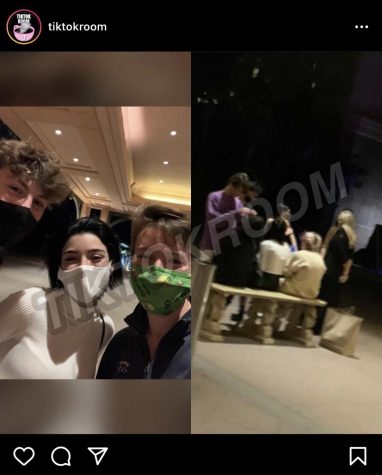 With bigger creators and influencers, they tend to "forget" about the current global pandemic and adventure out of their home to late night parties or even go on vacations. Recently, the D'amelio family and other creators took a trip to the Bahamas during the pandemic. Being discreet about their vacation, the news of their trip went viral all over the internet and people were furious with this news.
According to Cosmopolitan, Charli and Dixie D'amelio have yet to respond to the backlash they've received from Twitter and Instagram. One Twitter user stated, "the fact that Charli D'amelio and other tiktokers are in the Bahamas [right now] honestly BAFFLES me [because] even if you ignore the deadly pandemic (which they are experts at) they literally went to the Bahamas in early March this year there was no reason to go again."
When it comes to taking time off, creators will plan to go out in secret instead of spending the time protecting themselves. But the news of them going out comes with the job as many will criticize for their actions. 
"It's super irresponsible! Influencers constantly tell their supporters to stay home and be cautious yet they travel the world as if they were immune to the virus," stated RHS Junior Maria Longoria. It's as if influencers aren't listening to their own advice and practicing what they preach.
As far as traveling, many are required to show proof of a negative test before boarding a flight out of the country. For those traveling knowing that they're supposed to be home safe, it's a waste of resources, especially COVID tests. 
Longoria continued, "We are in a global pandemic, people are dying, hospitals are at max capacity, and they think it's okay because they got tested. They're wasting tests that could be useful to others."
From a global perspective, it's not only influencers and creators that seem hypocritical about the pandemic. In our community and local cities, people go out with friends at night, while not social distancing and partying on the weekends, knowing very well that the coronavirus is not going to end if they keep up with this. 
RHS Junior Joshua Alvarez states, "I would make sure people realize the hypocrisy in the situation [of COVID]. You can't be scared of COVID but then hang out with all your friends and acquaintances." Continuing with his statement, he included that it's hard to not be able to hangout with friends, but it's better and safer to be around people in your inner circle, family and close friends. 
Ten months into the pandemic, a vaccine has been developed and has started its distribution to the population. Even if the vaccine solves the problem of COVID-19, it's still going to be a while until we go back to "normal." During this time, we need to start thinking smarter about what we tell others to do to protect ourselves, and know that we need to practice what we tell others to preach.