Black Bear Diner: Comfort for Everyone
On July 16, 2020, Black Bear Diner opened its doors in Aurora, Colorado originating from Mount Shasta, California. People of all ages were excited for another place with homestyle food, as it took place of buffet-style Ruby Tuesday, with the entire building going under renovations. As soon as those doors opened, they were dedicated to "Feeding Your Inner Bear."
Black Bear Diner thrives on making sure you're well fed and taken care of. On their website, their mission statement is, "The goal of every Black Bear Diner is to deliver scrumptious food in a friendly environment. We promise to make your visit a pleasant one, and we'll try to keep the puns to a bear minimum (we said 'try')."
Google Reviews gives the diner a 4.1/5 star rating. Local Guide Ray Barros gives the place a ⅘ rating with the review of, "We had to wait to be seated, but only about 20 minutes.  Our orders were taken and served in a reasonable amount of time.  The food was very well prepared and tasty,  even though the service was a little slow but acceptable. I recommend this venue and will return." As of 2/1/2021.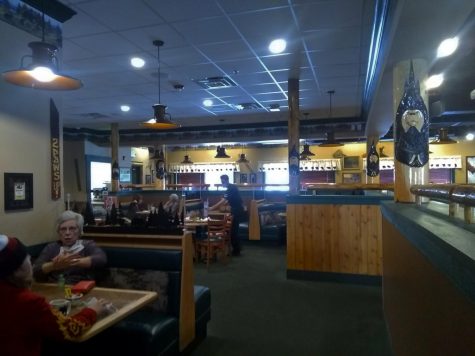 I've learned to call this place one of my comfort restaurants, a place where I'll order food when I need something made with love and care, and a place where the staff is nice. It comes out great every time I've had it. 
As always, we're going to rate this restaurant by three things: the overall vibe, the food quality, and the prices. We're going to be rating using bear claws, one of their staple items on the menu. 
The vibe: 5/5 bear claws 
The entire place has a bear theme, there's not a spot you can look without there being a cute bear. With a lot of wood accents and dark greens, it feels homey, and really comfy when you sit down. The aim with the decorations was to make it feel like a log cabin in the woods, which makes sense for a common place for bears to be. The purpose of the decorations has been well achieved, and it all feels very calm. 
The staff is also very nice, the servers are very attentive and the hosts are also charismatic and kind. Everything seems very organized and well run. Even the managers are always walking around the dining room with a coffee pot, waiting for someone to need something from them.
Senior Osvaldo Melero, a server at Black Bear Diner, said, "Black Bear had a really friendly environment since we opened. We all got really close. A lot of those people are like family to me at this point. Everybody who works there works hard. I have seen some people there grow in the short amount of time we've worked together and it's awesome." 
There's almost always a wait, as the diner is always bustling with people. However, the wait times are always pretty small since everything runs smoothly, not docking any bear claws from the vibe review.
The food: ⅘ bear claws
Serving breakfast, lunch, and dinner, alongside specials, Black Bear's menu is huge. They portion their meals out well, with a sizing chart of Little Less, for people who don't want a regular meal, the regular meal portion, and the Grizzly/Bigfoot, which is for the larger meal portions. 
They have a ton of extras and sides, a few popular ones being their fries, salads, hash browns, and fruits. Their take on homestyle food is absolutely delicious, and there's not a thing you can order on their menu that isn't absolutely bad. 
Featuring their trademark items, an especially popular one being their bear claw, which comes in a classic almond and the other in blackberry, a personal favorite being the blackberry. Shaped like a bear claw, this pastry is to die for, and it is almost more than enough for one person. The rest of their desserts are divine as well. 
Junior Hannah Bonansinga regularly goes to Black Bear Diner with her family and explains her take on the restaurant, specifically it's food and she said, "The portions on each plate are huge and I always end up sharing with my sister and we both get plenty. My go-to is the Cinnamon Roll French Toast. Absolutely wonderful. Overall a lovely experience and like I said, it's my family's favorite and we've never had a bad experience."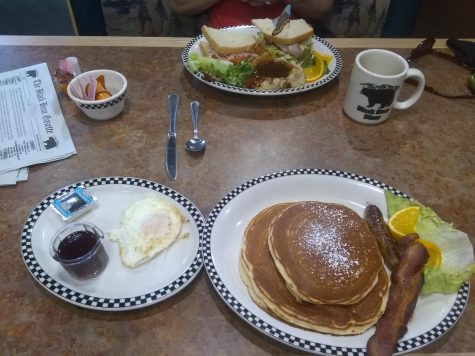 The only reason why they don't get a full five is for regular restaurant issues, such as sometimes your order gets screwed up, or the temperature on your meat is wrong, or there's something missing. But besides that, the food is delicious and you can go there for any type of meal and still be satisfied. 
The prices: ⅘  bear claws
According to Google, the diner is about two dollar signs, meaning it isn't very pricey, and this holds true. 
For the larger (Grizzly/Bigfoot) meals, it's quite cheap considering its size. Looking at the BIGFOOT Chicken Fried Steak & Eggs, it's a total of $14.49 for a 10 oz beef smothered in gravy with 3 eggs and 2 biscuits. That's pretty cheap considering how much food is on one plate, and you'll probably have room for leftovers. All of their larger meals are like this. 
The only downside is in comparison to everything else on the menu. It may seem a little bit expensive if you compare the bigger meal with a cheap price to a smaller meal with a similar price. This diner overall is very cheap considering how much food you get. 
Regardless of pricing, this has got to be one of my favorite places to go to. It makes me feel so cozy whenever I eat there and the food is absolutely amazing. The location isn't too far as well, as it's on Iliff. If you're looking for homestyle food and a kind staff that accommodates basically everything you need, Black Bear Diner is the place to go. 
Black Bear Diner is located at 14100 East Iliff Avenue, Aurora, CO, 80014, current hours 8 a.m. to 8 p.m.. (720) 616-7168