Big Tech Censorship: Right or Wrong?
Big tech. Big tech censorship. Social media. Social media bans. Four of the most controversial and sensitive topics that are being talked about around the world as we speak. 
Big tech censorship is straightforward: it is the censorship or restriction of users and their content by big technology companies (i.e. Apple, Google, Amazon, Facebook, Twitter, etc.). Whether or not these companies are right in what they're doing, is a matter of debate.
 Senior, Samantha Fuentes, voiced her opinion when asked about these recent social media bans, saying, "These companies require you to agree to their terms and agreements in the first place. They have a right to shut down accounts if they please."
Another debate floating around right now is the idea that these companies are violating the First Amendment and people's right to free speech. Fuentes continued, "This doesn't violate the First Amendment because [they] aren't the government, they are private companies." 
If you're on any social media platform, you've probably seen the occasional person get banned from an app for 24 hours or even shadowbanned. But recently, Facebook, Instagram, and Twitter went a step further and took it upon themselves to ban celebrity and Former President Donald Trump from their platforms "indefinitely," following the Capitol riots that took place on January 6, 2021, according to Entertainment Weekly. 
Trump was found to have been inciting the riots that occurred at the Capitol in Washington D.C. a little over a month ago. During the riots, Trump was tweeting from his office and encouraging his supporters to storm the building and loot the offices of politicians because of his loss in the 2020 presidential election to current President Joe Biden. He and his supporters believe that fraud was involved and that the election was unfair, and in turn, decided to destroy the Capitol building.
Following the riots, Trump was permanently banned from certain platforms. The Twitter Safety account published a statement on January 6th saying, "As a result of the unprecedented and ongoing violent situation in Washington, D.C., we have required the removal of three @realDonaldTrump Tweets that were posted earlier today for repeated and severe violations of our Civic Integrity policy."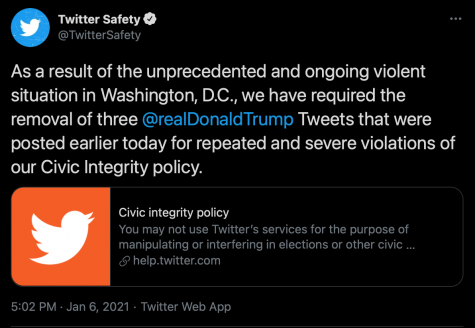 Entertainment Weekly also stated that Facebook and Twitter even went as far as taking down some of his posts and labeling some statements from his accounts as "false or misleading." 
"On one hand it's petty and on the other hand it's what he deserves," said Sophomore, Malik Johnson. 
Not only was Trump permanently banned, but some of his allies were also punished for the misinformation they had spread. Business Insider reports that Trump's lawyer Sidney Powell, former White House strategist Steve Bannon, former National Security Advisor Michael Flynn, and alt-platform runner Ron Watkins were all among the people banned, suspended, or sued by Twitter and Youtube. 
"I think [the big tech platforms] are wrong honestly. [Trump] has a right to freedom of speech even if his speech is not the most educated. We all have that same right even if we don't always deserve it," said Sophomore, Aiden Gamel. Shortly after Trump was banned from certain platforms, the app Parler, launched in 2018, saw an increase in downloads and users. It's similar to Twitter, except it claims itself as a "non-biased, free speech, social media." So, the question still looms: are these companies right for their censorship, or is it a violation of free speech? Is there a line to be drawn when it comes to free speech on social media?