Color Dance Scheduling Mishap
Rangeview High school's annual Color Dance was held this past Friday evening outside on the tennis courts, meanwhile across town RHS football was easily dispatching rival Gateway 52-7. 
For many students, August 12th was their first return to the building in over a year, while others had never been before.  Coming off of online school finally, students and staff alike are excited to get back to their beloved school traditions. "It was a great way to kick off the school year.. and reconnect with my friends after being in isolation for so long," says sophomore Aiyana Fragoso. 
However, some students say they felt inconvenienced after the news broke that the Color Dance on Friday was cross-scheduled with the Gateway vs. Rangeview football game. This angered students, and caused them to have to choose between the two events. This wasn't the plan.  
The plan according to Athletic Director Shawn Palmer explained that the game was originally set for last Thursday, August 19th. However, due to a district scheduling mishap with the APS Stadium and a Hinkley Boys Soccer game, they unfortunately had to push the game back to Friday.
Many students have expressed their surprise at the turn out to the dance after some were fortunate enough to make it to both events, with the game ending around 9 PM and the dance starting at 7. "I found out I had practice that ended at 5:30, 30 minutes before the game. I rushed home to get ready and ended up being late by like 30 minutes. I knew the game started at 7 so I had to make an imminent decision on whether to stay  at the game or go to the dance. I felt really indecisive.  I called my sister to pick me up for the dance and ended up having a great time, " Sophomore Carrie Ames recalls her experience being able to go to both occasions. With these both being the first big events of the year, many were simply confused at the first seemingly uncoordinated planning of the events.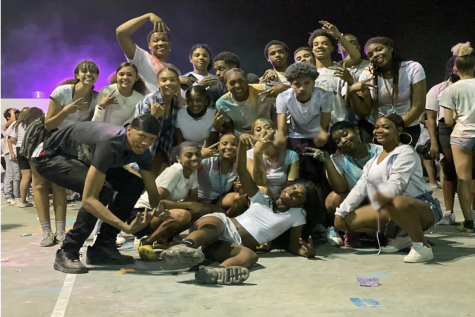 Nonetheless, students and faculty celebrated our reunion here at Rangeview proudly and are looking forward to making more memories in the building together.