Back To School Highlights
       Back to school week has been very hectic because of the long-awaited arrival of freshman and sophomores. The opening weeks have been packed with a lot of worries from kids who still wear masks, while others who are just happy to be back. 
       A new policy has been at foot regarding the masks. K-8 students are required to wear a mask in APS schools. However, most of the kids at Rangeview have decided not to wear a mask. (story update Tri-County Health has now required masks for all students 2-and-up.
      There has also been some relief from students because of their grade status the year before. Sophomore Ramezzez Martinez said "Going back in person feels like a huge relieve of stress and I'm glad that I won't get anyone or my friends sick." 
     "Since I failed each of my classes last year, it's been easier in-person since I don't have to go into google meets and have any distractions around me. It's better for me because I can stay on task," sophomore Bowen Teague said.
      Teague, like many others, is happy returning to school, finding remote learning too tiring. Kids don't like learning that way or don't even learn at all.
       Students consistently expressed wanting to come back all year since they have had distractions and stress during the pandemic, hoping that the whole pandemic will eventually be over soon and hope these next few years are not going to be as awful as last year. 
       The Color Dance and the Gateway Football game were a huge start to the school year on Friday, August 20th. It was an excellent night for the students who attended the dance and/or the students at the game.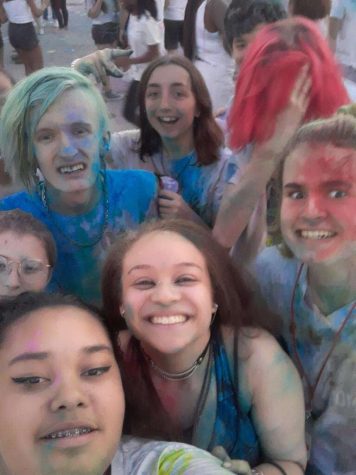 The football game was an absolutely amazing night for the Raiders, as Rangeview won 52-7. 
 The dance stayed a memory with most kids, as well as the color powder stayed on their skin for days on end!
       Coming back to school certainly felt pretty insane and students won't necessarily feel the same way they did going to school two years ago. However, Rangeview should be the school others are looking for to find safety. Nevertheless, the beginning of the 21-22 school year has been filled with unexpectedness and excitement for the years to come!