Colorado Football
"Fall is coming." For a student, these words are a nightmare. For a sports fan, these words are music to the ears. Fall means football. High school, college, and professional football all kicked off their seasons in August and September, which means fans will see football every week until February. Most Colorado football fans are pumped.
The Rangeview football team started their season out at the Aurora Public School Stadium, "visiting" the Vista Peak Bison. The Raiders couldn't manage to spoil the Bison's season opener, falling 32-14. A week later, Rangeview had a "home" opener of their own, taking on the then 0-1 Horizon Hawks. This time a home opener was spoiled, just not in the way the Raiders had hoped. They dropped that one 43-22. Most recently, the Raiders faced the undefeated Castleview Sabercats on Saturday 9/11. Not much went well for Rangeview, as they couldn't get on the board until the 3rd quarter. By that time it was too late, and the Sabercats took the game 52-21. The Raiders look to turn their season around and spark some momentum on Friday 9/17 against the 2-1 Mountain Range Mustangs.
Although the season hasn't been as great as they'd expected, the Raiders still have hope. "We're feeling more confident as our practices have been getting better," Senior Safety/Wide Receiver Demario Williams says, "We have to come together as one and unite ourselves as a team that believes in the same goal. As of right now we don't have that yet. In order for us to be a winning team we have to discover that."
In college news, University of Colorado (CU), Colorado State University (CSU), and University of Northern Colorado (UNC) all got their seasons under way on September 3rd. CU and UNC played each other in Boulder at Folsom Field. While UNC quarterback Dylan McCaffery threw for over 230 yards, the Buffs took to the ground to get it done with 283 total rushing yards, led by a 94 yard performance by Jarek Broussard. CU took the game, 35-7.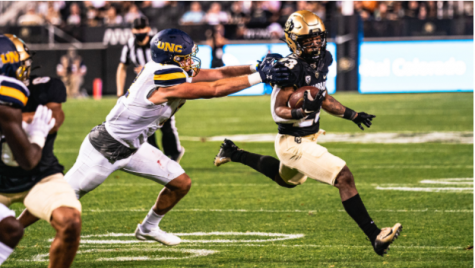 While the Bears and Buffs duked it out in Boulder, CSU hosted a game of their own against South Dakota State in Fort Collins. Despite both Trey McBride and Dante Wright having over 100 receiving yards and quarterback Todd Centeio throwing for over 300 yards and a touchdown, the Ram's defense just couldn't seem to get it done. South Dakota won this one 42-23.
The following Saturday, each team had their second game of the season. CU couldn't close out the game against Texas A&M and lost the defensive battle 7-10. They look to close out the homestand with a win against Minnesota on Saturday (9/18).
UNC crushed the Houston Baptist Huskies 45-13 thanks to an early 14 point first quarter lead. The Bears will continue the Texas trend, facing the Lamar Cardinals at home on Saturday (9/18).
CSU gave Vanderbilt a good fight, but ended up dropping the match 21-24. They will look for redemption on Saturday (9/18) in Ohio against the Toledo Rockets.
Moving to the highest level of football, the Denver Broncos started the regular season in New York to face the New York Giants. Denver was able to start 1-0 for the first time since 2018 with a 27-13 win. Although the quarterback situation looked grim going into the game, the Broncos starter, Teddy Bridgewater, looked good, throwing for 264 yards and 2 touchdowns, with a passer rating of 115.7. Outside linebacker Von Miller also shined in his return after missing the entire 2020-21 season to a dislocated peroneal tendon in his ankle. He had two sacks, putting him in sole possession of the 24th most sacks all time with 108. Miller and the defense held strong, and the game would've been 27-7 if it weren't for a last second run by Giants quarterback Daniel Jones. Overall, the Broncos looked good, and look to start the season 2-0 in Jacksonville next week vs Trevor Lawrence and the Jaguars.
All Broncos fans have to be excited about this year's team. Rangeview Student and football fanatic Samy Kwider agrees. "I think the game went great, we started off a little slow and it was close at first but it's understandable being the first quarter of the season," says Kwider, "Teddy (Bridgewater) did great, he analyzed the defense, it looked like he hit his reads well, he played smart a lot of the time, he had a high completion percentage, and hit a deep shot accurately, I liked what I saw."
"We should do much better than last year and I want this team to continue to improve," Kwider added. He speaks for most Colorado football fans when he says that he wants football to improve. Over the course of the season, teams of all levels will improve their play and continue to make Colorado sports fans proud.