Hispanic Heritage Month: Why It's Important
"My fathers have lost the economic battle and won the struggle of cultural survival."– Boxer, poet, and political activist Rodolfo "Corky" Gonzales. 
From Ceaser Chavez, to Sylvia Rivera, to Dolores Huerta, there are a few known Hispanic Activists; but less talked about is Rodolfo Gonzales. Corky Gonzales, as many call him, was a professional boxer from Denver who wrote the poem Yo Soy Joaquin (I am Joaquin), which is significant to the Chicano Movement locally and has been quoted in protest literature. Many Rangeview students might not know about this history despite how big the Hispanic population at Rangeview is.
As a political activist, Gonzales worked on voter registration for John F. Kennedy's presidential campaign and was able to register more Mexican Americans than at any other time in Colorado history. Because of this work, he became a great leader in the Chicano movement; including leading and organizing a resistance at West High School due to a teacher making racist comments. 
However, his activism was part of a bigger movement and not solely based in Denver. The Chicano movement was created in the late 1940s to counter the discrimination many Mexican Americans faced by embracing their Indigenous and African roots; it wasn't until the 60s that the movement gained recognition.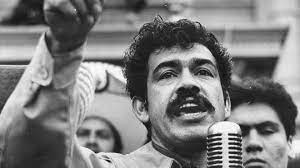 Some of this discrimination came from police brutality, most notably in California. This violence led to many conflicts, one being the zoot suit riots, where White Americans were calling the use of Mexican Americans wearing suits during World War II unpatriotic, which led to the unfair arrests of Latino men. 
During the Great Depression, there was an increase in illegal deportation, and then during the Vietnam War, a disproportionate amount of Chicano men were drafted and killed.
Throughout schools in the U.S., there weren't many higher education opportunities for Chicano students; this was due to racist teachers and administrators as well as the eurocentric standards in school curriculum; which also banned the Spanish language in schools.  
While the Labor movement wasn't only for Mexicans, more migrant workers were being exploited with low wages and horrible conditions. 
Because of all this terrible treatment, the Chicano movement came to be. Within the movement, there were many smaller efforts and groups such as the Brown Berets, United Mexican American Students, and the United Farm Workers, part of both the Labor and Chicano Movement. Although the movement was started by and for Mexican Americans throughout its history it was able to achieve great things for the Latinx/Hispanic community as a whole.
It included others, such as the Young Lords mainly consisting of radical Puerto Ricans from New York and Chicago. The Brown Berets were a group that emerged from the YCCA, Young Chicano/Citizens for Community Action in the late 60s, similar to the Black Panthers and their militancy. This movement was able to achieve many great accomplishments however has been overlooked and not taught in American history.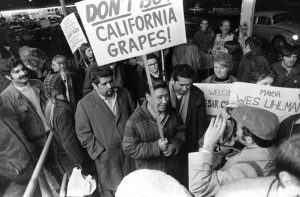 Some of these achievements include:
The United Farm Workers getting grape growers to sign agreements acknowledging the Workers as a union and improving working conditions, including for migrants. 

The Brown Berets helped stage and participate in many protests such as the East L.A walkouts where over 15,000 students participated. Getting California school districts to hire more Latinx educators, implement ethnic studies, and increase the enrollment of Mexican students into UCLA.

Vote for and have more Mexican-American elected officials.

Groups like the United Mexican American Students and Mexican American Youth Association led to the Equal Opportunity Act of 1974. Where the Supreme Court had ruled it unlawful to keep students who couldn't speak English from getting an education. The act also implemented bilingual curriculum education programs in public schools.
The history behind the discrimination the community faced and accomplishments they were able to achieve is important, but is not taught in schools.
By winning this "struggle of cultural survival," and continuing their culture's traditions, like many other marginalized groups in America, it's important to have a designated time where the accomplishments and hardships of these individuals can be recognized and celebrated. A time where the community can come together and support one another. 
Hispanic Heritage Month started as Hispanic Heritage Week as President Lyndon B Johnson signed a bill designating it to the week of September 15th in 1968. It wasn't until 1988 when President Ronald Reagan lengthened it to an entire month, 30 days.
However, the reason why it's not the full month of September and instead goes from September 15 to October 15 is because many anniversaries for national Independence Day for many Latin American countries fall within that time. Some include Honduras, Guatemala, Chile, El Salvador, and many more. The day right after Hispanic Heritage Month starts, September 16th, it's Mexico's Independence Day, and September 18th is Chile's. Very recently, this time period also includes Indigenous People's Day.
While this month is important to many people across the U.S., it's also important to the Rangeview community because the school is 42% Hispanic. Many staff and students agree that our diverse school should celebrate and recognize Hispanic Heritage Month more.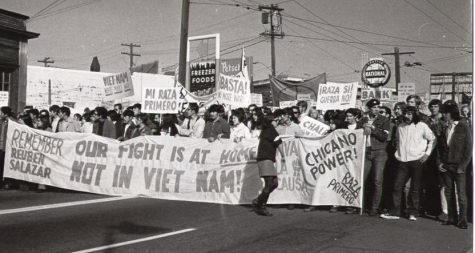 Mrs. Marquez, LULAC sponsor, said, " I feel it's about time we did stuff and we got recognized. I feel like we don't get recognized very much. I feel like there's a pretty big Hispanic population here at school… I do feel like they are a little bit under-represented."
She, as sponsor of the League of United Latin American Citizens, said, " We're trying to do stuff and get us involved and get kids more involved in like homecoming assemblies and all that." 
While LULAC is about identifying and celebrating the diverse Hispanic/Latinx population at Rangeview, Marquez says, " I think it's really important. Like we need to just get our kids out there and get a voice and let them know how it goes and explain to the parents, like stuff for college. Nobody knows how to do FAFSA." 
Marquez believes it's important to build a sense of community with students' identities, but also further educate them on topics so few know about that can help with their futures.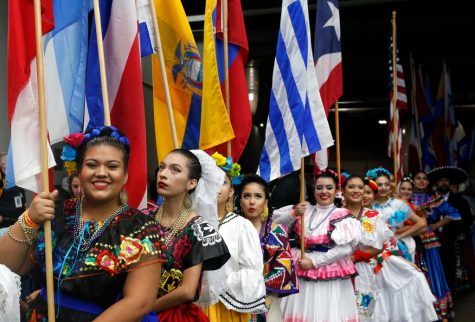 This year in order to recognize Hispanic Heritage Month, Rangeview High School has encouraged various classes to incorporate lessons that recognize the achievement of Hispanic Americans. Which is a great way to start the acknowledgment of this month especially considering Latin/Hispanic American history is not taught in schools, despite having a whole movement and many significant achievements.
"The US history teachers are really striving to incorporate more Latin American history into their content," said Department Chair and Social Studies teacher Mrs. Bristol.
Not only is there more effort being put into the curriculum but the daily announcements now have a section where Marquez reads the story of a Hispanic Rangeview Student, students are able to write where they are from and what that means to them; started by CCA Social Studies teacher Mrs. Walsh.
 "I think it's really important with the student population that we have here at Rangeview to learn about the different cultures of all the students that go to this school and for students to really learn their history and their story," Bristol said. 
The things that are happening to celebrate Hispanic culture at Rangeview are a great start and a step in the right direction. However, there will always be room for improvement and events that can be implemented to further acknowledge this month.
Senior Joshua Alvarez said, "I know different schools around Colorado who are majority Hispanic are doing actual assemblies … around Hispanic Heritage Month. We do things like diversity week, but I definitely think that Hispanic Heritage Month needs to be recognized especially when a lot of students here feel left out because we constantly do things like homecoming week, Halloween all these different things but we forget where us as a student body comes from and a lot of the times that is Hispanic Heritage."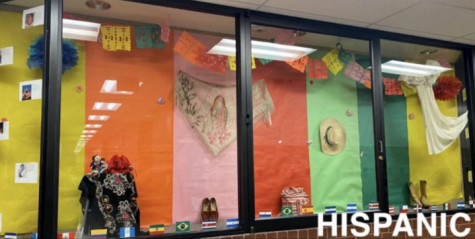 Although the community has accomplished so much there are still obstacles that the Hispanic and LatinX communities have to currently face in America. While the Chicano movement doesn't exist anymore at least not as an organized larger organization; but other smaller groups, movements, and ideas such as Abolish Ice are doing lots of activism.
While these issues have always existed, the current political climate has heightened the awareness of how many people don't like the Hispanic/LatinX community. 
However, by celebrating Hispanic Heritage Month it shows that the efforts of both older and current Hispanic activists are being recognized. "I think that's a good thing about Rangeview that we can put more of these things into our school and make it a more equitable environment," Alvarez said. 
The community is still creating history and fighting for what they believe in on a broad range of issues that others inflict upon them or that of problems within their own community. All these accomplishments and events mentioned are condensed and the history goes so much deeper with many activists, events, and ideologies that came from the Chicano Movement not being mentioned.
Hispanic Heritage Month is important because the history of Hispanics and Latinos should be taught and celebrated to students not only because they were able to accomplish many goals but because it is U.S History. Bristol said, "I think Latin American history is not only US history, an important part of US history but world history, global history, it is people's story."
Yo Soy Joaquin- "Yes, I have come a long way to nowhere, unwillingly dragged by that monstrous, technical, industrial giant called Progress and Anglo success…"
Sources
https://crbb.tcu.edu/clips/4219/the-brown-berets.
https://www.history.com/news/chicano-movement.
https://www.thoughtco.com/chicano-movement-brown-and-proud-2834583.
https://www.teenvogue.com/story/brown-berets-as-explained-by-founding-member-dr-david-sanchez.
https://www.laprogressive.com/from-mexican-americans-to-chicanos/.
https://www.npr.org/2011/06/30/137529484/the-chicano-movements-denver-roots-run-deep
https://www.westword.com/news/the-chicano-movement-powered-up-nationally-in-1969-with-two-denver-protests-11255549
https://www.latinamericanstudies.org/latinos/joaquin.htm
https://www.coloradovirtuallibrary.org/digital-colorado/colorado-histories/20th-century/rodolfo-corky-gonzales-boxer-writer-activist/