Harry Styles Concert Review: a return to concerts
In December of 2019, I bought tickets to see Harry Styles: Love on Tour. Then, the unthinkable happened: the world was struck with a global pandemic and we were stuck in our homes for a year and a half.
After the concert was postponed, I finally got to see him live on September 7th. 
With the pandemic still going on, and the rise of the Delta variant, many individuals were wary of going to the show. Tickets had gone on sale in November of 2019, but the shows didn't happen until 2021.
"I bought them [tickets] the day they went on sale which was in November of 2019," said Wendy Alvarez, a Rangeview High School graduate.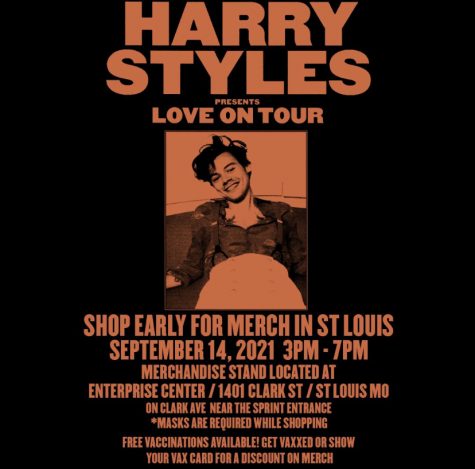 On August 25th, days before Styles' first show in Las Vegas, HSHQ announced that those attending any Love on Tour dates had to have a negative COVID test within 48 hours of the show OR proof of full vaccination. Some shows in particular, including the Denver show, had onsite testing available for those in need.
In later shows, Styles even provided free vaccinations as well as discounts on merchandise for those who had a vaccination card. The singer and his team provided these opportunities in hopes of encouraging individuals to take the actions needed to keep themselves and those around them safe.
When arriving at the show, concert-goers had to show proof of their vaccinations and negative covid tests and receive an orange wristband. This band had to be worn all night, ensuring that individuals went through the health check in place.
"I felt that particularly the vaccination and test requirements were necessary, and are what made me feel comfortable enough to go," expressed RHS Senior Hannah Bonansinga.
When asked about how safe she felt, Alvarez explained, "I sat in general admission, which meant that people were going to be really close, but where I sat, there weren't a lot of people and we all gave each other some distance."
America seems to be opening up at a much quicker rate than other countries. On December 15th of 2020, Styles shared a tweet announcing the postponement of his European shows. Then, on July 14th, 2021, Styles postponed the first half of this North American leg of tour, leaving Denver as the second show. This same day, he announced the cancellation of all Canadian tour dates, as well as a reassurance that he would tour in Europe as soon as possible.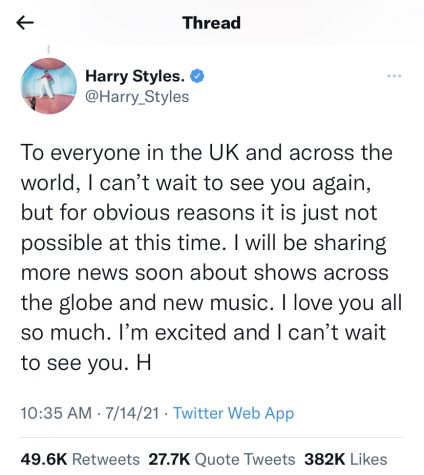 Fans in other countries have taken to Twitter to complain about his cancelations. His recent tweet about his Detroit show is flooded with comments about adding Canadian dates to the tour. As of right now, however, there seems to be no talk of new tour dates. Instead, speculations about a third Harry Styles album and a new tour have risen.  
This posed a question for those attending the American dates. Why was America opening up at a much faster rate than other countries? Daily average cases in the US have drastically risen, as numbers are now at approximately 148,202 cases a day.  
Throughout the show, it was difficult to wear a mask as it quickly got hot within the venue. However, most individuals followed the rules.
RHS Senior Hannah Toulouse said, "I wasn't really touching anyone and everyone respected wearing the mask for the most part."
Styles and his crew didn't wear masks, however, that would be expected as throughout the show the singer danced around 3 stages. In Denver specifically, Styles had an oxygen mask on stage with him to combat the challenging altitude. This allowed those attending the show to feel more relaxed about the concert itself and to truly enjoy themselves, as Styles has made an impact on so many people around the world. Wendy Alvarez describes the singer as "incredibly kind…he genuinely brings me so much happiness." 
As her first concert experience back since COVID began, Hannah Bonansinga described "the feeling of being surrounded by a bunch of people all singing the same words and melodies as you is one like no other, and it's a sensation I love."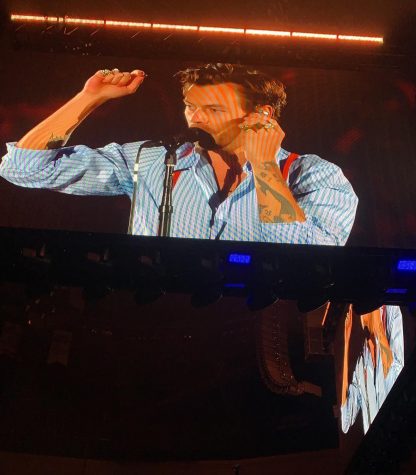 Styles too has left a lasting impact on Bonansinga, "Harry Styles not only puts passion and love into his music, he sparks joy in people through his music and energy. He is not only a great singer, but a great performer, and has provided joy to so many people throughout the years."
The return to concerts has been highly anticipated by many. For many, concerts can be an escape from the rest of the world. During a time where individuals were locked in their homes, music was one consistent thing that brought the world together. As the world continues to battle COVID, more artists are announcing tours so they can experience the magic of concerts again. 
As the world continues to battle COVID, more artists are announcing tours. Here are a few upcoming shows happening soon in Colorado:
Lil Baby w/ special guest Lil Durk
Machine Gun Kelly October 18th
Cole w/ 21 Savage October 24th