Opinion: Chick-fil-A vs Cane's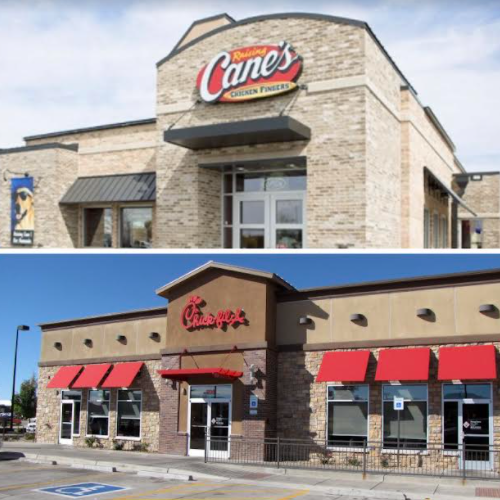 Chicken tenders and chicken nuggets are one of the best inventions ever made and whoever decided to bread chicken and fry it is the best person to exist. This delicious, juicy, warm goodness is a piece of art that can be framed on the wall, without any one caring. Chick-fil-A and Cane's have some of the best fast food chicken. When there is a debate between these two places. everything has to be put into consideration; the sauce, their lemonades/soft drinks, the menu, and the CHICKEN.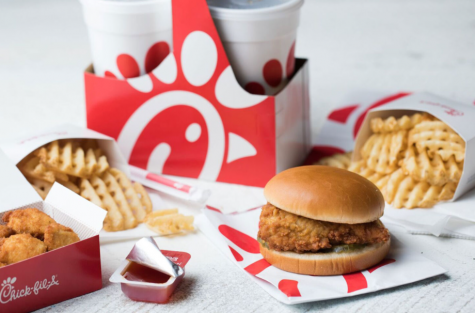 When someone first walks into a Chick-fil-A, they see the menu. The variety of their menu is something you see in all fast food places, but this menu has everything based on chicken. They have chicken nuggets, chick-n-strips, a chicken sandwich, salads, etc. Their options come in either grilled, crispy or spicy. With all the options you can see which one you want, for most people it all revolves around the options. 
But when you go into a Cane's you see a short and simple menu. It includes chicken fingers and a chicken sandwich. When ordering the chicken fingers you can either get it alone or get a box of 3 strips or 4 strips. It usually always includes a delicious piece of Texas toast, fries and a sauce. If you are not feeling Chicken fingers you can always get a sandwich, which has chicken fingers inside the two pieces of bread.  This menu doesn't have a lot of variety, but sometimes the lack of variety is enough to fulfill you. 
"I really like the simplicity of it because I'm a picky eater and it allows me to choose something to eat without taking 20 minutes to decide," said RHS Sophomore Andrea Hendricks.
Both Chick-fil-A and Cane's have signature sauces. Chick-fil-A's sauce tastes, "Of honey mustard and a smoky tang," (Chick-fil-A's website) and, "Cane's Sauce is tangy with a little bit of spice and full of flavor," (Cane's website). 
These sauces decide everything. It's the thing you do to add a little kick to the chicken. If you like a tangy taste, you will most likely like Chick-fil-A or if you like a taste filled with spices, you might prefer Cane's.  
One of the most important parts of determining who is the best for a fast food place is the chicken! The chicken from Chick-fil-A is a crispy chicken with a mild pickle taste. It is breaded and fried until it is a dark golden brown. 
"It's like when it's done right it's crunchy and there's a tenderness in the inside which is how I like my chicken," said RHS Senior Blessing Dimulu.  

At Cane's, the chicken is cooked until a light golden brown, when you taste it, it is always hot and tastes so fresh. In other words, "Juicy," described by RHS Sophomore Carrie Ames. The one word description of Cane's chicken is all it needs; it perfectly describes the taste.
When it was my quinceañera, I chose to go to Cane's. They gave me merchandise from their company for free and treated us as if we were in a restaurant. They checked up on us to make sure we were okay. They gave some of the best service with some of the best food. 
When I went to Chick-fil-A for another quinceañera, the workers seemed as if they didn't want to be there and were annoyed by the fact that we went there, so even though they always smile and say my pleasure, they seem as if they are  annoyed on the inside. 
When asking 40 teenagers which they prefer, 28 out of 40 said they prefer Chick-fil-A over Cane's; meaning more than half chose Chick-fil-A. But the clear, better option is Cane's. Although the menu is simple, it tastes so much better; the sauce, the chicken, and the Texas toast. When you put them together it is the perfect combination of all the flavors put together and the kick of spices with the sauce. The food will always be there for you, when you go to Cane's you will always know what you are going to get. Cane's has some of the best chicken and the best service and will be some of the best memories you'll get with fast food chicken.