Opinion: Astrofest—a preventable tragedy
Friday, November 5th is a day that's going to go down in history for concert goers. Travis Scott's annual Astrofest returned after a year of absence due to COVID-19. A day that was supposed to be filled with happiness and fun quickly turned tragic and deadly.
At 2:00PM, an anxious crowd waited outside of NRG Park ready to see one of their favorite performers. This is when the first stampede started. Hundreds of people, including many without tickets, trampled the VIP entrance, knocking down metal detectors and stepping over other concertgoers.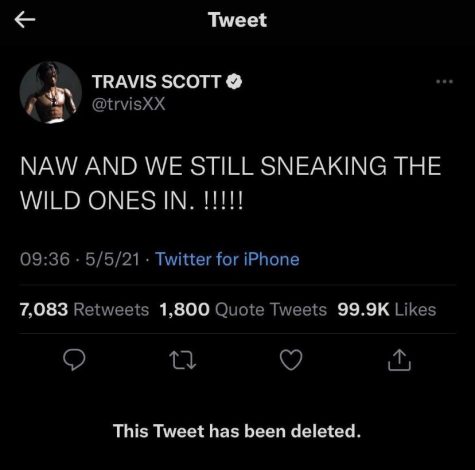 Scott is notorious for hyping up fans that attend his shows, even calling them by the name of "ragers". The promotional video, which has since been taken down, highlights fans that have previously broken into his shows. The rapper even took to Instagram in May, with a now recently deleted tweet that said "I'M PUTTING A PLAN TOGETHER NOW TO GET SOME OF THE WILD ONES IN. EVEN IF I GOTTA SNEAK THEM IN. ON ME!!" This type of encouragement played a large role in the out of control crowd. 
Twice, the rapper has been arrested after-shows for inciting riots and encouraging ragers to create dangerous situations. In 2015, his Lollapalooza set was cut short after he promoted reckless conduct. Two years later, in 2017, he encouraged fans to rush the stage of his concert leading to multiple injured security guards.
Considering Scott's history of this energetic nature, LiveNation and his team were poorly equipped to handle this situation. The incident could've been entirely preventable, yet Scott's team and LiveNation failed miserably at keeping festival attendees safe.
Warning signs arose multiple times throughout the day. Videos show fans running crazily towards merchandise stands for Scott as they opened, taking down barricades and anything else in their way from purchasing merchandise. Later in the day, the stands closed down as workers were overwhelmed with people.
This mob mentality throughout the day begs the question: do humans actually have any decency? Disturbing videos of individuals trampling others show the disregard humans have for one another.
"It saddens me knowing that a child was killed along with many other people who came to have a good time," said RHS Senior Michael Do.
Like other music festivals, Astrofest had multiple performances throughout the day. Performers such as SZA, Lil Baby, and Roddy Rich took the stage. While other singers such as Tame Impala and Bad Bunny were set to perform on day two of the festival, which was canceled following Friday's events. The stage that Scott was set to perform on, however, was much larger than the others, and perhaps was set up in a way that aided the surges that occurred.
Thirty minutes prior to Scott taking the stage, a countdown began. It was at this moment that individuals began to feel compressed, as they recall this is when the pushing began.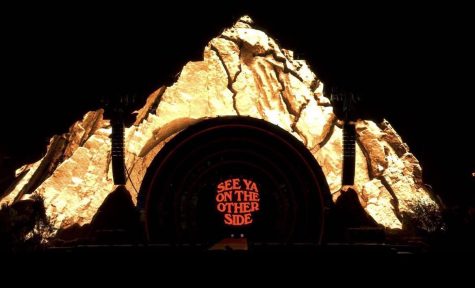 It was around 9PM that Scott's set began. Concertgoer TK Tellez and his girlfriend hoped to get as close to the stage as possible. An hour before the singer took the stage, however, things took a turn for the worst. Tellez recalls the crowd surging forward when Scott took the stage, describing the crowd getting "tighter and tighter" as it became "hard to breathe." Tellez also says he felt helpless, "People were screaming for their lives, and they couldn't get out." 
"He [Travis Scott] has such a heavy influence on his fans that if he told them to stop, they would stop." said Do, "His selfishness and inability to stop his show caused deaths that could've been avoided."
Twice, Scott paused the show when witnessing distressed fans. A clip on social media reveals Scott alerting security of an unconscious fan, then continuing on to sing as he watched medics handle the situation. Another disturbing video shows Scott on stage, smiling at the crowd, while viewers of the live-streamed event can hear the chilling screams of fans desperately calling for help.
Red flags were raised from the beginning of this show, but the problem is simple: not enough was done to keep those attending the festival safe. If 50,000 people were expected to attend the festival, not accounting those that broke in, why wasn't there more security? 
Senior Marisol Calderon was attending a concert in Denver on Friday night when the tragedy occurred. 
"It has made me rethink a lot more about my own safety and environment when I go to concerts." Calderon began, "Often, I go to one and expect a good time, but with this most recent tragedy, I've put a lot more thought into just how dangerous it can be."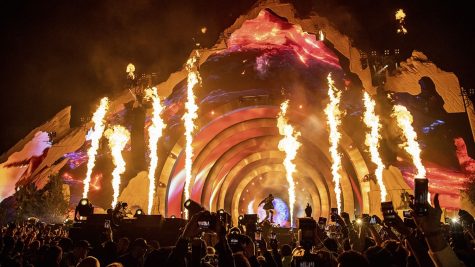 This is not the first Live Nation incident. The event company is also linked to incidents such as the Manchester bombing at the Ariana Grande concert in 2017 and the mass shooting at a country music festival in Las Vegas. Coming back from a pandemic, anticipation for the festival to happen was higher than ever, thus Live Nation should've been prepared to account for overcrowding. A concert is a space where an individual should be able to enjoy themselves, not fear for their lives. The tragedies that occurred on Friday, November 5th were entirely preventable. 
After a heavy social media response, Travis released an apology video on Saturday. The black and white filter Instagram story pictured the rapper in a distraught state, "You know my fans really mean the world to me…and anytime I can make out anything that's going on, I stop the show and get them the help they need."
Kylie Jenner, mother of Scott's first child and soon to be second child, posted on her Instagram story as well,"I want to make it clear that we weren't aware of any fatalities until the news came out after the show and in no world would we have continued filming or performing." This, of course, came after Jenner posted a video at the festival during her boyfriend's set, in which one can clearly see an ambulance driving through the crowd. Jenner's reluctance to do something during this raises more red flags, as she and her daughter were seen being escorted out when things got worse.
Rangeview senior Anthony Fuentes is an avid fan of Travis Scott. After the show, Fuentes says, "Travis Scott should not be the only one to blame in this situation. There were thousands of people that broke into the festival…At festivals of this size, there are always people who pass out and the artist isn't going to stop the show every single time."
Perhaps it was the reckless promotional video that Scott's team posted, showing fans breaking into previous Astro Festivals, that led to such a terrible climate for concertgoers. One thing is clear: it was a noticeable lack of human decency from those that snuck into the show, mixed with their inability to respect those around them—just to get closer to the artist performing—that played a large role in the deaths and injuries that occurred. With this, concertgoers should understand that they should at least have some human decency: if you see someone fall, help them back up, if you don't pay for a ticket, don't sneak in, and if you are surging towards the stage, you are a part of the problem.
In this instance, there isn't just one person who should take the blame, but a plethora of individuals. One of the most chilling videos of the entire night shows a girl on a platform yelling at a cameraman who is live-streaming the event, "There is someone dead in there!" as Scott's music continued to play.
Senna Faith recapped this chilling video in an Instagram post the next day, "One person fell, or collapsed, it doesn't matter how it started," the post read, "I began to realize in that moment that there is a way to die that no one knows about. Being trampled to death."
The show should have been stopped. 
"If he would've ended the show, people would've rioted and everyone would've rushed to leave," said Fuentes. 
Perhaps this is true, however, Scott being a trained performer should know how to handle a crowd of this size. Along with this, Live Nation and event organizers should have known the number was going to be much larger than they originally anticipated. From the rowdiness that occurred at the beginning of the festival, more security should have been called in and more safety measures should have been used. Too many lives were gone too soon in a situation that was entirely preventable.
With that, let's take a moment to remember those lives that were lost:
John Hilgert, 14, a ninth-grader at Houston memorial High School
Brianna Rodriguez, 16, a junior at Houston Heights High School
Axel Acosta, 21, a computer science student at Western Washington University
Danish Bag, 27, a hardworking man who died saving his fiance
Rudy Peña, 23, a younger brother and son
Franco Patiño, 21, a mechanical engineering student at the University of Dayton, and Jacob Jurineks best friend
Jacob Jurinek, 20, an art and media student at the University of Illinois, and Franco Patiño's best friend
Madison Dubiski, 23, a Cypress, Texas native
Bharti Shahani, 22, a chemical engineering student at Texas A&M
Ezra Blount, 9, a young boy who loved spending time with his grandparents
Let's do better, we need to do better.