Winter Sports Preview
     After an uncharacteristically disappointing fall season for Rangeview sports, this year's winter sports look to redeem Raider athletics. The upcoming season includes boys and girls basketball, boys wrestling, and girls swimming. 
Boys Basketball:
     After falling short of the Finals last year in a heartbreaking loss to the George Washington Patriots, Rangeview Boys Basketball has high expectations for this year. Although the CHSAA coaches voting has Rangeview outside the top 10, the expectation is success. The last time the Raiders ended the season outside the top ten was 2018, where they were ranked 32nd. 
     "My expectation is that we come out hard every game and make sure we go by our quote 'relentless'." Senior Point Guard Elijah Thomas says, "If we are relentless and respect the game, there is nothing that could get in the way. The only enemy would be ourselves."
Games to watch this year: 
12/9 7:00pm vs Overland Trailblazers (Home opener)

12/16 3:00pm vs George Washington Patriots (Tournament revenge game)

1/29 3:00pm vs Vista Peak Bison (Home rivalry game)
Girls Basketball:
     Similar to the guys, Rangeview's Girls Basketball has high standards going into the season. After a historic run that brought the Lady Raiders all the way to the Great Eight, the 2021-22 team wants to exceed last year's performance and make it all the way to the finals in February. Ranked 9th in the CoPrep's preseason rankings, the Raiders have a very real shot of doing exactly that.
     "I hope we make it to the championship and play in the coliseum." Senior Varsity Captain Nunu West says, "we are all in the gym, so as a captain, I want the team to put in as much work as I am."
Games to watch this year:
12/8 7:00pm vs Cherokee Trail (Home Opener)

1/18 7:00pm vs Valor (Home revenge game)

1/29 1:00pm vs Vista Peak Bison (Home rivalry game)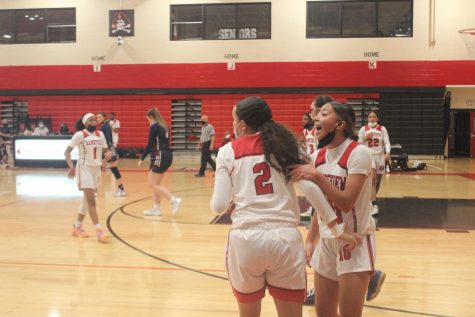 Wrestling:
     The Rangeview wrestling team, like many other teams, also has very high expectations. There is a lot of promising young talent in the program, led by a solid group of veterans. Notably, Junior Greg Brooks has made it and competed well in state in all three years in the program. The Raiders look to be competitive this year with some of the top schools in the state.
     "I expect this year to be one of our best wrestling seasons so far," Senior Wrestler Nico Galindo says, "Overall, we have a solid lineup, intense training, and good leadership and we are poised for an impressive season." 
Meets to watch this year:
1/8 Tournament @ Rangeview (vs Cherokee Trail, Mountain View, Rock Canyon, Thornton High School)

1/26 League Championship Meet @ Brighton (vs Brighton, Northglenn, Westminster)
Girls Swim and Dive:
     After a disappointing second-place finish by the Raiders Swim and Dive Team in the EMAC league, the girls are ready for some revenge. The size of the team has grown immensely, as last year they had less than 15 swimmers. This year, they should be able to be even more competitive with other big schools and have a good shot at taking back the APS Championship. 
     "My expectation for us as a team is to, first of all, have fun, and second to go into our meets feeling confident in ourselves and win," Senior Captain Kylie Hopper says, "I expect there to be a lot of growth in each of the swimmers as well."
Meets to watch this year:
12/9 5:00pm Meet vs Brighton @ Rangeview

2/4 EMAC Championships @ Hinkley High School
     As the athletes continue to train and games start to be played, the expectations and standards that the Raiders are held to never changes. The end goal is always to win, and anything short is a disappointment.