Gervonta Davis v.s Isaac Cruz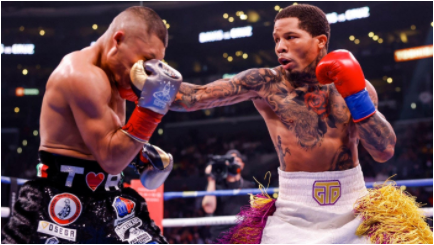 As Gervonta Davis stepped inside the ring at the Staples Center in ¨Los Angeles¨, he was confident in beating Isaac Cruz. On Sunday, Gervonta suffered a left hand injury; which in result Cruz took advantage of and would not back down from the fight. Cruz stepped in for Rolando Romero, was pulled ¨out¨ because of sexual assualt allegations. Cruz Was a little known fighter that no one expected to put up a fight against ¨TANK¨. Tank was surprised that Cruz was throwing big punches, handling him with nonstop pressure. But it did not phase Davis; he refused to be beaten. The final score of the match was 116-112, 115-113, and 115-113. It was a close fight between the two, in fact it was tougher than expected. What most people thought, Cruz did not fight like a rookie, but rather he fought like he had something to prove. After the fight, Gervonta Davis was asked if his hand injury prevented him from throwing more power punches. His response to his match, ¨No it is what it is. That comes with the sport."
Cruz wasn't the top dog but he still proved to his fans/haters the knockout streak when the boxing match ended Davis end score was 26-0 and 24 KOs. When the 12th round came. Cruz kept coming with big hits and Davis seemed frustrated. His hand injury seems to be in an actives state where his hand was still in pain. And Cruz was trying to take advantage of his hand injury, trying to bull in forward. Tank slipped in a few punches, boxing well in the final round. Cruz gave him a few shots but the Tank avoided the attack. There were no knockouts in the last round,¨ but Gervonta finished him off with a 116-112 win. As he was being interviewed,¨ the people had asked him if his win streak would continue,¨ Yeah, everybody could get some hits too, it's too easy," he said. Hopefully his confidence gets him another win.