One of Us Is Lying Book Review
*SPOILERS AHEAD*
     Written in 2017 by Karen McManus, One of Us is Lying follows the story of five students at Bayview High School who find themselves in detention. There's Bronwyn Rojas, an esteemed senior who has her sights set on Yale, Nate Mcauley, a drug dealer with a troubled home life, Addy Prentis, the preppy homecoming queen with the perfect king, Cooper Clay, the jock who is looking to play baseball in the major leagues, and Simon Kelleher, the outcast who runs the school's gossip page, "About That". At first, it seems like a normal day in detention, until Simon dies. 
     It appears that Simon died from an allergic reaction, but when it's discovered that his EpiPen, along with those in the nurse's office were stolen, the police begin to suspect murder. In this review, I'm going to cover the best aspects of the book: the changing point of view, the budding storyline between good girl Bronwyn and bad boy Nate, and the well-developed characters. The negative aspects of the book will also be covered in this review, particularly the rushed ending.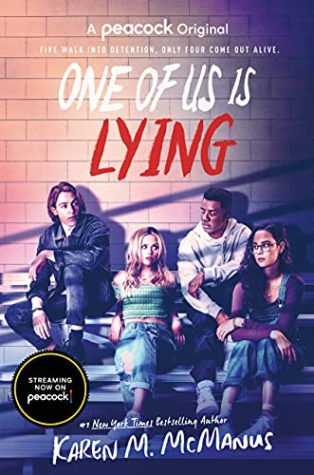 The Changing Point of Views: 
     One of Us Is Lying takes a unique writing stance through its changing point of views. These changes occur between the book's main characters: Bronwyn, Nate, Addy, and Cooper. This is something that isn't seen often in literature, but McManus is known for it. In the sequel, One of Us Is Next, she follows the same pattern. What makes these changes so interesting is that the reader is able to get a true insight into the feelings and thoughts of every important character in the book. It reveals their true intentions and actions in a way that would be difficult to otherwise notice. It's also beneficial for crime junkies because throughout the book the reader tries to figure out who did it. 
The Relationship between Bronwyn and Nate:
     While this book falls into the mystery genre, it's not without a little romance. Some of the best scenes in the book were the ones that entailed the growing relationship between straight-A valedictorian, Bronwyn Rojas, and convicted drug dealer Nate Mcauley. Their relationship starts off slowly and the two connect over their trauma after watching Simon die right in front of them. Knowing that it would look suspicious if they were talking, Nate gives a burner phone to Bronwyn, which they use to talk for hours on end. She's even the one who convinces him to stop drug dealing.
     What's so intriguing about the relationship between the two is that we get the perspective of both. Brownyn has been in love with Nate for as long as she could remember, and she truly cares about him. Whereas Nate feels conflicted, as he doesn't feel like he's good enough for the golden girl. This is illustrated through the chapters that focus on him, one of the most prominent scenes being when he didn't want to bring Brownyn to his house where his alcoholic dad is staying. McManus successfully crafts a relationship between two characters who are struggling with outside influences, yet their presence in each other's lives makes them better people.
The Character Development:
     There is one element that every good book should have: character development. There's no better example of a well-developed character than Addy Prentiss. To her peers, she has it all: she's part of the cheerleading squad, president of the student council, has a wonderful home life, and has the guy that everyone wants, Jake Riordan. 
     Within the first few chapters, however, it quickly becomes apparent that her life isn't what it seems. Her home life is troubled: her dad left, her mom is dating a man who is fifteen years younger than her, and her sister questions everything she does. Not to mention her boyfriend of three years controls her every move, from what she wears to the way that she speaks. Addy continues to live this life until her big secret is revealed: she cheated on Jake with his best friend. The moment that he pushes her out of her life, she feels a sense of relief knowing that she is now free.
     From cutting her hair and dyeing it purple to confronting her mother about how judgemental she is, Addy finally realizes that she has been letting those around her tell her how to live rather than living for herself. Addy somehow managed to turn a period where everything around her came crashing down into an experience of growth. 
The Rushed Ending:
     Almost everything about this book was great, but nothing is perfect. At 368 pages, One of Us is Lying has one fault: the ending is too rushed. WARNING, MAJOR SPOILER!! After the group starts getting together to crack the case of who killed Simon, it only takes a few pages to decipher that Simon did it himself with the help of Jake. Simon wanted to torment his classmates after death, and Jake wanted to get back at Addy for cheating on him, by sending her to jail. This was an ending I did not expect, but the issue is how quickly McManus introduced it. One day, the idea that Jake was a part of it was suggested, and the next they had all come to an agreement that it had to have been him. There were many loose ties that this ending forced to resolve too quickly.
     Cooper Clay came out as gay to his family, and for one chapter his father ignored him, while the next they were back to normal. McManus should have included a conversation that showed the fixing of this relationship.
     Nate Mcauley was wrongly put in jail after Jake framed him. During his time in jail, he had no scenes, leaving the reader wondering what was happening. Suddenly, he was freed and went back to life as normal. Why didn't he get any features of his thoughts in jail? I guess the reader will never know.
     Bronwyn Rojas suddenly started dating someone else after Nate told her he didn't want to be with her. The odd thing was there was no mention of how or why she started dating him, or of their split when Nate asked her out on a date at the end of their senior year. How did their relationship end and start so quickly?
     Addy Prentiss got to move in with her sister and decided she wasn't ready to go to college, so she began working right out of high school. One thing that I wanted, however, was a deeper insight into her ex-boyfriend Jake. The one that tried to frame her and was awaiting trial. It would've been nice to hear one last conversation between the two, or at least one chapter in his point of view.
Overall Rating: 8.5/10
     One of Us Is Lying is a book filled with suspense, mystery, and romance–all of which McManus writes well. I enjoyed reading every single page, that's why the book gets an 8.5/10. If not for the rushed ending, it would've gotten a perfect score.