Denver's New Head Coach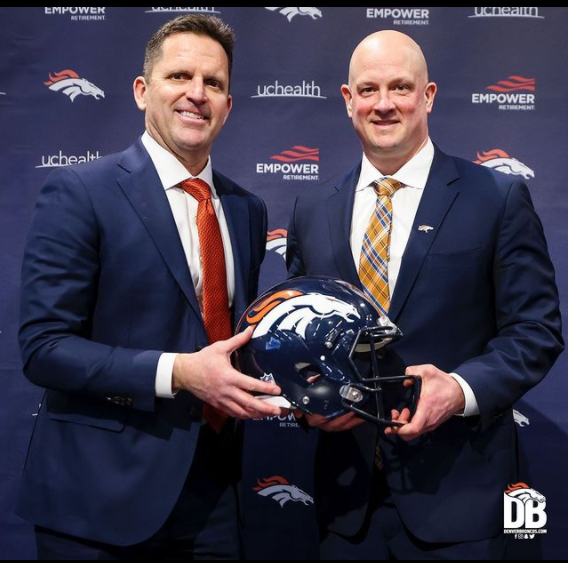 Vic Fangio led the Broncos to a disappointing 7-10 record this season, so they fired him, leaving Denver on the hunt to find a new head coach. The new head coach would be the fourth different coach since the start of their 2016 championship campaign. News first broke that Denver was making plans to bring over Green Bay's Offensive Coordinator, Nathaniel Hackett, who's NFL experience ranges from being a ball boy to becoming head coach.
With both Denver and Jacksonville after Hackett, the Broncos staff was going to have to make an offer before the Jaguars had anything to say. Jacksonville was supposed to have an interview with him on Thursday, but the Broncos stepped in and made their final offer on Wednesday. Denver was successful! On January 27, 2022 ESPN confirmed that Nathaniel Hackett would be repping the orange and blue next season. Locking in Hackett as head coach for the Broncos gives high hopes that it will convince Packers Quarterback Aaron Rodgers, along with his star receiver Davante Adams, to come to Denver.
"He was a successful offensive coordinator for the Packers, Aaron Rogers and many other Packers speak very highly of him. He did not call the plays for the Green Bay which could cause problems with the Broncos," Rangeview Athlete Nick Cody says.
When you look at how the Broncos are used to running their offense and having their OC call out the plays. Hackett had a different approach while coaching under Green Bay's head coach. During his interview with Denver they asked him what his hope was of transitioning to Bronco Head Coach; along with his plans to construct a new defensive staff. On February 2 they announced they hired Ejiro Evero as their new defensive coordinator, but Hackett is still on the hunt for the rest of his defensive staff. "I like the new hire, as he was the OC (offensive coordinator) for the Jags when they went to the AFC championship game with Blake Bortles as their QB," Rangeview athlete Cameron Hostetler said on his opinion on the new head coach and what he hopes to see this next season.
Broncos Country has very high expectations and hope, as GM George Paton stated, "Nathaniel Hackett is a dynamic leader and coach whose intelligence, innovation and charisma impressed us from the very start of this process."
Rangeview athlete Khiem Davison had a little bit of a different opinion about the hire. He expressed how he didn't think the Packers offense could be fully credited to Hackett; that their offense just has strong players like Aaron Rodgers, who shaped Hacketts legacy. Davison also added, "I wish we could have gotten the chief's offensive Coordinator (Eric Bieniemy)."
Hackett has plenty of experience bringing teams to the playoffs and championship games. He led the Jaguars to an AFC south lead in their 2017 season and then to the AFC championship, where they lost to the Patriots. After his time with the Jags, he was hired by the Packers. Moving to the Packers to be their Offensive Coordinator, he brought the Pack to being one of the best scoring offenses of the 2020 season.
"He has a lot of experience with championships that will hopefully lead to the Broncos winning some," says Rangeview Athlete Mason Hoffschneider.
Colorado welcomes Nathaniel Hackett and his family with high expectations to lift the Broncos to a successful season. The hope is that he can elevate the Broncos to the top of their conference like he has with many other squads. With his reputation for his past 20 years of coaching experience, along with Hackett's philosophy of communication, energy, and ingenuity, Hackett hopes to spark a new fire for the Mile High state.
"Let's get ready to win some football games," he says.