West scores 1,000 with Raiders poised for Deep Run behind her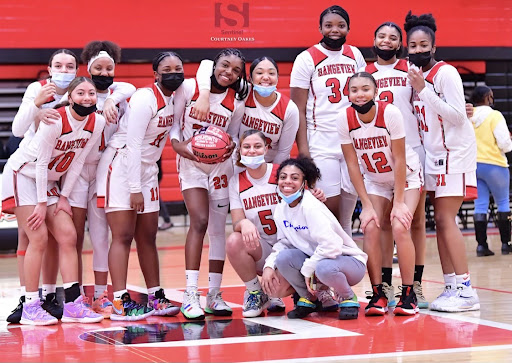 Many athletes set goals that they wish to achieve, their minds are determined and they're overdriven by a world of possibilities. Accomplishment can be one of the greatest feelings. Just halfway through her senior year, Ny'Era West did the unbelievable scoring 1029 points in her high school career, being one of  very few in Rangeview Girls Basketball history to do so. 
This accomplishment was a goal of hers since her start at Rangeview and being able to complete it not only showed her that hard work and dedication does  pay off, but it also showed that resilience to adversity is the bigger achievement.
West is torching opponents this year to a tune of 15.5 ppg as Rangeview is blitzing through the EMAC. West dropped a season high 28 points against rival Vista Peak, with   a whopping 14 rebounds to top it off. 
Earlier in the year, in a blowout win over #8 Chaparral, West grabbed a career high 17 rebounds and notched another six steals to suffocate the Wolverines.  Last season, West tallied her career high in scoring with 37 against them.
 In the middle of her junior year and basketball season, her grandfather passed away from underlying health conditions. This  caused a major decline in her performance and motivation on and off the court. She had a strong bond and a connection to her grandfather, with this major loss left a massive impact. However, through the strength of her family and her team she was able to keep in good spirits. 
When asked what has given her the most motivation to keep going throughout the years she said, "Definitely my parents, my friends, and my family because they never stopped believing in me. They continuously push me to be great." 
With such great achievement and amazing performance comes great responsibility which can be hard to maintain. Leading a top 10 team with genuine final four potential is that great responsibility, but West has the Raiders poised for a historic run. 
Nunu is most proud of the leader basketball has enabled her to become and being able to manage life outside of basketball.