Indoor Track and Field Records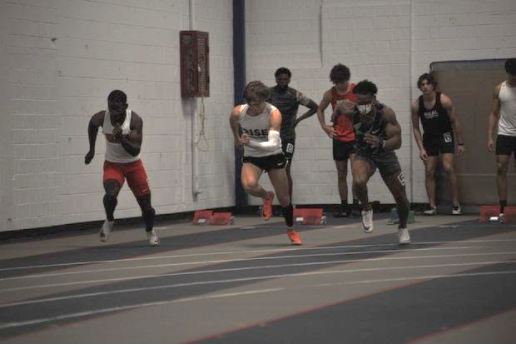 Now that the 2022 Colorado indoor track season is officially taking off, making it down the straightaway, let's take a look at some of the top athletes at Rangeview.
First mention is senior Daryn Ofori-Kuragu he is currently No.8 with the fastest 60m dash. This puts him at one of the top runners in state with a record of 7.14 seconds on milesplit. Along with being No.4 in state for the 300m dash with a time of 37.68 seconds.
Up next is senior Leland Smith who tops the list with a 6-2PR(personal record) in high jump and is No.3 in state. Recap to the high jump Ryan Pollyea and Leland Smith were going at it unfortunately Leland lost when Ryan Pollyea hit 6-3 his ( personal record) leading him No.1 in state at Colorado Mines series #4, Ryan Pollyea is currently No.3 in the state Also in the 60 meter dash.
Next up is Senior Adekunle Adebayo, currentlyNo.16 with a PR of 20-0.25 ft in long jump; in the state. Although with his 21-7 (personal record) in the outdoor season record he still got room to improve.
Upcoming Senior Boyce Domenico squeezed in a spot with a Shot Put throw of 33-3. His personal record brings him up being No.12 in the state. He also wants to try the disc when he goes back to Colorado mines. "He said he was trying to warm up his body first because it was his first meet".
Representing the lady Raiders for track Senior Ayana Simpson. Simpson is working her way up right now in shot put. She threw 26-4 making herself No.9 in the state . If she keeps the same motivation during outdoor activities and continues to progress, we will be seeing a lot of personal records being broken.
When the outdoor season comes up we are going to be seeing a lot more improvement from the athletes this year and more rankings of the athletes this year. Also, Daryn said "get ready this season is about to be the season that really goes crazy".