Anything is Possible for Rangeview's Elijah Thomas
Standing at 6'0", senior, from Aurora, Colorado, your Rangeview Raiders starting point guard, number 12… Elijah Thomas!
The Raider's student section erupts in cheers as Thomas takes the court. He joins his teammates in position as the tip off begins. This is his happy place.
Growing up, Elijah Thomas wasn't always a star. Starting his basketball career in the fourth grade, Thomas struggled to keep up with the other kids. Starting a sport late is frustrating: you play with kids who started running and dribbling a ball as soon as physically possible. However, this didn't stop Thomas. After hard work and determination, Elijah eventually made it to where he is now.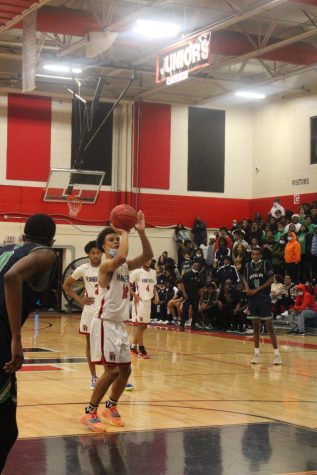 Basketball quickly became a passion for Thomas. Freshman year, he made Rangeview's C team squad and quickly solidified himself as a dependable player in the Raider program. Throughout his years, Thomas moved up the Rangeview ranks, playing JV during his Sophomore year, and then Varsity during the 2020-21 season. He practiced hard with help and support from his parents, who pushed him to be the best player he could be.
"[My father would] be there all the time, supporting me. Like he'd come home tired from work and just go outside and practice," Thomas says.
But in 2020, tragedy hit when Thomas lost his dad. Losing a loved one is always hard, but this one was especially difficult for Elijah. His dad had always been the one to push him to be not only the best player, but also the best person he could be. Many people would want to give up in adversity like this, but Thomas used it to motivate him to work harder. His mom is there to support him, but his dad's memory will always be in his heart.
After working hard in the coming years, Thomas started to become the star he is today. During his Junior year, he averaged a cool 6.4 points per game and 3.3 rebounds per game in 13 minutes a game off the bench. The Raiders went 17-1 throughout the season, losing their only game of the year to the George Washington Patriots in the playoffs.
This year, Elijah is the Raider's starting point guard. He is second on the team in points per game (14.7), rebounds per game (5.6), and blocks per game (1.1) and he's first on the team in assists per game (4.7), steals per game (2.1), and minutes per game (26.8). His combination of defense and offensive makes for the perfect star player and an absolute nightmare for opposing teams. Apart from his stats alone, Thomas' leadership is a big part of Rangeview's success.
"Elijah brings a positive and humble approach to leadership for our team," Raider basketball head Coach Shawn Palmer says, "He also impacts the game of basketball in many ways, all of which help give our team a chance to win every time we step on the floor."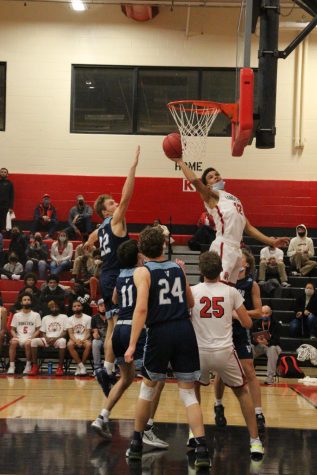 In terms of the current season, the boys look to take each game one at a time, not wanting to look too far into the future. Coach Palmer always says how the next game is the most important, so the Raiders view each game with the same significance. On and off the court, the team works hard to get where they are now, but most importantly, they are a family.
"We're all brothers. We have fun," Thomas says, "So I'm excited to spend senior year with them."
On the court, Thomas may be a huge competitor, but off the court he is one of the friendliest and most sociable people you'll meet. He loves to travel, play with his dog Simba, go to theme parks, and spend quality time with loved ones. But most of all, Thomas enjoys the relaxing company of a fishing pole and line on a summer afternoon.
"I like it because it's really peaceful and it also gives you time to really talk with a person and enjoy their company," Thomas says.
As of now, Thomas isn't committed anywhere, but he's "talking to one or two colleges." Ideally, he'd like to take his talent to Colorado College. He hopes that his basketball and academic career will continue to grow and thrive past high school.
As for now, Thomas and the rest of the Rangeview Boys Basketball Team look towards the playoffs as the season winds down with one thing on their mind: The State Championship.