Practice (P)SAT on Wednesday, September 14th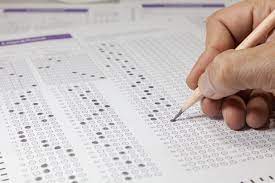 This upcoming Wednesday, September 14th is a (P)SAT practice day for students of Rangeview High School. Some argue the day is especially necessary with the recent drop in scores across the state.
Freshman, Sophomores, and Juniors will arrive at the normal time of 7:30. Seniors do not take the test, and are expected to show up at 11:30 for lunch; however, classes for the day officially begin at 12:00. 
Monday, QR code scanners will be posted for students to find their designated testing room. This room is where students will take their test, and they should immediately find it upon entering the school. 
After testing, all 7 regular classes will occur–albeit shortened to 24 minutes. View the schedule below: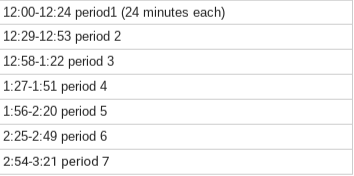 "Although I am not a proponent [an advocate] of the value we place on standardized tests, I think the practicing of them is a necessity," stated Jason Oulman, an English teacher. He had also remarked to a colleague during the interview that he had forgotten they were next week. 
The next (P)SAT practice testing day is expected to be Wednesday, February 15th. The official SAT day for Juniors is April 12th, and the official PSAT is on April 13th for Freshman and Sophomores. 
"I think we should take advantage of it. A lot of students just don't take them seriously," said Junior Imani Jackson, also detailing that other schools have to pay to take the test while students at Rangeview don't. 
Parker, another Junior, wasn't aware that any test practices were taking place on Wednesday. She said that it "should have been told to us earlier so we could prepare." It appears that a lot of students have been uninformed about the special schedule and events occurring this 14th. 
Recently, Colorado's standardized test scores have not been great. This chart as provided by Chalkbeat details the recent SAT test scores by Colorado students in both english and math:

Good luck on your (P)SATs!