Raider Volleyball Changing the Traditions
Over the summer, the Lady Raider volleyball team traveled up to Greeley to play in a team camp tournament at Northern Colorado. While they were up there, they played their opening rival of the season: Standley Lake. With the familiar faces on the other side of the net there was pressure, with the first set coming to an end of 25-19. As the Raiders took a quick break to regroup, they figured out their problems and came onto the court in the second set strong, giving up very few points and really driving pressure on the Gators. They kept up that energy through the rest of the game, winning the game with a final of 3-2, sending the Gators packing their buses. 
After the turn out of the first game fans were egger to pack the stands against Palmer High School. Senior Class President Mahlet Siyoum and Student Body President Kristabelle Dutton leading away the cheers: Dutton stating, "Just getting the crowd hyped up and in the spirit is a huge part of the vibe you experience at the game. Even when I mess them up, the cheers are still fun!"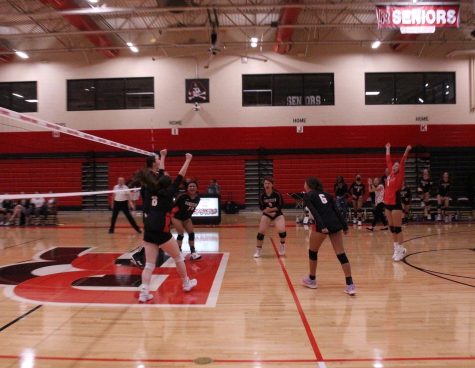 The fans were not the only ones staying hyped; the girls were keeping up their energy through the whole game and celebration after every point. They ended the first set 31-29, fighting for each point. Going into the second set, the same fire was being fueled on both sides of the court, but the Raiders were blazing by the end, winning the set 25-23. Already the Raiders were up two sets and just had to keep the energy to finish off the game. The start of the third set the terriers had low communication and struggled to get past the Raiders defense. The Raiders finished off the game 25-16. 
These past couple of weeks these ladies have kept the same grit on the court, keeping an undefeated record of 5-0. With their upcoming games, they will be facing some familiar faces from last season. Senior Audrey Feddor said, 
"This year I feel pretty confident in our team. I know we are going to be facing some challenges, especially playing teams like Vista Peak and Denver East. But regardless of the amount of challenges we face, we will be just as strong whether or not we lose or win."
With the Lady Raiders keeping the tone of the season, they will have their Homecoming game on Wednesday, September 28th against Hinkley High School, along with finishing the regular season against Westminster on October 10th, 2022.