Get to Know Kristabelle Dutton
With a smile that lights up any room she walks into; a girl who has nothing but love for her friends, family, school, and community, she is sure to leave a long lasting impression no matter who you are. A quiet soccer player with dark brown hair, brown eyes, and freckles that dot her face; sounds like your average person, right? Ask anyone who knows her, and they will say she is the exact opposite. "She is one of the most loving people I know. She's understanding, caring, but most of all, I adore her genuine heart. Whenever I need her, she is there in any way she can be," says senior Mhalet Siyoum.
You might not know it, but senior Kristabelle Dutton was born in Maui, Hawaii; and grew up in the Midwest state of Kansas with her parents and her older brother. From the age of five, she has played soccer among other sports as well as the piano. When she was nine years old, they took the trek west and moved to where she lives now in Colorado. On her own time, she stays involved with taekwondo and other youth organizations near her, like YPH (Youth Partnership for Health), which is a group she works with at the Colorado Department of Public Health and Environment. For as long as she can remember, she's been surrounded by a loving community, which has played a key part in the generosity and care she has for those around her. 
She holds her family very close to her heart, and they are her biggest inspiration in her life. "My biggest motivation is my family and wanting to make them proud of me and my accomplishments," says Dutton. "I want to be the person people can rely on, and it motivates me to be the best I can be."
The first thing that probably comes to mind when you hear her name if you know her, is her position at Rangeview. This year, Dutton holds the position of student body president and serves as the main voice for all four classes. When asked about Dutton, junior Hayley Hanson said, "She has one of the biggest hearts, and she just cares a lot about the school." She has previously held a leadership position at school, that being junior class president, which she won after losing two years in a row. This honor, in fact, is one of her biggest personal accomplishments to date. She describes her accomplishments as "kind of silly," but they include earning the Aurora Scholar award in fifth grade and being the 24 game champion at her elementary school.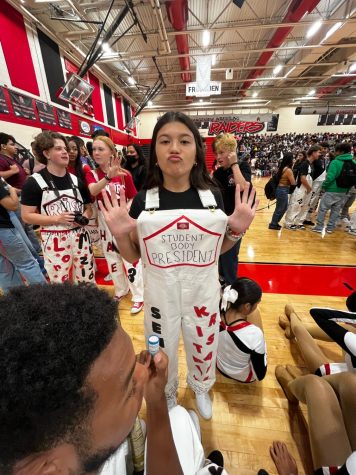 The path to senior year is not an easy one, and having a support system of friends, family, and especially teachers, can be a saving grace at times. They are the ones you lean on when times get tough, and they serve as role models during your time in high school. When asked who has been in her corner at Rangeview, Dutton said, "My favorite teachers have absolutely been Mrs. Gasior and Ms. Walsh, and my favorite staff is Ms. Rahn, Ms. Strouse, Ms. Simoneau, and Ms. Buttshaw. They've been people I can not only look up to, but also go to for guidance and support, and I am so thankful for all of them."
Ask anyone and they will agree that the memories and friendships you make during your high school career are the ones that you remember long after you have graduated. From cheering at games, to cleaning up after dances, or even just lounging in the CCC or an administrator's office are all a part of the "culmination of small moments" that have truly made Dutton's time at Rangeview a great one. She is grateful for it all as well as the time she has gotten to spend here. 
Looking ahead to the end of the school year, she hopes to be able to graduate with her Associates degree and Dutton plans on attending a four-year college to major in something along the lines of sports medicine, and then taking it a step further and applying to medical school. Her ultimate goal is to become a pediatrician, with the dream of being able to work with her family doctor and run her clinic in the Philippines. "Knowing that my success means the success of my family here and in the Philippines is my biggest driving factor," Dutton says.