Poms and Cheer League Championships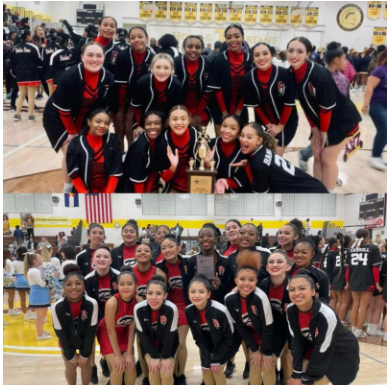 On Thursday, November Third our Lady Raider Poms and Cheer team Headed to a League Competition at Thomas Jefferson High School.
Our Varsity Poms team competed against East, Northfield, and Vista Peak High School. Leading up to League they spent 3 weeks learning and perfecting their 2 minute Dance, while training to meet all the requirements to qualify. Such as having kick-line be 90 degrees or higher and hitting 2 consecutive pirouettes.Over the previous years Our Lady raiders won 1st place for League competitions.This 2022 the Raider Poms team gave the first performance of the night, Having no previous competitions this year making them nervous yet excited for the night. At the end of the night Rangeview Varsity Poms team earned second place for the Poms division for League.
Our Game Day Cheer team also went against East, Northfield, along with Thomas Jefferson, and South. As the raider cheer prepared for competition season for months, working to perfect the routine. Making sure motions, signs and stunts hit how and when they are supposed to. With the Varsity Cheer team winning the EMAC League Championships years in a row, Along with them receiving a bid to nationals at their first competition of the season. They had high hopes for winning the League Championships for their first time in this new DPS League. Following this they finished the League Competition First Place overall in the Game Day section.