Raiders fall to Regis, but topple Columbine in challenging week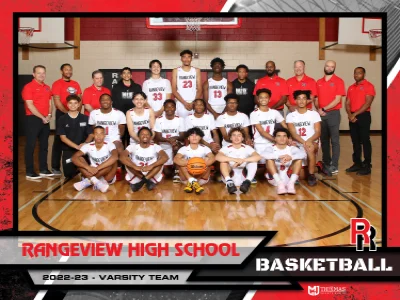 Rangeview continued to face the toughest schedule in the state with road contests at Regis and Columbine this past week.
Regis 73, Rangeview 62
On Wednesday, January 4th, Rangeview (2-7), lost 73-62 while getting out rebounded 33 to 15 by a strong Regis Jesuit (5-3) squad.
Rangeview put up a good fight led by Rangeview player of the game, senior Isaac Martinez who had 10 points, two rebounds, and one assist in 15 minutes. 
Although the Rangeview Raiders struggled, the upcoming league schedule should help the Raiders get streaking. While Regis Jesuit is continuing on their way back to the Sweet 16.
Rangeview 60, Columbine 57
On Friday, January 6th Rangeview (3-7) narrowly edged out the win 60-57 to Columbine (6-4).
Rangeview fought hard and edged out the Rebels, limiting them to 8-37 shooting from three point range. Rangeview got strong contributions from Kenny Black-Knox scoring 17 points and freshman Darris Davenport who grabbed five rebounds, two assists and terrific work on the  defensive side of the ball.
This is a big win for the Raiders who are in need of a win streak to push towards the playoffs. Although,things don't get easier going up against perennial contenders Chaparral and Grandview. While Columbine is trying to make it back to the playoffs sitting at (6-4).