Profile: Who Is Zane Bullock
Senior Zane Bullock, Captain of Rangeview's Varsity Girls basketball has had a marvelous year! In 11 games, she is averaging 8.9 ppg, 2.7 apg, 5.4 rpg, 2.5 spg, .3 bpg and leads Rangeview in fg percentage at 44%. With these stats, she leads the lady raiders in assists per game and steals per game and is 3rd in the 6A Denver Prep league for assists per game. Along with these phenomenal stats, she was named player of the game against Vista Peak and Fossil Ridge in a 10 day tournament.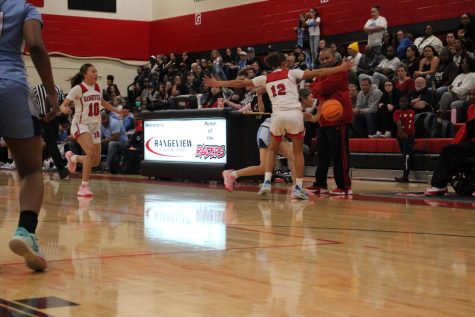 Even without looking at the stats, it's clear she is a great player. Also, it's nice to hear from our staff how Bullock is. While talking to Mr.Swanson he mentioned repeatedly how Bullock is a leader off the court and it rubs off on other people.Erick Swanson, Rangeviews AD mentioned, "Zane Bullock has a high basketball IQ." Along with a high basketball IQ and being a captain, "Zane personifies a Raider. . . She's put a lot of time into her basketball career and her character is very reflective." Even while not being on the court, she is the senior captain and her leadership skills show.
What does Bullock think about herself? We asked, What do you think prepared you in your life? Bullock responded, "I feel that my coaches and parents have conditioned me for now in my life." Along with that Bullock said she looks up to Serena Williams being able to relate, "Being a younger sister and having to go through hardships." Also she mentioned how Rangeview is a different environment when you have somebody else going through before you.
With a record of 10-5, "We have a good chance to make the playoffs" said Bullock. Even though she's the captain of the basketball team and has been playing since 4th grade. Although Bullock is the captain of the girls basketball team she is a two sport athlete,Bullock said, "I feel like I'm better at track because in my Junior year I made it to state in 4 events." Lastly, talking about success in the future Zane said, "I feel like I will be able to play after high school."
It will be nice to see the success Bullock has after high school. Along with her track season starting up on March 18th (plans to see her in the playoffs).