On Friday, August 25th, a series of fights broke out at the Rangeview vs. Vista PEAK football game, the first football game of the season that resulted in the game's cancellation, teenage hysteria, and another black eye on the Aurora Public Schools reputation.   
There were no serious injuries, but two people were arrested. A thirty-one year old man, with no apparent connection to either school, was arrested and charged with both disorderly conduct and obstruction. An unidentified juvenile was also arrested for possession of a handgun during the game, along with third-degree assault and possession of ammunition for the gun. 
The only information released regarding the juvenile is that he's a sixteen year old male. After the Hinkley High School shooting in 2021, where journalists released information they weren't supposed to regarding students involved who were under eighteen, a Colorado law has been put in place prohibiting information to be shared about minors.
The first 911 call regarding the fights came in at 7:38 pm, and there were subsequent conflicting reports. One call reported shots fired, while another just reported a fight breaking out. There were already officers on scene in an off-duty capacity, as Aurora Public Schools hires officers to surveil sporting events such as football games. 
Due to the severity of a situation where shots are potentially fired, there was a very large police response with over 60 officers on scene. Matthew Longshore, a detective and Public Information Officer (PIO) for the Aurora Police Department (APD) stated "Obviously we would rather have an over response than have something big happen and not have enough officers… There was probably one officer for every 20 to 50 people… you'll see a large police response on calls like this."
Longshore also disclosed that the other officers on scene who weren't already present belonged to multiple different units.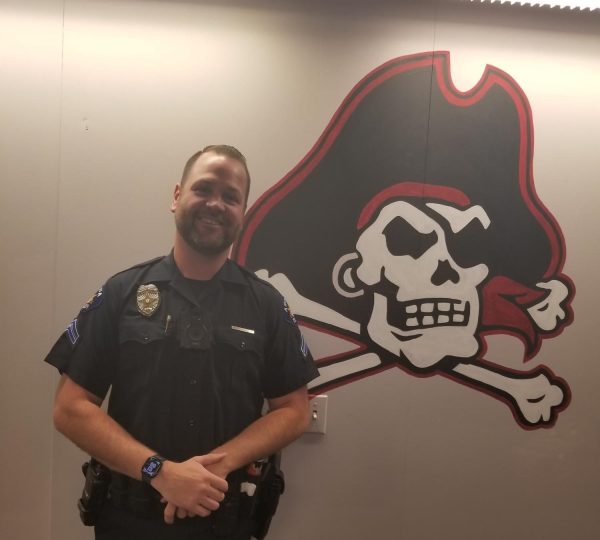 "Some of those units were our gang unit, we had K-9 officers, we had our traffic unit that came out. I think they helped direct traffic. We had our DART [Direct Action Response Team] unit and then obviously patrol had a pretty large response as well," Longshore stated. The list also included the Chief of Police Art Acevedo who was on patrol at the time of the fight. 
Despite the call that came in claiming shots were fired, police have found no evidence that supports the claim. There's no evidence of shell casings being found in the report, and it's known that nobody was shot. It's speculated that a juvenile revealed he had a gun, which created the panic, but no guns were actually fired. 
Joseph Eck, a counselor and offensive coordinator of Rangeview's football team recalled people running in the stands while the game was on. "We're on the far sideline, so we have the view of the entire stands but you can't really see what's happening… From my angle, there were a lot of people from the Vista PEAK side going towards the fight," Eck said. 
Due to the fighting the referee's called the game early, ending it a few minutes before the end of the third quarter. Eck stated he didn't remember it being very immediate. "Fifteen, twenty minutes went by and then it was canceled," said Eck "It was definitely not when I saw the fight stuff happening. We played a few more minutes of football before everything got shut down." 
The final score had Vista PEAK up 31-0. 
The week after the game, Principal Lisa Grosz came on the intercom and addressed what happened. Grosz applauded Rangeview students for not engaging in any fights and encouraged them to come to future games, saying that the events that night were not commonplace and anyone who had any concerns were free to go to either her or Vice Principal Caleb Tucker. 
Last year, a brief on-field fight in the Rangeview football game against Aurora Central High School elicited attention. However that episode was minor and ultimately an overreaction from officials because of a late hit in the game. This year was more concerning.
Because of those mounting concerns over the safety of spectators and athletes at events, APS is making changes. There will be no bags permitted at any football games held at APS Stadium for the foreseeable future. The lines for the concession stands are also supposed to be more organized from now on, to prevent loitering in the concessions area. There is also a strict no re-entry rule, so any people who leave after being let in will not be able to return. According to Longshore, the number of cops present will also double from two officers to four. 
Erick Swanson, Rangeview's Athletic Director, helped shed some light on these changes. Off-duty APD officers won't be the only security at games, administrators from the playing schools will also be present. Swanson added that the security teams will be strategically placed throughout the stadium instead of being randomly scattered.
"There will always be an admin team from the two schools that are there at the gate to help check students that are coming in and to make sure we don't have students that aren't supposed to be at games coming into those games," said Swanson. 
At the Rangeview-Vista PEAK game there were rumors that the students fighting did not belong to either school, although the detective was unable to corroborate these claims. Reportedly some spectators were from high schools like Overland, East, and George Washington. 
Swanson added that they were less concerned with keeping people from other schools out of games, and wanted to primarily focus on having a presence in the stands and crowd management. Football games are open to the general public, and there's no way to truly keep people who don't belong to the relevant schools from coming in. Swanson clarified that they "don't have a way to implement a policy where we say we will or won't allow certain people," even if they wanted to. 
As of this time, there are no major concerns regarding fighting at future sporting events by APD or the school district. Friday, September 15th Rangeview had a home game against Aurora Central. After the events last year some students were concerned about if anything bad was going to happen, but the game was uneventful. Rangeview hopes this will continue to be the case for all future sports games and after school activities/events.