Artists come in many different forms. Jeremiah Dabney, also known as Lul Trouble, is the creator of many pieces, and several albums which include his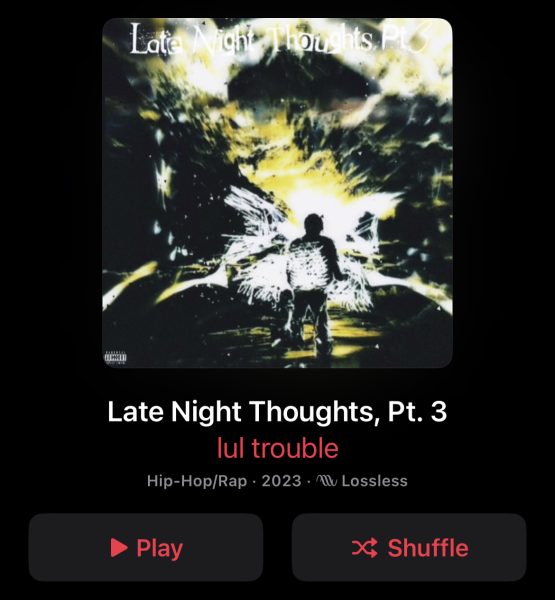 newest album, "Late Night Thoughts Part 3" which was released on May 5, 2023.  Trouble's three most popular songs consist of "do you miss me (feat. YNW Bortlen)," "why did you switch up (feat. PrettyBoyFredo)," and "how i feel (Feat. PrettyBoyFredo)." Lul Trouble is a slow rising artist from Aurora, Colorado. As a Sophomore student at Rangeview High School, Trouble is not only a musician, yet also a student who uses his knowledge and experiences outside the classroom to bring him where he is today.
Trouble's growth and pursuit in music was said to be influenced by his, "…brother, and life, going through experiences…".  
According to Jeremiah, becoming a musician is more than a simple idea, but becomes relevant with past experiences throughout life.  This includes Trouble's relatives, struggles in life, plus how and where he was raised that led him to creating music.  Trouble's music can be seen as a reflection of his life, such as the lyric, "Heart's too cold, feel like my sh*t is numb, I came from the bottom, yeah I came from the slums."  This lyric from Trouble's single, "Hearts Too Cold" is a clear insight to how he feels about himself, and his life experiences.
Trouble also stated that his biggest accomplishment was being able to build off of just making music.  
Trouble exclaimed that "…being able to experiment from just making clothing,…how to manage the money…"  By this, Trouble states that he is able to do more than he initially believed, by expanding his achievements out of solely the music industry.  
Trouble went on to say, "…how the music industry is steadily growing you have to d*mn near overeducate just so you can make scraps."  According to Trouble, this means that you have to learn more than just the basics of music, to know exactly what to do in certain situations, especially if unintentional or new situations come your way.
Trouble would go on to say, "you're not in it just because you love it or just because you want to do it…it resonates more." 
For Trouble, this means that producing and being a part of something–especially the music industry– is not only all for a passion or  desire, but it involves a sense of reason. A reason as to why someone would want to make music, and what are they truly doing for.
Through being a hard worker when it comes to music, writing lyrics and producing his creations, Trouble also maintains himself in his personal life and takes time to  focus on himself and his  well-being. 
Trouble said about his personal goals, "Honestly I'm on my spiritual journey…just awakening and lifting weights…and doing my daily deeds. Self loving before you can love others. Enjoying time with yourself and allowing it to resonate so much where it's like, you can just be around people and just, it hits different…" 
Jeremiah shows that he is not only a man for his music, but his life as a student and a relative. He maintains focus and  care for himself as well  as working with music and being in the industry.
Even though Lul Trouble is an underground artist and currently progressing on his way to becoming a grand star, he still finds small ways of performing his music and allowing his creations to become more relevant to those around him. 
According to Trouble, he had performed "…at a studio, but it was unprofessional. Low key, I'm thinking about hitting like the sunshine state [Florida] or somewhere out in like, Colorado Springs, or Denver, stuff like local areas."  
Through this, Trouble shows how open he is to his performances, and where he plans and/or desires to present his music.  Trouble went on to describe the process of growth, and how smaller venues are, "How you naturally market and build yourself. Like with [the] internet it's cool too." Trouble means that building yourself can come in several forms, including the internet.  By the use of smaller venues and sharing his creations through social media,Trouble looks to build his reputation and popularity.  
Lul Trouble will continuously be growing throughout his career and achieving his goals with new albums, singles, and great features from other artists. Trouble's music is out on all platforms including YouTube, Spotify, Apple Music, SoundCloud, etc. Be sure to go check out the upcoming star, Lul Trouble and his music!
Where to listen:
Spotify: https://open.spotify.com/artist/4OLbO3QhWdRLWd2kmnU6Vk
Youtube: https://www.youtube.com/@lultrouble
Apple Music: https://music.apple.com/us/artist/lul-trouble/1544738557