Rangeview's take on Black History Month
Black History Month is a month of celebration of African American history, activism, and excellence. In 1926 the Association for the Study of African American Life and History (ASALH) sponsored a National Negro History week, choosing the second week in February to coincide with the birthdays of Fredrick Douglas and Abraham Lincoln. In the following decades–specifically the 1960's– the civil rights movement and the growth of black awareness Negro History Week became Black History Month on college campuses and eventually across the United States.
Rangeview High School is known for its strength in numbers and diversity. So as this significant month approaches, African American celebration has arrived. Here at Rangeview, students need to understand and feel as though their history is important. In our society, African Americans are often targeted, put down, and not appreciated for their efforts today as well as back then. 
"I think our kids are proud of who they are individually," says Rangeview administrator DeLisha Boyd, " they push to make sure they are in all of the spaces we have here at Rangeview High School by being involved in sports, theater, art–being involved here shows the representation of our students."
At Rangeview there are several nuances to black culture and the black community. For example, the club for Black/African American Students also known as BAASA. Our sports also consist of the talents of commendable African Americans, like the boys and girls basketball teams. Our demographic as a whole is just an example of our diversity, as Rangeview's student body consists of 20% African American students.
Sophomore Ola Folarin commented, "I feel like the black culture is very looked upon and loved at Rangeview. But also I feel like it's taken disrespectfully in some ways, she continues, "like with the way people think Africans are/act and the way they talk about our culture, the misuse of the N-word but overall I get it's not entirely negative."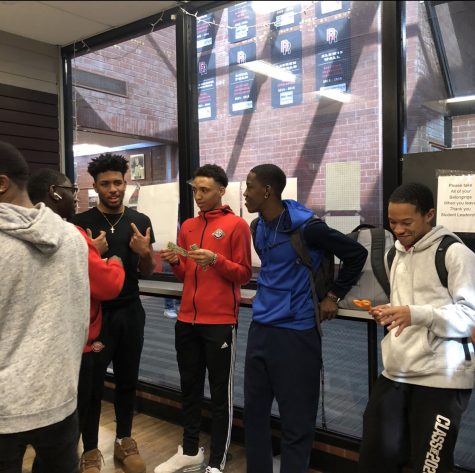 Although our school may be so diverse, many have noticed the lack of spirit in Black History Month around the school. There are not many posters, decorations, or black awareness around the school. Some have voiced their opinions about the lack of respect for the month and its importance.
Senior Ibrahim Sanogo said, "I haven't really seen the culture–like this is important right? but like you don't see it in classes or see teachers talk about it."
 Some students have also taken matters into their own hands, for example, BAASA has implemented sharing interesting/meaningful facts about African American people in history in the announcements. 
Folarin said, "Once a week this month, I dress in my cultural clothing and I plan on doing it even after black history month is over. I wear my natural hair every day to promote beauty with natural hair and I made a video project on black excellence."
However, it is fair to say that more should be done in future years. There should be more, "I think it [Black History Month] is a good reminder of who we are as a nation and our background, good and bad," says Sanogo.
In this day and age, ethnic groups suffer oppression and separation regardless of the struggles in the past. Sadly, such issues impact the youth and slowly take away the value of being different. It takes students like Ola Folarin to keep the importance alive to "stay woke". 
Boyd says, "I really feel that if we as a society were as united as everyone wants us to be then we wouldn't need a black history month, black history would be represented well in our history classes." 
As time goes on and as the world changes, sometimes it changes for the better and sometimes for the worse. History specifically black history, seems to be suppressed and not fully taught and realized by the world, Boyd mentions, "…because of systemic racism then, and now in the present, this idea of black history is pushed underneath the surface.  Schools don't necessarily teach as in-depth the history of African American history in the US."
Black History Month, like any important holiday, comes with its ups and downs. It takes the strength of people and knowledge to take on this time and make the most of what its purpose is. It is safe to say that Rangeview's black community has taken into their own hands what they want to see as far as black excellence. Regardless of black history and its negative aspects, it is still honorable to acknowledge all the battles that have been overcome and what the future holds.
"We should emphasize not Negro History, but the Negro in history.  What we need is not a history of selected races or nations, but the history of the world void of national bias, race hate, and religious prejudice." 
– Carter Woodson