Class of 2020: Outstanding Seniors (Males)
Landon Steinkamp (Story by: Salmata Soulemane)
When talking about an outstanding senior from the class of 2020, look no further than Landon Steinkamp. Not only has he made wonderful memories with his peers but also his teachers. As well as made a significant impact on the character and hard work. 
Stenkamp was heavily involved in extracurriculars and a busy bee outside of school as well. He balanced going to many school events as well as being apart of the Rangeview Track & Field team. 
Landon Steinkamp is well known around the school for being an active member of NHS (National Honor Society), and founding his own service project "Blessing Bags". 
Rangeview teacher and NHS advisor Kurt Siebenthal said, "Landon is just flat out inspiring. He has become joyously obsessed with raising money and collecting useful items for his blessing bag projects for local homeless."
What others see as inspiring and selfless acts, Steinkamp simply sees as being a "good person".
"Being involved makes high school a lot of more fun, and it just helps you meet more people," says Steinkamp. Outside of Rangeview, he is well known for being at work or headed to work. "It's kind of another social aspect, it gets you out of the house. I've become more active in the real world that way."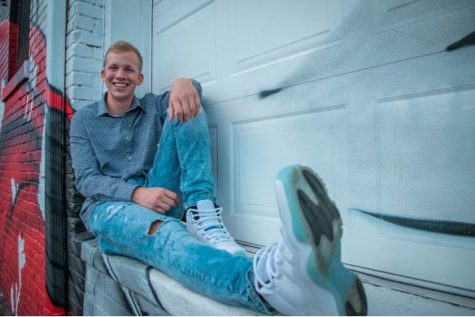 Other than being a hard worker, Landon Steinkamp is very social and can easily befriend others. A good friend and senior Dominique Watkins became friends with Steinkamp junior year and have been inseparable since. She reflects on several memories and remembers her favorite, "eating french fries and he dipped then in Cinnabon icing."
The next phase his life takes him to CCA as well as Picken Technical College, where he will be double majoring in Business and Mechanical Engineering.
Siebenthal says, "I see Landon taking these skills and becoming a very successful business leader. Yet, at the same time I think he will always have some time of local philanthropy," he continues, "Maybe he'll be a lawyer and work tons of pro bono. Or he'll be a CEO with a monthly homeless outreach program The possibilities are endless."
The possibilities are endless for this bright mind. Similar to Mr.Siebenthal many can say Steinkamp all around a great person and has a bright future ahead of him. 
Despite his senior year being cut short Steinkamp obviously mentioned he will miss it dearly, but also as he says, "I'm going to miss the experiences and the people.
Alex Desta (Story by: Caroline Smith)
Focused. Determined. Undaunted. These are just some of the words that friends used to describe Alex Desta. 
Desta has been highly involved with Rangeview's community, all while undertaking rigorous classes throughout his years at Rangeview. For the past three years, he's been a varsity cross country runner and joined National Honors Society and College Track. He's been in UNICEF since his sophomore year, serving as the treasurer this year. Additionally, he's participated in FBLA since his junior year. 
"I had Alex as a student in AP human Geography 9th grade year. He was a hard-working and ambitious kid and did well," said Jose Melendez, AP Human Geography teacher, "I would say more importantly, he was the treasurer for the UNICEF club this year. It is difficult to find students with Alex's level of commitment.  Alex provided great leadership by br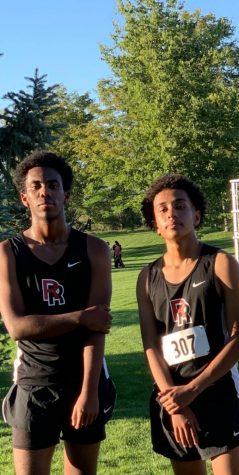 inging his ideas to the group, following through on his commitment and having a great attitude through it all."
Many people see the dedication and commitment Desta has to his work, as he is very studious and serious about performing well academically. His parents have helped him succeed over the years, especially his mom. 
Desta said, "She works 16 hours a day for 6 days a week just to pay the bills. Her determination and drive taught me the importance of staying motivated despite all odds. I would have given up on my academic efforts a while ago if it wasn't for her."
Desta's older relatives taught him balance between having fun, but also being serious about school. He explained that as his cousins would study, he would too, so picked up on the habit to create the person he is today. 
Senior, Nathan Berhe, has known Alex since freshman year, but they became closer sophomore year.
"I've witnessed the hours of work he's thrown himself into in order to get ahead of his school work. His unique attitude of getting his work over with often lends itself to his ability to finish assignments on time," Berhe said, "When he struggles, he holds no qualms about contacting the teacher and looking for any help he may need. When he was dissatisfied with his SAT score, he ran through books improving himself."
Some students might like to slow down, but Desta has a drive, as he never succumbs to periods of stagnation. Many people might say Desta's work ethic, effort, and motivation has made him succeed throughout his high school career. 
Desta will be attending Case Western University in Cleveland, Ohio with a full ride scholarship – he's majoring in Biology with a focus of pre-med.
"I think what makes me 'outstanding' is that I make decisions for myself and I never let myself be influenced by other people," Desta said, "I learned that I have to make choices for myself in life because I'm the one responsible for my own actions at the end of the day."
Luis Torres (Story by: Serenity Monroe)
Meet Luis (Lee) Torres, a man who always puts his best foot forward and excels in what he believes in. He's very involved at Rangeview—the true epitome of a Raider. Through being a band, choir, and theater kid alongside dancing and focusing on his studies, he's a force to be reckoned with. Torres has been an example and someone to look up to for the four years he's been at Rangeview.
Torres is a humble person but doesn't hesitate to show what he's capable of. As said by his peers, he's a passionate person who puts his all in everything. 
"Throughout high school, I didn't think I was going to get many opportunities," Torres stated. "But, looking at it now as a senior, I see every day gives me a new opportunity to do something I really love." Those things being dancing, singing, marching, and color guard.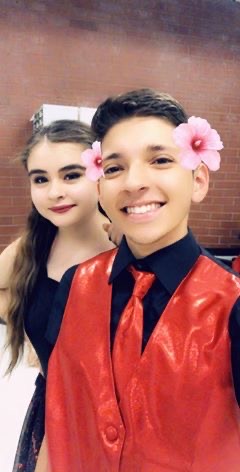 "I wouldn't be me without the things I do today." He said. 
It's not just the clubs he's in and other kids around him that see his talents, and one peer, senior Aleks Mayotte, didn't hold back when asked about him. 
"I think he's grown stronger as a performer…he was already a strong one freshman year, but over the last four years, he's improved greatly and performing seems natural to him," Mayotte said, "Even though we may be freaking out, there's a feeling of calmness [from Torres]." 
Performing isn't all he's about though, outside of his activities, he's been nothing but a hilarious and kind person to be around. "As a friend over the last four years, he's very supportive. I think of him more like a brother if you get what I mean," Mayotte stated, "he listens to what you have to say and he tries to help those who ask for it."
That's not all, though. Teachers have seen his exemplary efforts, and the best person to shed light on that fact would be choir teacher Mr. Laguana. 
Torres was more than your average choir student, he continuously helped out with other classes. "Luis had [second] period off and would consistently come in and help with choreography, testing, or generally assistant work," Laguana stated. "He would then come to the beginning choirs and do the same thing."
With Torres's passions in performing and helping others, it's no doubt that teachers love him as well. As a kind friend and amazing mentor, he brings a lot of good qualities to Rangeview. 
"Luis is an amazing student and a great helper. He constantly goes above and beyond to help. He is someone who is dependable and kind." Laguana explained. 
Torres is more than just a performer, he's an avid learner and a reliable shoulder to lean on. As someone who holds the values of a Raider true, Torres will be forever remembered as an outstanding senior in the class of 2020.