Homecoming 2k21, Everything Raiders need to know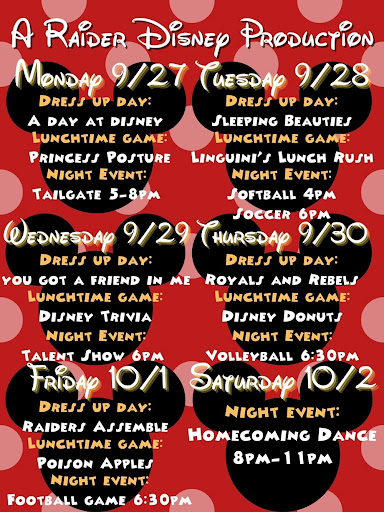 With homecoming fast approaching and so many uncertainties this year, especially with students back in school fully for the first time since the pandemic started in March of 2020, some were unsure if Rangeview was even going to have a homecoming this year due to the recent rise in COVID-19 cases. However, Raiders can rest assured that Rangeview's homecoming is back. 
"It's something we all missed over quarantine and we're cherishing the fact that we're back," mentioned leadership Junior Mhalet Siyoum.
This year, homecoming week lasts from September 27th to October 1st. The major theme is anything and everything Disney, and the dance will take place on Saturday, October 2nd, from 8-11pm, withmasks being required. Tickets are $20 in advance with an activity card, $25 without an activity card, and $30 at the door along with guest passes being available in the main office.
The week of homecoming always entails some exciting sports contests, and this year, many of our teams will be in action. Softball will play Prairie View on the 28th at 4pm, boys soccer will face off against Vista Peak on the 28th at 6pm, girls volleyball will compete against Hinkley on the 30th at 6:30pm, and the football team will go head to head with Hinkley at APS stadium on October 1st at 6:30pm in the annual homecoming game. 
What's a homecoming without the lunch time activities? Throughout the week, students will have different activities and contests to complete, some of which include "princess posture," "Disney trivia," "Disney donuts," and "poison apples."
With the unfortunate impact of COVID-19 this past year and remote school becoming the new reality, half of the school has never experienced a true Raider homecoming before.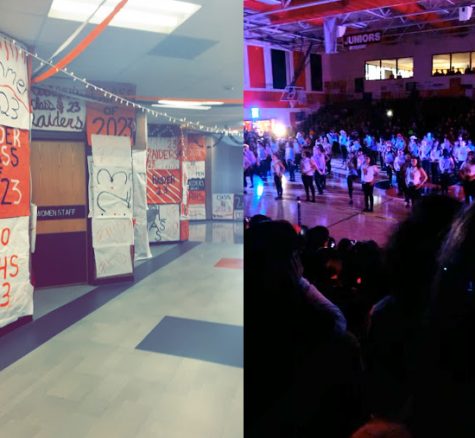 "Honestly I think mostly being able to have a football game and the dance and most of all just being able to be a part of all the magic that goes on during homecoming," said leadership Sophomore Hayley Hanson.
This year, student leadership has Raiders covered with different themes everyday. Monday is "a day at Disney," Tuesday is "Sleeping Beauty day," Wednesday is "you got a friend in me," Thursday is "royals and rebels," and Friday is "Raiders assemble."
 With the fun of homecoming, comes the stress behind the scenes that the rest of the school does not always get to see. "I think the hardest part this year was executing our ideas since Disney is such a wide subject because of the characters, so we just really focused on narrowing down the details and being creative," stated leadership Senior Anise Gonzalez. 
Students can cap off their day with some night events each day, a few being a tailgate from 5-8pm on Monday and a talent show at 6pm on Wednesday.
Not only is the student body excited for homecoming this year, but leadership is as well. "I think the thing that leadership is most excited for this year is being back in person! Even if things are not back to the way they were 2 years ago, it's nice to have interaction with people and to have homecoming even through COVID-19," said leadership Junior Yeabsira Tsegaye. "[We] have to make sure that this year is the best we can make it."