Rangeview girls wrap up the season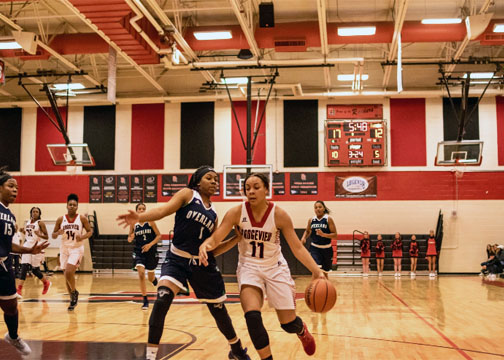 Feature Photo By: Amor-Leigh Wilson – Junior Angel Broadus drives to the basket with aggression in hopes of making a shot against the opposing team. The ladies season officially ended February 23 with a loss against Fossil Ridge High School.
The ladies' basketball season has ended with a loss in their playoff game against Fossil Ridge High School on February 23, with a score of 75-47.
Sophomore basketball fan Isaiah Jamison states, "I thought the ladies would have made it through the first round of playoffs, but I'm still really proud of how far they have come this season."
As the ladies wrap up their season, they are no longer undefeated in their league. Losing against two conference competitors, Northglenn and Brighton High School,is a disappointment to the ladies since they dominated the schools the season before.
After first losing to Brighton High School on February 6th with a score of 46-28, the ladies reflected on the game.
According to coach Niki Weddel, "Our main focus this season was to become the automatic EMAC champions, but now we need to focus on teamwork and communication."
Then, playing against Northglenn High School February 13, the ladies were confident since they had a 7 game win streak against the school. Ultimately, the ladies won 46-28.
According to junior point guard Angel Broadus, "We planned on beating all the teams that we lost against last year, and we planned and worked on being fundamentally sound this season. We fell short, but I think we can pull it together…"
The ladies had the chance to redeem themselves against a rival conference competitor, Gateway High School, on February 16th. Most of the girls admit they were "very confident", since they had 13 wins and only 8 loss against the school before playing them this season. Unfortunately, the team won 59-46.
"There are still a few things we need to work on as far as communicating, "said Coach LaMonte Weddel. "It's no longer about it being a conference competitor but playing the best we can."
The ladies' season ended with a loss against Fossil Ridge in the second round of the state playoff tournament after upsetting Thunder Ridge in the first round. Despite the amount of preparation put into the game the team fell short and lost against the school, ending their season with an overall record of 12-13.
Some agree this season has been full of many ups and downs and the ladies agree that they are trying their best to be their best. This season has been one of many losses and many wins and now that it's over, the ladies have next year to look forward to.