The Review wraps up the year with CSMA awards
Feature Photo By: Alexis Drummond – The graduating senior editors pose with advisor Zeb Carabello in front of the Rangeview Raider backdrop at the Academic Awards Ceremony. 
As the year wraps up, The Review is able to look back at its fifth year online and the record-breaking 19 awards won by the staff.
This year began with 37 students — the largest Review staff ever, only seven of which were returning from the 2017-18 Review Staff, and with Dominque Harlan as the Editor-in-Chief.
"I was worried that it was going to take a  while to be operating at the level we did last year, but I realized quickly that everyone in this class was able to adjust really well," said Harlan.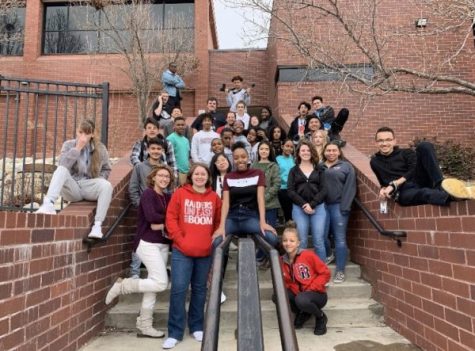 This year was also the last year that the Raider Review will be under Carabello, which many have expressed great sadness, but also excitement for the new opportunities he will obtain in a new position. Mrs. Gebhardt will take over the journalism program next year. Right now she is the yearbook advisor.
Review Member, Alexis Drummond said, "Carabello has pushed me to be better with every story, photo, video; he has really been there for me, but I'm also excited to see what next year brings."
Despite the new and bigger staff, the Review excelled in the CSMA awards obtaining the most awards of any large-school student media website in Colorado. This is The Review's third year in a row of winning the most awards in the state for its website.
"What I'm really proud of is the fact that we are the only APS school to win an award –we won 19," said advisor Carabello. "We're one of the few schools that serve kids with high levels of poverty and has a thriving journalism program."
Some notable awards won by the Review staff were:
Honorable Mention for Peter Vo and Yucheng Zhang's Photo Essay
2nd place in In-Depth News Coverage for five total stories
1st Place Staff Editorial
Harlan, Editor-and-Chief, took home many awards, including third place in the state for Columnist of the Year. She expressed how well the dynamic of the class was and how she was proud of the bonding that happened between the staff.
"I'm proud of Dominique Harlan, who did an excellent job," said Carabello. "She's been an incredible leader."