Raider Football prepping Turnaround Season
Each year along with the smothering August heat, football programs across Colorado take the field with something to prove. This year's Raider football has plans to change a lot of opinions and turn a lot of heads this fall. There is a quiet confidence within the program that many believe they are ready to take several steps in the right direction this year.
The Raiders take on ThunderRidge the preseason #10 team in the state in their season opener. The Grizzlies topped Rangeview last season in a week one clash.
The Raiders are coming off a very tough season last year finishing the 2018 football season with a 1-9 record overall. They are hearing all of the doubters about their ability to play better as a team this year and they are making sure to not forget them. 
The doubters of this team will be one of the leading motivators for the football team this year. They finished with a poor record in one of the lowest-ranked leagues in 5A last year, so not many people believe in them. However, that doesn't mean they don't believe in themselves. A lot of the players are taking it personally. "The haters are our motivators," said starting left guard Marcus Alvarez. They're going to let that doubt drive them to prove people wrong.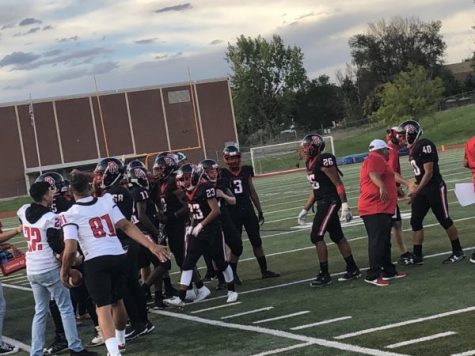 Speedy running back/cornerback Davon "D-1" Desmond is excited for the season feeling his team has "something to prove." Desmond is one the most electrifying athletes in the city, doubling as a force in the Raiders top-10 4×100 and 4×200 relay units last spring.
Rangeview returns starting quarterback Reece Berkey, who according to coaches,  has only continued to improve since last year. Berkey completed 54% of his passes as a sophomore a season ago and seems poised to cut down the turnover bug that afflicted the Raider offense a season ago.
"The main goal this year is to prove that we aren't the same team as last year," Berkey stated. "We are a lot more experienced and everyone is all in to prove that we aren't a 1-9 team anymore." Winning cultures need their quarterback and leader of the team bought in, confident, and focused like Berkey.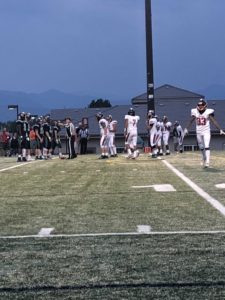 An unexpected and unfortunate challenge for the Raiders came during their pre-season scrimmage against Overland and Vista Peak. Wide receiver and safety Jacqui Lee-Ricks suffered a broken collar bone on a play during the scrimmage. Lee-Ricks led the team in tackles a season ago.
"Jacqui's injury impacts the team a lot," said Marcus Alvarez. "He's a guy who's the heart of the team and it's going to be a challenge without him but we promise to stand out and play this season for him since he can't play with us." It looks like the Raiders have even more motivation coming from their injured teammate
Don't forget to go check out the new year new squad tonight at Aurora Public Schools stadium. The game kicks off at 6:30 p.m. Go Raiders!