Cinzzetti's: A Pasta-tive Experience
In the mass of restaurants in Colorado, there are few that I truly want to go to on a regular basis for indulgence that isn't too pricey. Ranging from cultured food to simple bar-top appetizers, our state has many restaurants to try out. However, one stuck out the first time I went to it in 2017.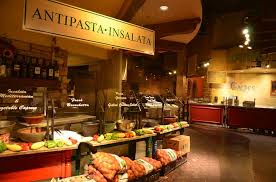 Cinzzetti's, an Italian buffet-style restaurant, offers a variety of foods for breakfast, lunch, and dinner specials alongside being able to watch the cooks yourself. They offer more than just appetizers and comfort food, as you can custom-make your own omelette or crepe, as well as trying out over 20 different ice cream flavors. It's definitely a restaurant you wouldn't want to miss out on; rated as a 4.3-star restaurant, according to Google Reviews, it's popular among Coloradans. 
According to Cinzzetti's website, they explain their restaurant as, "Guests step foot into an authentic Tuscan Village centered around a cobblestone piazza with over 60 authentic Italian dishes being prepared at fourteen specialty cooking stations — all at one great price." 
Taking into consideration every factor of a restaurant when you're there is hard, especially when you have a unique restaurant like this one with its buffet-style way of eating, even though the staff is always readily there to help you and serve you. But, three things are for sure: the vibe, food, and the prices are overall worth it for a good treat after a stressful day of work. 
Vibe: 4 / 5 Omelettes 
As someone who works in the restaurant industry, I do have higher expectations for the staff since I'm biased. However, they're all very friendly upfront, and they're willing to help you in a positive tone. 
When you walk in, you're met with smiling faces welcoming you into the restaurant, and the hosts always ask you if you're new or not in order to help you accommodate to the map of the place, pointing to where each type of food is while they seat you. The waiters are kind as well, bringing drinks very quickly and stopping by at good times to take plates and encourage new things to try. 
The decorations also help set a comfortable mood, a rustic Italian vibe that makes you look around, having decorations such as grapevines or fake windows with murals that set a comfortable mood in the place. 
Food: 5 / 5 Omelettes
I've tried almost everything in Cinzzetti's, and I haven't had a bad thing yet. However, this may depend on your tastes and the way you'd like things cooked, but the overall variety and tastes are amazing.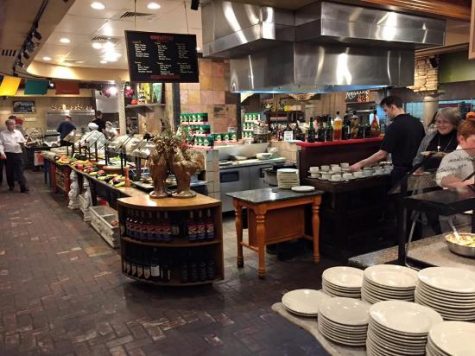 Their food categories are Parmesan, Rotisserie, Tavola Calda, Salads, Marchetta, Pizzeria, Pastas, and Bakery/Treats. It's mainly comfort food, and they serve breakfast through dinner all day around. 
Some of their most popular options that I'd vouch for is their pizza, rotisserie chicken, pasta, and hand-made omelettes and crepes. I always get all of the above when I go, as they're all very tasty with lots of flavors, and it's up to you to get your correct portion sizing. 
A five-star review on Google Reviews stated their love for the restaurant. "Amazing! This is one of my [family's] favorite places to eat. The food is always delicious and fresh. There are so many different options. The wait staff is always friendly and on point. I highly recommend this place."
Price: 4 / 5 Omelettes
The prices are different for all ages and at different times of day and days of the week, allowing flexible reservations and being able to plan accordingly. 
Looking at the Dinner (5:00 pm – 8:30/9:00 pm) prices, Mondays and Tuesdays are slightly cheaper, at $16.99 for an adult, and kids under 12 eat free. For seniors, it's $14.99. 
For the rest of the days of the week, it's $17.99 for adults, kids under 12 are $6.99, and seniors are $15.99. For the amount of food you can get (and take with you), alongside the unlimited amount of time respectively that you can stay in the restaurant, it's quite acceptable for pricing. 
For the freshness and quality of food, I believe it's worth it to pay the extra cash for a good night out with good food. 
Cinzzetti's is located in Northglenn, Colorado on 281 West 104th Avenue by I-25 104th. 
If you're looking for a rustic Italian restaurant with genuine — and unlimited — food, you've found the right comfort food and guilty pleasure spot for families and dates alike.