Rangeview Performing Arts Adjust to Online Learning
After having last school year's second semester interrupted very abruptly, Rangeview was forced to have remote learning that many questioned if the upcoming school year would be the same, or if everything would go back to normal. Despite the optimism from students, parents, and government officials over the summer, it was decided that it was not safe for students to return to schools in person for the new school year. 
This led to remote classes at Rangeview, something never done before. Unlike the last school year, it was not a pass/fail situation. 
Among these classes that suffered are electives such as performing arts, which require students to work together. Because it has never been done, these teachers had to get creative, and convert their lesson plans to be taught remotely. While teachers have done their best to adapt to this learning environment, their teaching isn't going to be perfect and this new method comes with challenges. For both the students and teachers, they had to find a way to manage. 
The Rangeview choirs taught and led by Mr. Laguana focused on building community, incorporating meaning into what they were doing, and creating something that could be looked back on positively. 
When asked what the biggest challenge for teaching choir virtually he stated, "The lack of cohesiveness and togetherness. Choir is supposed to be a collected sound of voices all working towards one goal. When we are remote we can't hear each other's emotion or the environment is not conducive to real time collaboration."  
Having a lack of collectivism and cooperation in a class that is built on that can be very difficult, however, teachers such as Mr. Laguana are trying to make it an enjoyable experience.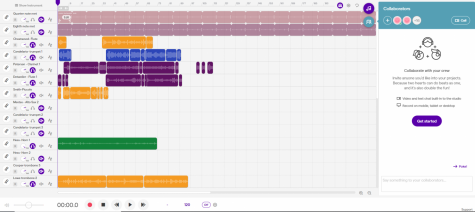 "We are using a lot of Youtube to listen to music of all genres and specialties," Laguana said, "everyone gets to share music that means something to them."
Some online programs and apps have made it easier for musicians to work together remotely as well as other platforms all teachers use to engage students. These include Soundtrap — an online music recording and collaboration studio — Garageband, Google meets and slides, Youtube, iMovie, and Sightreading Factory that make it easy to practice sight-reading music. 
"LG [Mr. Laguana] gave us a lot of freedom in our practice and assignments. A good mix of maintaining our practice as an ensemble while allowing us to self guide and grow in the best way we can in our individual environments. I think that the class produced some of the most high effort and engaging content I've done during virtual school, because he gave me the opportunity to really delve into something I'm passionate about," Junior Mateo Candelaria, a student in Chromatics said. "The audio recording program I used for band and choir, Soundtrap, was surprisingly simple and easy to understand."  
Other classes that had to adapt were the beginning and advanced bands and orchestras of Rangeview, under the direction of Dr. Haislet. He focused on trying to keep students interested and engaged in music in whatever way worked for that student. The biggest challenge was gauging students' self-esteem and confidence level on academic standards and playing skills. 
"I asked myself these questions: Which concepts do I normally not get to teach due to concert prep and other factors? Which concepts will help advance the current skills of my students? And which new concepts will make the most impact on the band and orchestra programs?" Dr. Haislet said when asked about how he came up with his curriculum.
Although there are many challenges such as not being able to play music together, it has made teachers think and reflect on what they are teaching as well as alternatives to that teaching. 
"I think Dr. H did a good job of incorporating new ideas into band other than just telling us to practice for the whole class period," Candeleria, also a student of the honors advanced band aside from Chromatics, said. "Online, we have no ability to make music together. It's always alone, even if we record it and edit it together later. It's really hard to be motivated to try my best on my instrument when there is hardly any music to it, and no end goal of a grand performance at a concert. But we were still able to learn a lot about music and notation and how to better understand the music."
The situation has also made teachers think about what worked well the first semester and what changes can be made in the second semester to benefit the students; teachers agreeing that things will continue to adapt to their environment and situation. 
Laguana said, "I will not create more busy work! I will make sure we use the time to continue to build relationships." 
A different approach: Dr. Haislet who had his students fill out weekly course surveys to see what he can do differently to make his students feel more comfortable and engaged in class.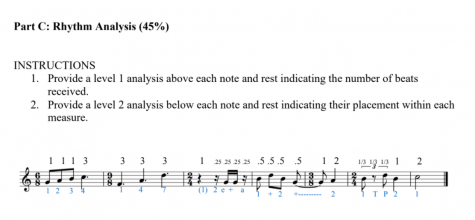 "I've grown a lot as a person and teacher through virtual instruction. I plan to be more outgoing and welcoming in the future," he said.
Despite these challenges, teachers have tried their best to adjust, connect with students, and make them engage to the fullest extent that they can. However, it's unfortunate that these elective classes which are fun for people are completely different from what is normal to them. It is admirable that both students and teachers have perceived through these transitions and chosen to still participate in these activities, ignoring the difficulties.
"While the last year has been a very difficult time for music in RHS, our teachers have worked really hard to allow those of us who are willing to put in the effort to continue to grow as musicians, even under these circumstances," said Candelaria.
If the teachers did not care about their students, then these performing arts classes would be no fun and have zero engagement. The willingness to find outside resources to learn about and implement them into classes as well as taking student advice is the reason these classes have adapted to remote learning.