Gregory Brooks Continues to Make Rangeview Wrestling History
One of Rangeview's best ever wrestlers, Junior Greg Brooks, looks to make state wrestling tournament history today (2/17). Brooks is the first wrestler in Rangeview Wrestling history to ride an undefeated season to the state championship.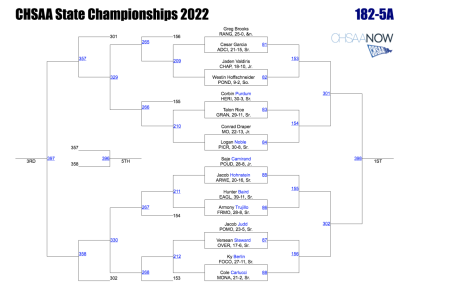 Entering the season, Brooks was ranked third for the 5a 182lbs weight class. He maintained his position near the top throughout the season, posting an impressive 25-0 undefeated record.
In the CHSAA 5a Region 1 tournament, Brooks made quick work of his first two opponents after a first round bye. In the quarterfinals, he pinned Rampart High School's Riggs Riker in just under 3 minutes. In the semi's, he didn't waste any time, pinning Mountain Vista's Conrad Draper in an absurd 36 seconds.
In the Regional Championship, No. 3 ranked Brooks managed to edge out the No.2 ranked Jacob Judd (Pomona) 3-2 to take the number one seed going into the state tilt. He'll face Adam City's Cesar Garcia (21-15) in Round 1 as he looks to take home Rangeview's third ever individual wrestling state championship.
The 5a tournament will begin at 4:30 pm, so be sure to tune in to Brook's matches on trackwrestling.com.