Clearer Picture Emerges from RHS-AC game, Referee's Allegations Appear False
Editor's Note: Since the publication of "Late hit, Unruly Fans Cause Postponement of Rangeview, Aurora Central Football Clash" the Raider Review has acquired new footage of the incident that occurred on September 15. 
Following the chaotic events at APS stadium last week surrounding the Rangeview-Aurora Central football game, official Mark Young made serious allegations to Denver 7 including one of a Rangeview coach repeatedly punching a player.  
An already tense situation escalated Monday when Young's version of the events went public. The official made various claims including being "rushed by a big mob," suffering the "hardest hit [he's] ever taken" that he deemed intentional, no one stopped to help him, and most controversially the claim of a "Rangeview coach throwing punches on a player." 
Video obtained by the Raider Review Wednesday appears to contradict nearly all of Young's statements and additionally shows Young unnecessarily shoving a Rangeview coach in the back. The video also shows Rangeview coach Chris Dixon sprint to break up the initial altercation and later helping Young.
This video has been available to both school's administrators, coaches, CHSAA, APD, and the officials since Friday.
Young's accusations have set off a firestorm in the Aurora community sparking discussions surrounding community violence, sportsmanship, slander, and perpetuating stereotypes of Aurora. Young continues to stand behind the serious accusations despite various reports and film to the contrary. The Raider Review was unable to reach him for comment.
An Aurora Public Schools gag order that silenced coaches, officials, and staff from both schools with the threat of termination for talking to media, as well as the district's censorship of the Raider Review's initial story had left Rangeview football coaches defenseless from Young's potentially slanderous allegations.
Following the Denver 7 report, an APS issued release stated, "We want to emphasize that we are extremely proud of how our coaches handled the game and a tough situation. All of our coaches worked to get players back to their benches and did a great job keeping our teams focused on the game."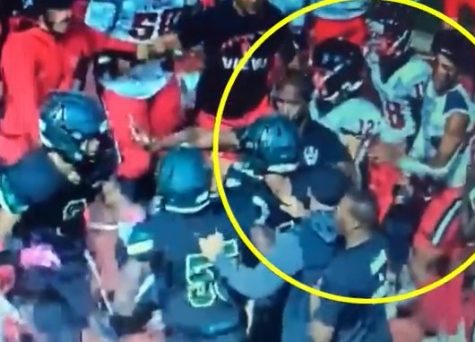 With the dust settling, the emerging story is one of a Homecoming game with tensions high from both sides competing in a local rivalry and no player wanting to go home with a loss in arguably the biggest game of the season for Central. When all hell broke loose following Aurora Central's Trevon Simmons-Adams late hit on DJ Collins, coaches and players on both sides of the field rushed to quickly deescalate and break up the action. 
"I want to be sure that this incident is investigated fully. Because of the seriousness of it, the assaults that occurred, the violence, the ramifications of it, and I want them to really examine the coach's behavior throughout this game," Young told Denver 7.
After investigating, APS issued a statement stating, "We are aware of the allegation that was made by a game official that a coach punched a player. Please know that we have reached out to the Colorado High School Activities Association (CHSAA) and the Denver Football Officials Association and we are unaware of any information that would substantiate this claim."
The Raider Review video (visible above) appears to directly contradict most of Young's claims. It however does show a scene that nearly all parties agree could have gone much worse. 
"As I looked up, I saw one of the Rangeview coaches throwing punches on a player," Young said to Denver 7 News. "Just couldn't believe it. It was surreal."
Young's allegations of a coach punching a player appear 100% false and slanderous. If Young has viewed the footage or had a reasonable opportunity to do so since the incident, his words could be considered slander and potentially open him up for legal consequences.
The video, while mostly conclusive, is just one view of the situation though, as players had a much closer view of the action. 
"I didn't see a coach throw a single punch, and the whole time they were trying to hold players back, being non-confrontational, and limit the violence as much as they could," said Rangeview lineman Kaleb Tsegaye.
Film appears to show only one altercation between Simmons-Adams and Collins. At this point, there is no video evidence of any other physical conflict amongst the players and coaches. 
"I saw the whole fight and all I could really see of the coaches were they were trying to break up the fight," said junior Kate Wiegend. 
The well-attended game was an emotional game that swung back and forth on multiple turnovers in the third quarter, charging up the intensity as Central cut the deficit to 14-7 on a blocked field goal return touchdown.
Rangeview coaches spoke to their players even before kickoff about the intensity that awaited them. "Even before the game they were saying don't be confrontational, step away from everything," said Tsegaye.
Young also made claims to Denver 7 that no one one would help him and "[It was] Probably the hardest hit I've ever taken. I've played football and wrestled. It felt very intentional, that I got leveled back down to the track,"
Video shows Dixon backing a crowd away from Young in order to help him up, while coaches and players from both teams continuously try to deescalate the situation on the sidelines that now involved fans leaping the fence and an Aurora Central cheerleader being restrained from entering the fray. 
In addition to contradicting most of Young's allegations, the film shows a frustrated Young pushing Rangeview quarterbacks coach Romello Horton in the back as the chaos mellowed.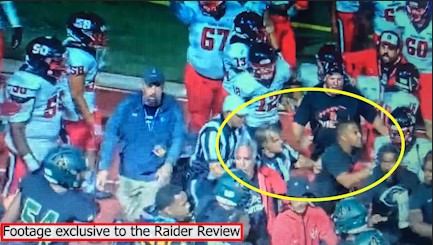 The many false allegations and subsequent media coverage have been particularly damaging to the incredibly diverse Aurora community. A majority of the coaches and players involved in the game were minorities.
"I'm doing this because I care about the community. I've been here most of my adult life. And honestly, both Central, Rangeview, the other Aurora schools, they don't deserve this reputation," an anonymous coach told Denver 7. 
Uncorroborated allegations are a serious issue in the fight to end systemic racism.
"Ideally, our society would have learned its lesson by 2020, but baseless claims against BIPOC⁠—namely allegations of Black men perpetrating violence⁠—are still met with presumptions of guilt," stated the Montana Innocence Project.
The concerns over the depictions of Aurora and men of color in particular are very concerning, while situations like this could also further impact the referee shortage wreaking havoc on Colorado high school sports. 
Dana Pappas, the NFHS Director of Officiating Services told CHSAANow, "There are still people who are going after sports officials after games, during games, and it continues to be an adult problem. I don't think too many of the issues we see are really the kids. It's generally the spectators, although it can be coaches at times when their behavior incites the crowd."
Official shortages have impacted scheduling leading to Friday nights no longer being the home of high school football. Lower pay in Colorado for referees has also led to many officials taking opportunities in neighboring states like Nebraska. 
A Scorebook Live story reported that a national survey showed 46% of officials "have felt unsafe or feared for their safety due to spectator, coach, administrator or player behavior."
Rangeview reportedly canceled several practices in fear of the team's safety until resuming Wednesday afternoon. The Raiders were able to find a replacement game this week on Saturday night at Northridge High School as the result of a scheduling snafu with Boulder High School.