Rangeview enters 5A playoffs behind Prolific Seniors
The Rangeview Raiders find themselves in a familiar place as they open the 5A boys soccer playoffs today against the defending 5A champion Arapahoe Warriors.
It was just three seasons ago that the Raiders fell in heartbreaking fashion to the Warriors 4-3 in a penalty kick shootout after the score remained 1-1 after an extra 30 minutes of golden-goal drama overtime.
The Warriors enter the postseason after finishing their season with a record of 9-5-1 and the #12 seed in 5A. Arapahoe finished fourth in a challenging, but somewhat down Centennial League this past season.
"Obviously they are good, they won it all last year, but we can play with them," said head coach Vic Strouse.
The game was initially scheduled for last night, but the wild weather of the week forced the game back to today.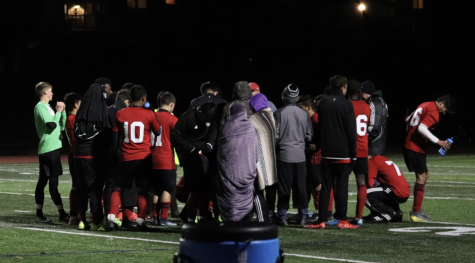 "They're a good team," senior captain Rashid Seidu-Aroza, "but through all the adversity with the weather we did our best to still put in work, so I feel good going into the game."
The Rangeview Raiders are preparing for the playoffs after wrapping up their regular season with a 2-1 win over rivals Gateway last week. Rangeview ended their regular season with a record of 11-3-1. 
Following the Gateway game, junior Elhadji Diallo said, "We did good, but I feel like we could've done better. We should've been great." 
It was Seidu-Aroza's two goals that helped the Raiders in their victory over Gateway, wrapping up his crazy prolific 40-goal season that leads 5A by a whopping 15 goals. Seidu-Aroza shattered the school record of 27 that he set a season ago.
In addition to Seidu-Aroza's big year, senior winger Braidon Nourse's 18 assists led all of 5A as well. Nourse has been doing double duty all season as the kicker on the Raiders football team as well. 
Rangeview appears quietly confident as they believe that this game will be a hard fought match, in which they have a genuine chance to emerge the victorious side.