Opinion: We can all be doing more.
Dr. Martin Luther King Jr. was born on January 15, 1929. Every third Monday in January, we celebrate Dr. Martin Luther King Jr. Day. This means that for most students in the United States, they will be granted a three day weekend. King did way too much for this country and for every student in America for this holiday to go untalked about. So why is it that in the year 2020 it seems like not only have students failed to appreciate and recognize the work of Dr. King, but so have many teachers, even right here in the halls of Rangeview High School? 
January 17, 2020 was the Friday before MLK Day. Personally, I have five classes, six teachers, 315 minutes of being in the building at Rangeview.
In those 315 minutes, I had one teacher mention Dr. King. One. My AP Biology teacher was the only one to display some sort of recognition to the work of Dr. King. When I asked him why he had done this, he mentioned that he respected him and the work he was able to do for so many. 
Yes, in high school, it is probably assumed by most that we should all know who Martin Luther King Jr. was, but does that ultimately excuse the lack of continuance of spreading his message of love and unity? 
As a high school, Rangeview can and should do more. 
As a student body, we can do more; as a staff, we can do more; as a Black and African American Student Alliance club, we can do more; as a whole, we can all be doing more. 
Junior Iyanla Ayite said, "At the very least, teachers at RHS should pick a day, or throughout the week preceding the holiday, to incorporate MLK Jr. into their daily agendas. Maybe the school could have an assembly, or organize a walk during 4th hour to protest the injustices that are still very much alive."
Currently at Rangeview, there is little to nothing being done to honor days like these. This is especially surprising considering the remarkable amount of diversity that Rangeview has. 
Sophomore Lyric Watson said, "There should be more cultural appreciation during this month overall. MLK fought for all people and we should recognize that and allow for others to express themselves through his message."
Vista Peak, another Aurora Public School, was a school that did recognize Dr. King. Their BSA (Black Student Alliance) organization was able to host an assembly for their entire school. Their assembly included a guest speaker, a dedicated performance by the Vista Peak step team, and overall awareness and celebration in honor of Dr. King. 
Junior Ty'Jae Herron at Vista Peak said, "One of our BSA vice presidents' uncle spoke about unity and fulling Martin Luther King Jr.'s dream." 
The climate of our society has made leaps and bounds in the right direction; yet, there is still so much growth that can be made. Dr. King is often remembered for his infamous speech:I Have a Dream. 
Martin Luther King Jr. once said, "We cannot walk alone. And as we walk, we must make the pledge that we shall always march ahead. We cannot turn back. We can never be satisfied as long as the Negro is the victim of the unspeakable horrors of police brutality. We can never be satisfied as long as our children are stripped of their adulthood."
So, this year for Martin Luther King Jr. Day, I knew that I wanted to celebrate all that I am able to experience because of the fight that Dr. King fought for all children.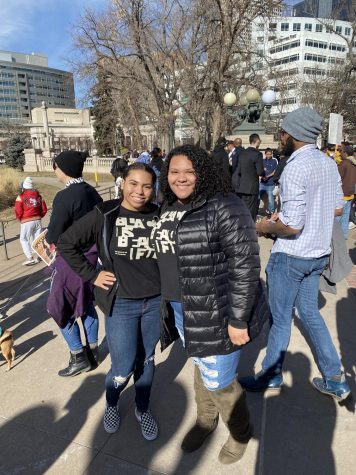 In Denver, Colorado there is an annual MLK Marade that starts in front of the "I Have a Dream Memorial" in City Park. Here, there are speakers, government officials, kids, parents, etc. that celebrate Dr. King through prayer, and recollection of Dr. King and his work. After awhile, the march begins. 
Thousands of people of all races, all genders, all sexual orientations come together to march from City Park to the state capital. Men, women, children, grandparents, neighbors and strangers march together in solidarity to remember and cherish all of the great work the Dr.King did do, and also to show how far we still have to go. There are still innocent people -especially people of color-  facing the effects of police brutality, not having equal access to proper healthcare, racism, sexism, homophobia, transphobia, and the list can go on.
 Together we marched and together we will continue to march every year. 
While at the Marade, I noticed that there were a few school busses that brought kids to marade so that they could be a part of something much bigger than themselves. Opportunities such as these, should be available at every school. If every district is going to give the day off, then there is no harm in encouraging students to participate in events like the marade and to truly celebrate the reason you aren't in school or the reason you're getting holiday pay. 
Ayite said, "I think it's a shame and I think it's disrespectful that, rather than using the day to join together in appreciation for someone who essentially changed the face of our nation, the majority of people take advantage of the day by paying little to no mind about why we get to have the day off." 
We will do more and as Martin Luther King Jr. said it best, "No, no, we are not satisfied, and we will not be satisfied until justice rolls down like waters and righteousness like a mighty stream."